Everything We Know About The Tomb Raider Anime Series So Far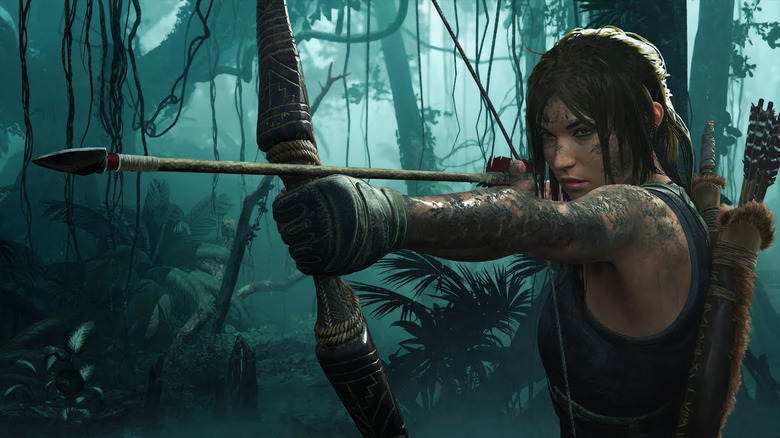 Square Enix
The first "Tomb Raider" video game, starring the gunslinging heroine Lara Croft, hit consoles in October 1996. Since then, "Tomb Raider" has become one of the bestselling video game franchises of all time, spawning three big-screen film adaptations (and another on the way) that have been met with mixed critical reception.
This is no surprise as, with few exceptions, live-action film adaptations of video games have a reputation for being kind of ... not great. Maybe it's because making the transition from active participant to a mere observer can come with high expectations for gamers who watch the films inspired by the titles they've poured hours into playing. Or maybe it's because video games, which are animated works in their own right, just work better when their non-playable TV and film counterparts are also animated.
Perhaps that's why the latest adaptation of the iconic "Tomb Raider" franchise, taking the form of a Netflix anime series, may receive an overall more positive reception than the movies. Here's everything we know about the upcoming "Tomb Raider" anime series so far.
What We Know About the Plot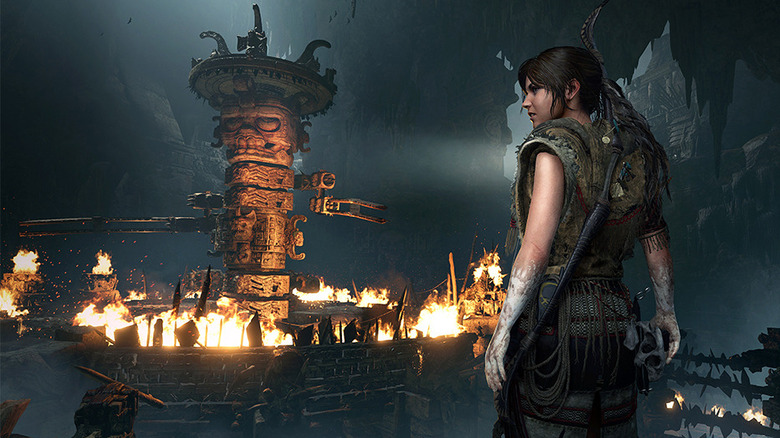 Square Enix
Like the video games that inspired it, the "Tomb Raider" anime will follow English archeologist Lara Croft as she travels the world, embarking on Indiana Jones-esque adventures. Regarding its place in the expansive 25-year timeline of the "Tomb Raider" media franchise, the series will take place after the events of Square Enix's 2013–2018 reboot of the video games. 
Beyond that, there isn't a lot of detailed info concerning the plot so far. However, considering that the most recent "Tomb Raider" game, "Shadow of the Tomb Raider," ends with Lara Croft back at home in Croft Manor, there are endless possibilities for her to take on completely new missions with both fresh and familiar characters in the anime.
Cast, Crew, and Release Date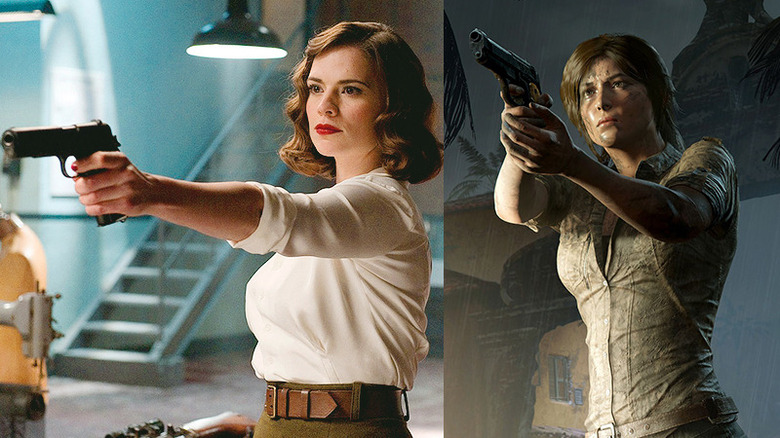 Marvel / Square Enix
"Tomb Raider" is a collaborative effort between Netflix and Legendary Entertainment, with Powerhouse Animation (the same studio behind Netflix's popular "Castlevania" series) taking on the task of transforming Lara Croft and her action-packed universe into a Japanese-style cartoon. Tasha Huo, who has also worked on "The Witcher: Blood Orange" and other video game-related projects, is the showrunner and writer for the series. She's also a self-professed "super fan" of the "Tomb Raider" video games, which will likely make for a fun and faithful adaptation featuring more of the Lara Croft that fellow fans (myself included) have come to know and love.
In September, Huo announced that Marvel alumna Hayley Atwell ("Agent Carter") had been cast as the voice of Lara Croft:
So very excited, both as a Showrunner and #TombRaider super fan, to finally announce our Lara Croft, and to be working with this extremely talented human. Guys... this show is going to be awesome.https://t.co/xNkYMD0bML

— Tasha Huo, Dragonrider (@Tasha3point0) September 13, 2021
Further casting announcements have followed, including Allen Maldonado ("Sneakerheads", The Last OG), and Earl Baylon, who voiced Jonah Maiva from the "Shadow of the Tomb Raider" game. Baylon will be reprising his role as the voice of Jonah for the upcoming Netflix series, and Maldanado will be voicing Lara's tech expert and right-hand man, Zip.
Obviously, Netflix is the place to watch "Tomb Raider," but the streaming platform has yet to provide a release date for the series. What we do know is that the writing for the series wrapped up earlier in May, according to a post on showrunner and writer Tasha Huo's Twitter account:
That's a wrap on the writers room! Already missing this amazing #TombRaider writing crew. Felt appropriate we end it with axes. @LAAXofficial pic.twitter.com/wbIcuMeicV

— Tasha Huo, Dragonrider (@Tasha3point0) May 28, 2021
Based on this information, we can expect to see the "Tomb Raider" anime on Netflix sometime between mid to late 2022 or 2023.
Stray Observations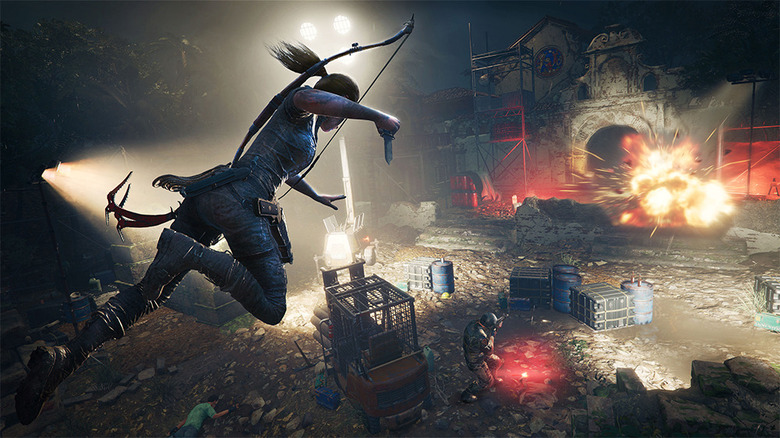 Square Enix
The 2018 video game installation of the "Tomb Raider" reboot, "Shadow of the Tomb Raider," tackled the optics and ethical issues surrounding a wealthy white woman, Lara Croft, going to foreign lands to obtain the various artifacts therein, sometimes through violent means. 
Since the Netflix anime will follow the timeline of these games, I wonder how/if that will continue to be addressed in the series? With the apparent diversity of the writers' room and an enthusiastic woman of color as the showrunner, I'm pretty excited and hopeful about how the series will handle more sensitive topics, especially as an OG "Tomb Raider" fan, myself. In my opinion, the best characters tend to show a bit more nuance in their actions and motivations rather than being 100% good or evil (maybe that's why my Dungeons and Dragons characters tend to be chaotic neutral). So seeing Lara potentially struggle with and have to deal with the consequences of her actions in the anime would be interesting.