The Mitchells Vs The Machines Is Coming To Blu-Ray With An Extended Cut And New Short Film
"The Mitchells vs the Machines" is coming to Blu-ray, digital, and DVD on December 13, 2021. The home format is packed solid with goodies, including over two hours of new content. There's an all-new short and Katie Mitchell's filmmaking process in "Katie's Cabinet of Forgotten Wonders."
If you haven't seen it yet, and you really should, here is the synopsis:
An old-school father and his plugged-in, filmmaker daughter struggle to relate as their family embarks on a road trip to her new college. Their drive is interrupted by a machine apocalypse that threatens to tear these unlikely heroes apart unless they can find a way to join forces and save humanity.
The film, from the team that brought you "Spider-Man: Into the Spider-Verse" and director Mike Rianda is a family film commenting on technology and artificial intelligence. In fact, if you're someone who spends their time watching robot videos from Boston Dynamics, you need this film as a palate cleanser.
Katie's Cabinet of Forgotten Wonders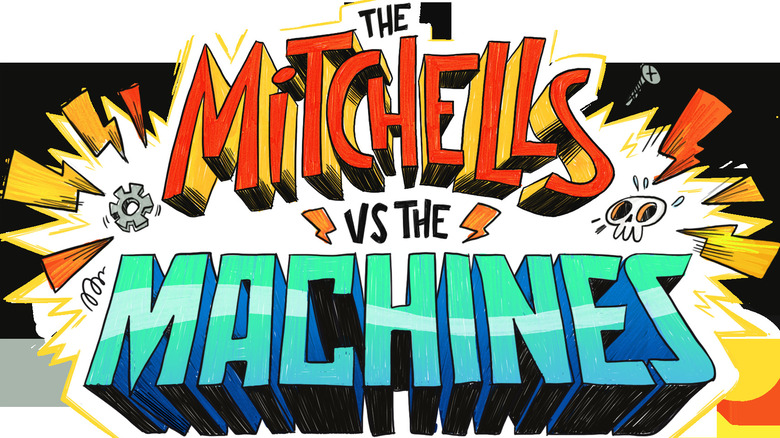 Netflix Press Site
Here are all the goodies you'll get: 
BLU-RAY, DVD AND DIGITAL BONUS MATERIALS

Katie's Cabinet of Forgotten Wonders: Take a rare look inside Katie Mitchell's filmmaking process as she gives you an exclusive look into how the movie was made.

Katie-Vision!

Dumb Robots Trailer

The Original "Mitchells" Story Pitch

The Furby Scene – How? Why?

PAL's World

The Mitchells Vs. The Machines: Or How a Group of Passionate Weirdos Made a Big Animated Movie: Go inside the story of The Mitchells vs the Machines and meet a group of first-time filmmakers & talented cast who banded together to take a collective risk on making a unique, original, and totally off-the-wall film about an everyday, epic, world-saving family!How To Make Sock Puppets: Katie Mitchell opens the door to her film school. Learn how to make sock puppets who could be extras in your next short film!

How To Make Katie Face Cupcakes: Enjoy making cupcakes only a mother could love.

EXCLUSIVE BLU-RAY BONUS MATERIALS

Dog Cop 7: The Final Chapter: Katie Mitchell is back and creating the most hilarious film of her young career – check out an all-new mini-movie, Dog Cop 7: The Final Chapter. In a world where the holidays are being haunted by the Candy Cane Kidnapper, there is only one Dog with the skills to solve the case.

Katie's Extended Cinematic Bonanza Cut! Prepare to witness Katie's director's cut, an extended version of the original film with over 40 minutes of deleted scenes.

8 Bonus Scenes: Get more Mitchells with over 20 minutes of Deleted & Extended Scenes.

Filmmakers' commentary

Never Trust a Furby
"The Mitchells vs The Machines" stars the voices of Abbi Jacobson, Danny McBride, Maya Rudolph, Beck Bennett, Fred Armisen, Eric Andre, and Oscar winner Olivia Colman. This film was one of the sweetest of the year so far, and it has the very best pug. That has to give it at least another 10 points, right? Plus, as someone who actually had my Furby giggle at me in the middle of the night from my closet (true story), I probably appreciate this movie more than most. The film also knows what technological message it means to send, something that certain other animated films (looking at you, "Ron's Gone Wrong") don't quite have down. 
"The Mitchells vs The Machines" will be released on Blu-ray, digital, and DVD on December 14, 2021. Excuse me while I take a moment to go praise my washing machine so it doesn't decide to kill me in my sleep.