The Great British Baking Show: Holidays Season 4 Trailer: Bakers, You Have Two Weeks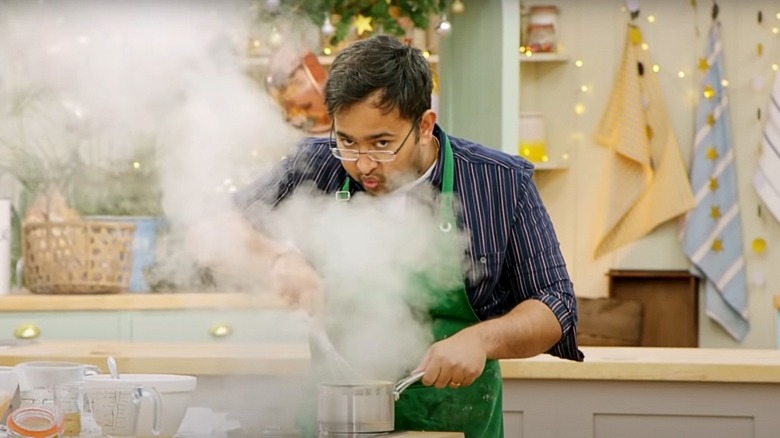 Love Productions
The series that has single-handedly gotten me through quarantine is back to spread some holiday cheer — and a little bit of buttercream icing. "The Great British Baking Show" (known in the UK as "The Great British Bake Off") holds its annual holiday competition, which jumped off from "British Baking" in 2016 and consists of two specials each year. In these specials, a quartet of bakers returning from the previous series bake against the clock and each other in a series of holiday-themed challenges (past challenges included baking a traditional German stollen wreath, for example.) Now and then there's also a special-holiday-special, like in 2019 when the cast of "Derry Girls" participated in challenges.
"The Great British Bake Off" originally aired on BBC One and then BBC Two, but in 2017 the show moved from BBC to Channel 4 in Britain. The following year, Netflix picked up the exclusive U.S. streaming rights to the series, and it's high time we got a peek at the wreaths, pastries, and cheeky innuendo to come in the next special.
Check out the trailer below:
The Great British Baking Show: Holidays Season 4 Trailer
Greeting the arrivals as "all you ghosts of bakers past," comedian and presenter Matt Lucas ("Bridesmaids") welcomes former contestants of "The Great British Baking Show" into the great white tent that has housed the series since its first episode in 2010. We see the return of familiar faces Helena and Henry (from the 2019 season), Rahul (2018), and Nancy (2014) among others, all of whom briefly express mixtures of excitement and nervousness at returning to compete. The show's success is considered largely responsible for a spiked enthusiasm for baking throughout the United Kingdom and Ireland, with The Telegraph reporting in 2012 that its popularity had contributed to a spike in sales of baking goods. I personally know a fair number of North Americans who were catalyzed into making sourdough starters and learning how to candy fruit just by watching the show's former host, Mary Berry, welcome all viewers into the wonderful world of baking.
Among the showstopper challenges to the contestants are what host Paul Hollywood calls, "a festive feast illusion cake," perhaps leaning into the brief hyperrealistic cake craze that gripped nations in 2020. Remember when everything was a cake, and reality was merely a suggestion? Here, they're creating fake turkeys and roasts with a whole lot of fondant sheets and glitter spray, and I can't help but wonder if this holiday edition of "The Great British Baking Show" is going to turn into a hilarious episode of "Nailed It!" Only time will tell.