Encanto's Soundtrack Is Now On Sale: Watch A Magical Featurette About The Music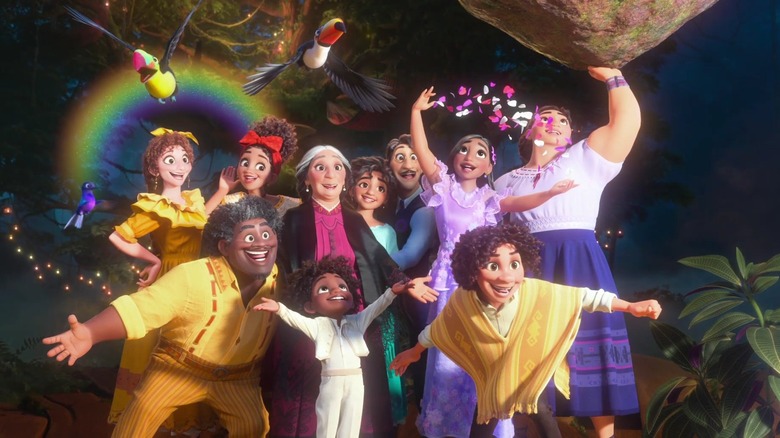 DIsney
You didn't think the Year of the Musical had already come to a close, did you? There's at least one more left on the docket in 2021, with the imminent arrival of the new animated film "Encanto." 
/Film's review by Josh Spiegel calls it "an often beautiful film to look at, with crisp and colorful design work, sometimes surprisingly photorealistic character touches, and creative and stylishly fantastical musical sequences. It bears noting that "Encanto" "...has its weaknesses, but none of them have anything to do with the film's cultural specificity, but instead with what seems to be the house style of storytelling at both Disney and Pixar these days."
The description of those magical musical sequences is sure to catch the eyes of eager moviegoers, which is good news because Disney has now released the Original Motion Picture Soundtrack for "Encanto," ahead of the film's theatrical release. Read on for all the details below, as well as a behind-the-scenes featurette with insights by Lin-Manuel Miranda, voice actor Maluma, and Colombian performer Sebastián Yatra as they gush about the original songs and musical interludes sprinkled throughout "Encanto."
Music of Encanto Featurette
Walt Disney Records has made the official soundtrack for "Encanto" available to buy, featuring eight original songs written and produced by Lin-Manuel Miranda ("Hamilton," "In the Heights"), a full musical score from composer Germaine Franco ("Dora and the Lost City of Gold," "Little"), one reprise, and an end-credits version of one of the songs included in the film, as well. Among the songs included are "Colombia, Mi Encanto" by performer Carlos Vives and "Dos Oruguitas," sung by Sebastián Yatra in both Spanish and English
Miranda expressed his excitement about the contributing to the music of the Colombia-set film, saying:
"A lot of the rhythms are familiar to me, but the instrumentation and orchestration is different and often unique to Colombia. One of the most fun things is that the accordion is so central to the music. It was really a joy immersing myself in artists I didn't know and doing deeper dives into those I've grown up loving — like Carlos Vives, who we're lucky enough to work with on this movie. This entire process has been about falling in love with Colombian music and culture and getting to play in that space."
"Encanto" is directed by Jared Bush (co-director "Zootopia") and Byron Howard ("Zootopia," "Tangled"), co-directed by Charise Castro Smith ("The Death of Eva Sofia Valdez"), and written by both Castro Smith and Bush. 
The physical soundtrack will be made available on December 17 and is available for pre-order, while "Encanto" comes to theaters on November 24, 2021. It will arrive on Disney+ a month later, on December 24, 2021. Here's the official synopsis:
The Madrigals are an extraordinary family who live hidden in the mountains of Colombia, in a magical house, in a vibrant town, in a wondrous, charmed place called an Encanto. The magic of the Encanto has blessed every child in the family with a unique gift from super strength to the power to heal—every child except one, Mirabel. But when she discovers that the magic surrounding the Encanto is in danger, Mirabel decides that she, the only ordinary Madrigal, might just be her exceptional family's last hope.