The Hidden Meaning Behind The Byrdes' Last Name In Ozark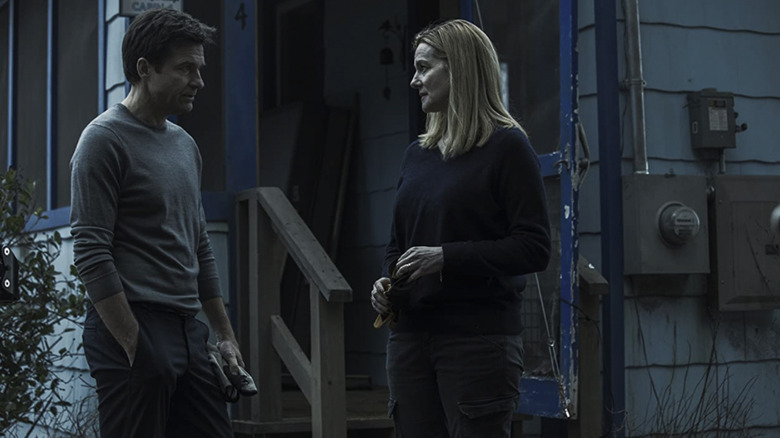 Netflix
Have you ever wondered why Marty and Wendy, the married couple at the center of Netflix's Emmy Award-winning crime drama "Ozark," have the last name Byrde? I admittedly never gave it much thought beyond the surface-level similarity of "Byrde" and "bird," given how Netflix hasn't exactly been subtle about that connection in its marketing for the show:
But according to showrunner Chris Mundy, there's actually more to it than that.
The Hidden Meaning of the Byrde Family Name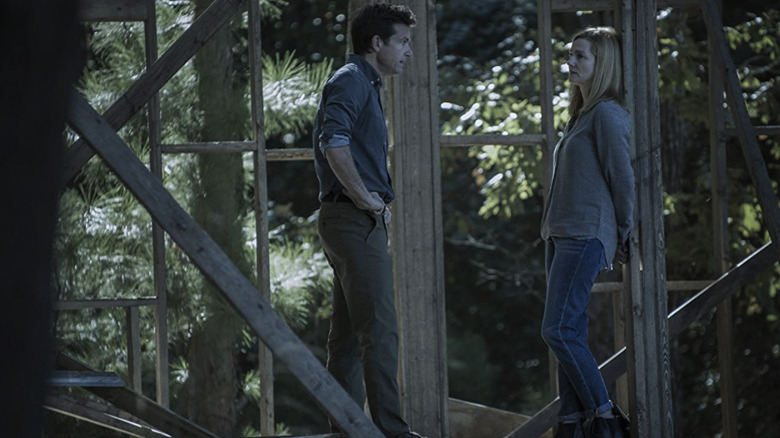 Netflix
During a panel celebrating "Ozark" at the 2020 edition of PaleyFest (via Express), Mundy was asked about the Byrdes' last name and if there might be more to it than meets the eye, and he explained how the initial metaphor quickly morphed into something more dangerous.
"Bill Dubuque wrote the pilot, so Bill named them. I'm speaking for him, but I think I can speak for him on this one. [The answer is:] definitely. I think for him, they had literally taken flight. But what we ended up doing in season one when we started talking about it, is talking about the Byrdes as an invasive species in the Ozarks. Look at everything, what would have – all the people that would still be alive, all the things that would still be OK, if these people had never picked up and moved here. So we sort of used the analogy, took it from wherever Bill was thinking and used it as that, as this invasive species in this area, and look at the sheer havoc they've wreaked – and at the same time, the tiniest bit of good every once in a while."
That original "Byrde/bird" connection makes a lot of sense when thinking about the first two episodes and Marty scrambling to keep his family alive by ushering them out of Chicago, but once the family settles into an unfamiliar environment, the concept of the Byrdes as an invasive species becomes far more apt and adds even more layers to this dark, deadly, and blue-tinged series. 
The fourth and final season of "Ozark" is being split into two parts, and Season 4 Part 1 debuts on Netflix on January 21, 2022. Meanwhile, director/star/producer Jason Bateman is attached to direct a heist movie for the streamer called "Here Comes the Flood," which is described as ""an elevated, character-driven love-story heist movie, with the heist playing out in increments." Learn more about that project here.