Ghostbusters: Afterlife Was Written Before Jason Reitman Even Pitched It To The Studio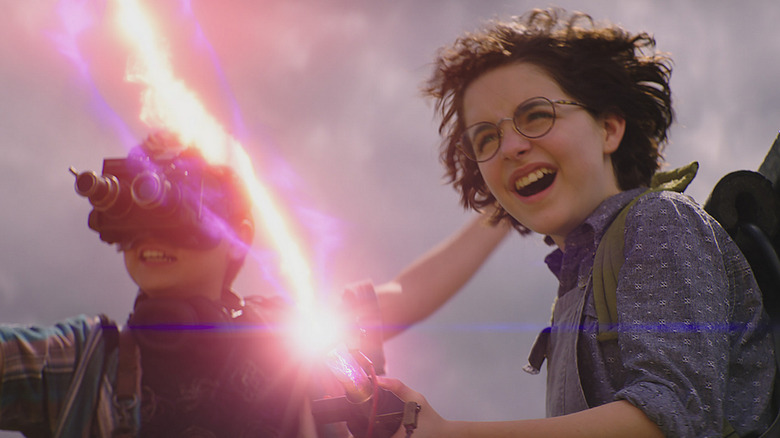 Sony Pictures
Ivan Reitman's original two "Ghostbusters" films are horror-comedy classics, focusing on the adventures of a team of scientists turned high-tech DIY ghost hunters. Prior to the new outing in "Ghostbusters: Afterlife," the pair of films launched a set of animated series, a host of associated merchandise, and a prior feature film reboot in 2016's "Ghostbusters." The new 2021 entry in the franchise sees the grandchildren of the late Dr. Egon Spengler (played by the beloved Harold Ramis) move into his dilapidated former farmhouse, discovering their connection to the original Ghostbuster alongside a new and rising supernatural threat.
Co-written and directed by Jason Reitman ("Juno," "Up in the Air"), Ivan Reitman's son, one would think returning to the franchise would be a rhetorical no-brainer. A new interview with Gizmodo reveals, however, that Jason Reitman's family legacy added a host of unexpected complications in his decision to take up the mantle. We've also learned that the challenge of expanding the franchise into a new film provoked the rare workflow decision to pen the script before even pitching it to the studio.
There Is No Reitman, Only Zuul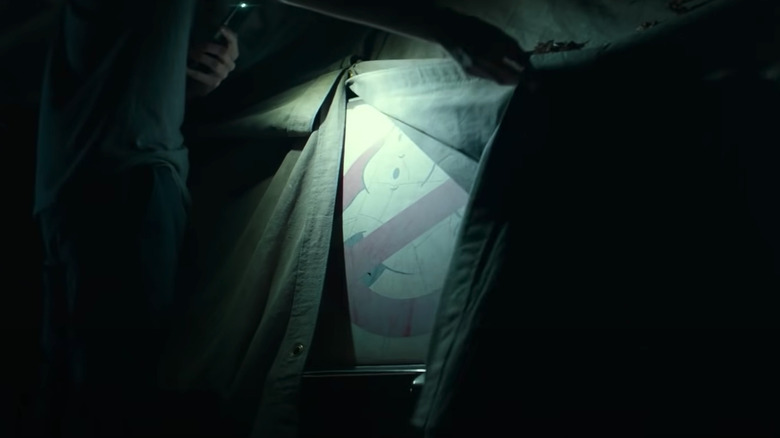 Sony Pictures
Taking up the "Ghostbusters" mantle proved an intimidating exercise for the Oscar-nominated filmmaker. He explained:
?I obviously set out on a career to make independent films and my filmmaking career began at festivals [... ] and I think the intimidation factor of taking on my father's most successful film certainly was a hurdle that I never thought I would attempt to leap."
How did he overcome that trepidation, you ask? His renewed vigor for taking on the franchise came like all communication from destructive extradimensional deities does: in a dream. As co-writer Gil Kenan explains:
"He brought this idea to me very casually as just sort of conversation [...] He said, 'You know, I've been asked this question [if he'd make a Ghostbusters movie] for most of my filmmaking life. I haven't really ever wanted to tell the story. I haven't felt like I was in a place where I was ready to tell the story,' but there were a couple of dreamlike images that came to him sort of like a key. They felt like they were ready and poised to unlock something."
The images? A proton pack, a cornfield, and a young girl. While I'd be suspicious that the dreams were part of Gozer's machinations, the images burned into Jason Reitman's brain and provoked the process of re-engaging with the franchise.
I Ain't 'Fraid of No Ghost ... busters Adaptation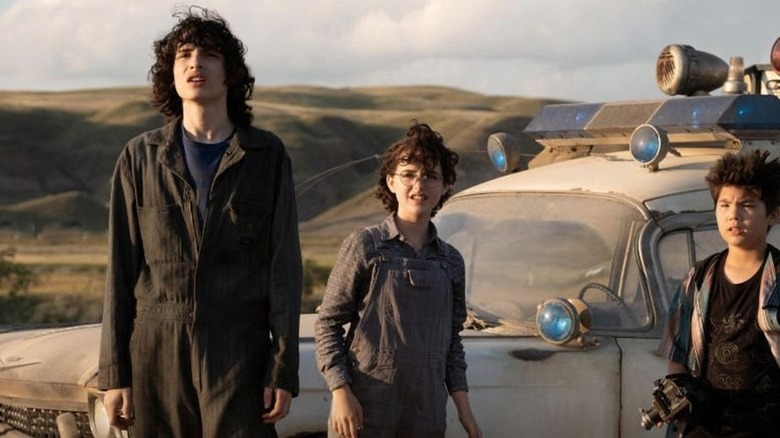 Sony Pictures
Jason Reitman responded to the internal call to explore the "Ghostbusters" world as anyone with the gravitas of an award-winning pedigree and a relation to the series founder would — work on the script in secret without Ivan Reitman, Dan Aykroyd, or the studio being wise to its drafting:
"We weren't in any rush [...] We sort of took a few weeks and months to kind of build up something that felt really solid then we sort of casually took that to Ivan [Reitman]. The two of us pitched it and then we just went off and wrote it and we weren't really under [any pressure]. We didn't have like, a gun to our head, we just sort of wrote. And it never felt like work, it felt like a pure storytelling exercise. It really was that. We weren't getting studio notes. There was no interruption to the process. We were just allowed to build up a story that we felt was a way to connect with who we were in 1984, when the film played for us and how to make that feeling [return]."
Once he was ready to engage The Powers That Be with the project, Jason Reitman found himself working with his father daily in production. The end result of this untampered story development? The channeling of "a very personal story of [his] fears of picking up the proton pack and emulating that through the main characters," a meditation on new generations taking up the "Ghostbusters" mantle, echoing real-life on the big screen.