The Eternals Fought Clifford The Big Red Dog And Won (At The Box Office)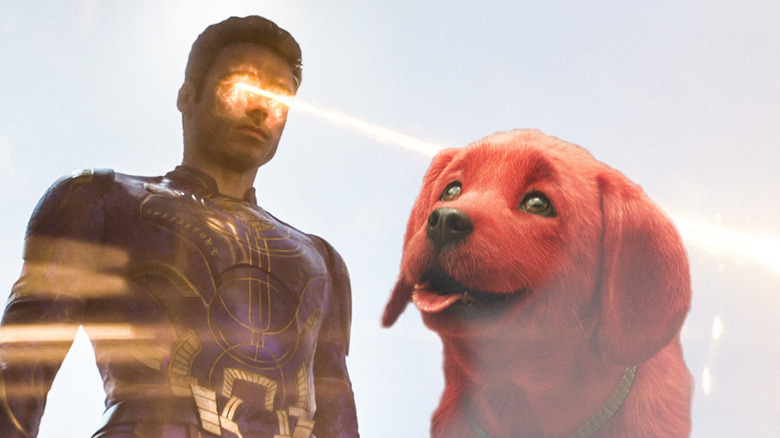 Disney / Paramount Pictures
Not since "Avengers: Endgame" has there been a battle of such epic proportions: the ancient godlike beings known as the Eternals facing off against the mighty kaiju Clifford the Big Red Dog. Though the adorable, over-sized labrador retriever put up a worthy fight at the box office this weekend, he couldn't quite overcome the might of the Marvel Cinematic Universe.
The Wrap reports that "Eternals" added $27 million to its domestic box office total over its second weekend at the box office, holding the #1 spot against the live-action adaptation of "Clifford the Big Red Dog." To his credit, Clifford held his own in the fight. The movie, directed by Walt Becker and starring Jack Whitehall and Darby Camp alongside the eponymous big red dog, opened wide on Wednesday and grossed an estimated $22 million over its extended opening, with a $16.5 million weekend gross.
With a production budget of $64 million, this is a solid start for the family film that slightly outperforms earlier box office projections. "Eternals" and "Clifford the Big Red Dog" are almost neck-and-neck in terms of reviews, holding scores of 46% and 48%, respectively, on Rotten Tomatoes. But between the steamy (for Marvel) sex scene, the occasional bit of PG-13 cursing, and numerous scenes of violence in "Eternals," "Clifford the Big Red Dog" was the safer choice for parents with young children this weekend. In a theatrical landscape that's increasingly dominated by big-budget tentpoles, it's nice to see that a mid-budget family movie can still thrive.
To Eternity ... And Beyond!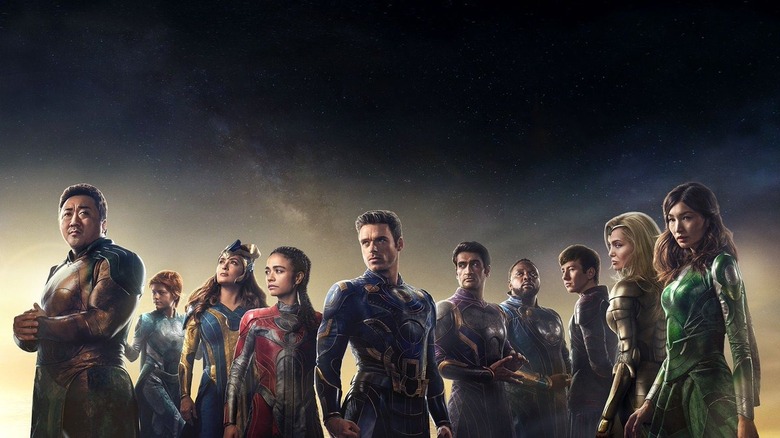 Disney
"Eternals," directed by Chloé Zhao, has now reached a domestic gross of $118 million after 10 days. "Black Widow" had hit $131 million by the 10-day mark, while "Shang-Chi and the Legend of the Ten Rings" was at $144 million. However, even if the reviews hadn't been as mixed as they are, "Eternals" was always likely to be the lowest-grossing MCU movie of the year. "Black Widow" stars an O.G. Avenger, and "Shang-Chi" is a relatively straightforward superhero origin story focused on just one character, whereas "Eternals" introduces a whole family of relatively obscure Marvel characters amid a story that spans millennia. And even if it ends up being the lowest-grossing MCU movie of the year (which is likely, given the hype surrounding "Spider-Man: No Way Home"), "Eternals" will likely still be another comfortable hit for Disney.
This weekend's box office also continues to bolster confidence in theatrical releases, and suggests that Paramount Pictures (the studio behind "Clifford the Big Red Dog") may have been too hasty in postponing the releases of "Top Gun: Maverick" (which was set to release next week) and "Jackass Forever" (which was supposed to have released in October) to 2022. That being said, the target audience for those movies is slightly older than that for "Eternals" and "Clifford," and younger audiences have been leading the charge back into theaters while older people have (understandably) been more reticent. 
"Eternals" and "Clifford the Big Red Dog" are in theaters now.