The Fascinating True Story Behind Minari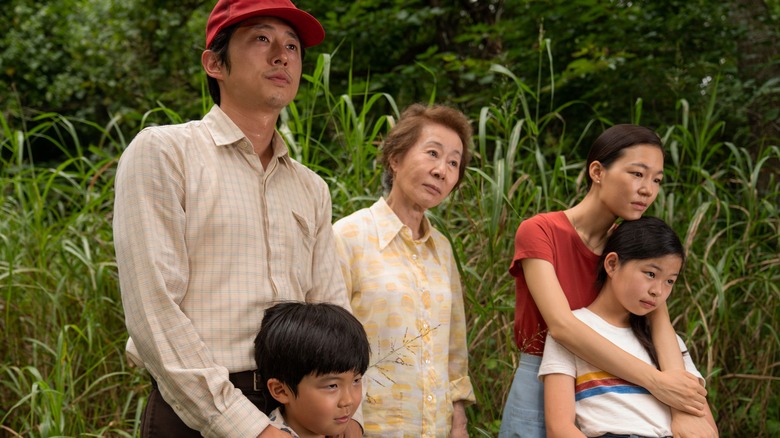 A24
Everybody loves an underdog. During this year's awards season, that honor was given to Lee Isaac Chung's "Minari." The film follows the Yis, a Korean American family migrating to Arkansas from California. Patriarch Jacob (Steven Yeun) dreams of starting a farm, despite protests from his wife Monica (Yeri Han), and at the risk of uprooting his children (Alan Kim and Noel Cho). When Monica's mother (Yuh-Jung Youn) arrives from Korea, it adds a layer of dysfunction to an already-tenebrous family dynamic.
"Minari" made history as a tender, unusual portrayal of the American Dream, winning big at Sundance, the Golden Globes, and the Academy Awards in various categories. It's not common to see an Asian American family represented in mainstream media with such complexity, much less in a setting so typically considered the realm of white characters. Yeun himself was surprised by the subject matter. "I don't think a movie like 'Minari' has been made before in this context from this country in this situation," he told The Los Angeles Times.
But there are pockets of Asian American communities all over the Midwest. It was where Chung spent most of his childhood — and it's part of what inspired the film in the first place.
The Unorthodox Inspiration for Minari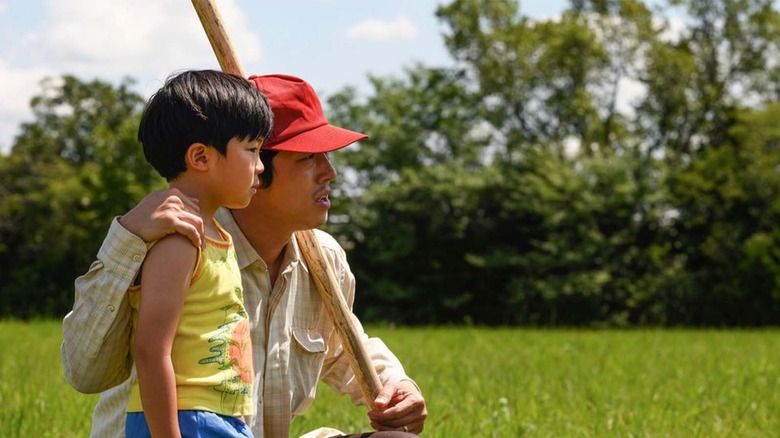 A24
Ironically enough, Chung intended to give up on filmmaking before "Minari." He was poised to take on a job teaching English in Incheon, South Korea — but was itching to write one final script in the months leading up to his big move.
Chung apparently was sitting in a coffee shop in California when inspiration finally struck. "Two words came to me," Chung wrote in an essay for The L.A. Times. "They were clear only because they were so unfamiliar: 'Willa Cather.'"
Cather was an American novelist known for her work set in the Midwest. A trip to the library acquainted Chung with her novel "My Antonia," which instantly struck a chord with the director. "It's a story about a boy who grows up on a farm in Nebraska, and the words went to my soul, because of my own upbringing on a farm in Arkansas."
Initially, Chung considered adapting her work, as most of Cather's novels are now in the public domain. But after learning about her history with a failed screen adaptation — and her final wish to keep the rest of her novels untouched — Chung decided against it.
Digging Deep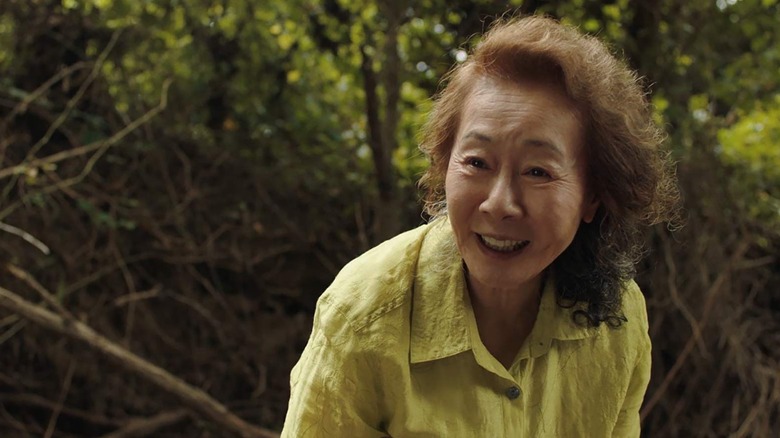 A24
Despite this, Chung couldn't seem to shake the idea of pursuing something related to Cather. The filmmaker meditated on their similarities, admiring the author's choice to write about her own experiences. "[Cather] drew upon memories of life in the Great Plains and wrote a series of intensely personal works that are among the most moving novels in American literature," Chung wrote. "She [once] said, 'Life began for me, when I ceased to admire and began to remember.'"
Willa Cather's words ultimately prompted Chung to look back on his own time in the Great Plains. "That's how I got the idea to write 'Minari,'" he admitted. "I devoted an afternoon to writing my memories of childhood."
Chung ended up with 80 memories total. Armed with those details, he began to write a story that brought together themes of assimilation, family, and the American Dream, all loosely inspired by his family. The process of writing the script was initially difficult, mostly because Chung felt the need to keep it from his parents.
"I was incredibly nervous about them finding out what I was doing," Chung told NPR. "They're private people, and I felt like I might be doing an injustice in some ways by writing a story about them and trying to represent their perspectives ... without letting them write it."
Personal Payoff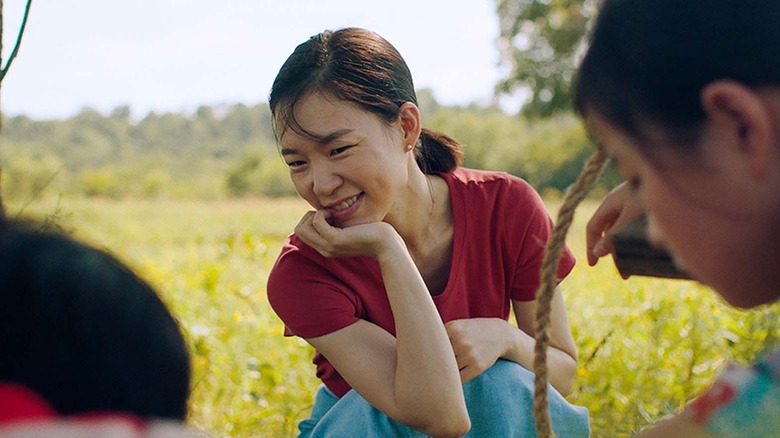 A24
Chung kept "Minari" a secret from his family throughout the film's development, but he eventually showed them a rough cut as production came to a close. "We watched the film together and slowly I just started to see my mom starting to weep, my sister, my dad. And it just felt like it was such a cathartic experience for all of us."
That catharsis was experienced by so many audiences who shared Chung's same experience. "Minari" is so touching because of the humanity of the characters. Each of them makes mistakes throughout the film, but the love coursing through the family and the sacrifices they make for one another make for a film that's a celebration of families around the world. "Minari" may seem specific to a very small community, but it still touches so many because of its authenticity. The success of the film shows that a personal experience, no matter how small, can provide the chance for a life-changing narrative to take shape.