Kyle Mooney Stays Weird In Saturday Morning All-Star Hits! Live-Action Animation Hybrid Series On Netflix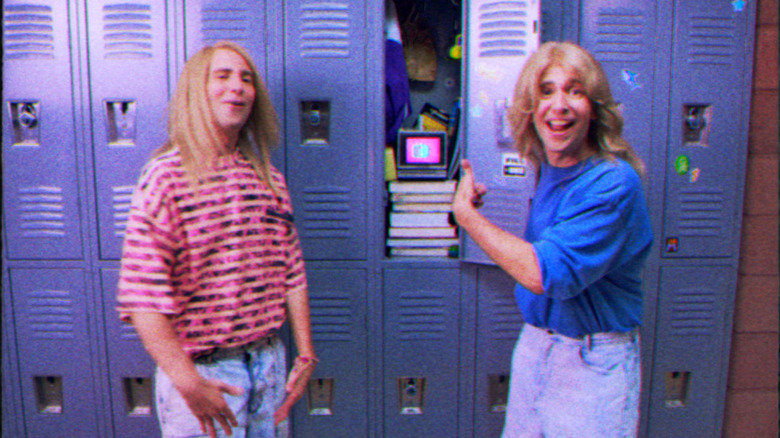 Netflix
Kyle Mooney has been bringing his own brand of quirky, oddball comedy to "Saturday Night Live" for years alongside his longtime comedy cohorts Beck Bennett (who recently departed the series) and filmmaker Dave McCary. The trio even collaborated on the Sundance-selected indie gem "Brigsby Bear." But now Mooney has his sights set on Saturday mornings with a new live-action animation hybrid series called "Saturday Morning All Star Hits!" coming to Netflix this December. 
"Wildly Irreverent and Slightly Disturbing"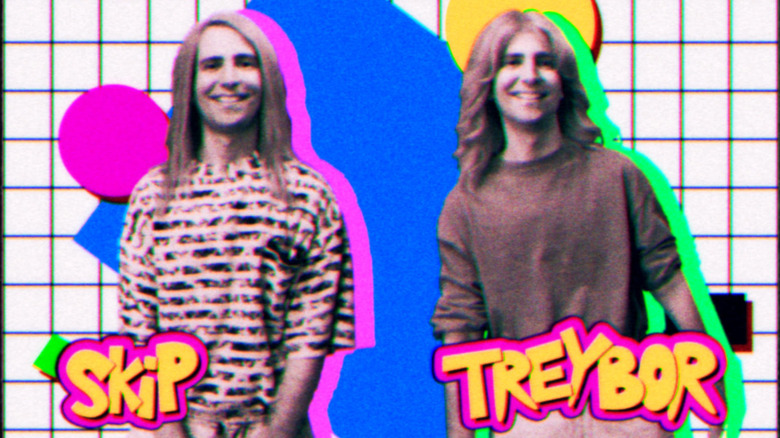 Netflix
Netflix announced "Saturday Morning All Star Hits!" will be arriving on the streaming service next month, and it sounds like it's right up Kyle Mooney's alley. The series is described as "an adult animated and live action hybrid series celebrating all that is 80s and 90s television." Not only that but it's supposedly, "wildly irreverent and slightly disturbing."
The live-action element (seen above) appears to be the show's framework, which finds Kyle Mooney playing twin brothers Skip and Treybor who are guiding us through the Saturday Morning cartoon experience. However, it doesn't seem like that's the only live-action character that Mooney is playing. Another photo from the series reveals him as some kind of 1980s teen heartthrob, pictured alongside Geraldine Viswanathan ("Blockers") as another teen star. So there might be some kind of teen gossip pop culture element at play.
The animation side of the series (below) seems to come in the form of the cartoons Skip and Treybor are presenting, which seem to call back to the animated shows of the 1980s featuring kid characters, zany adventures, silly guest stars, and anthropomorphic animals. 
Another glimpse at the animated segments of the series reveals some cartoon athletes, which brings to mind the appearances by professional athletes like the Harlem Globetrotters in shows like "Scooby-Doo: Where Are You?" 
But there's also a chance it could be referencing the animated series "ProStars," in which athletes Bo Jackson, Wayne Gretzky and Michael Jordan fought crime, helped kids, and protected the environment, even though the athletes themselves didn't voice the characters and only appeared in bookends at the beginning and end of the show.
What is This Show?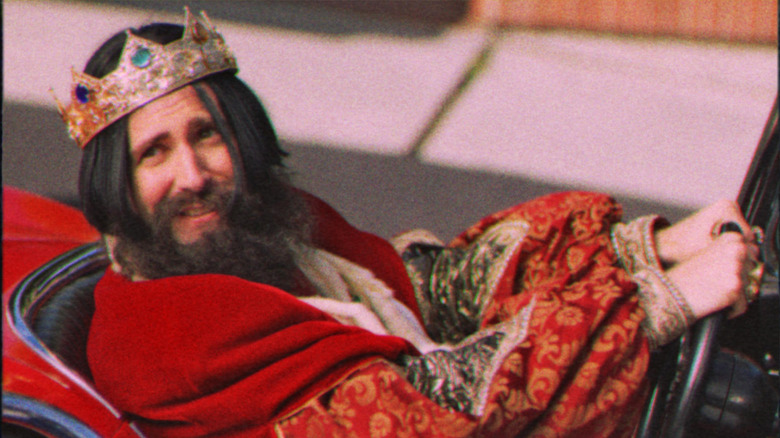 Netflix
I'm wondering if this will be something akin to "The Kroll Show" where there's a series of sketches that represent fictional TV shows, but they all have some kind of narrative connection. In this case, it would be presented as a stream of Saturday morning cartoons with a live-acton framing device and maybe even faux commercials. That's what the above image with Kyle Mooney as a king driving a car looks like. At the same time, I'm also expecting the weirdness of something like "Too Many Cooks" from Adult Swim. Knowing what Mooney has done with '80s and '90s nostalgia at "SNL," I'm betting it's somewhere in between.
Mooney created the series with Ben Jones and both are executive producing the series alongside "SNL" creator Lorne Michaels and his Broadway Video team of Andrew Singer and Katy Jenson. Fellow executive producers include Scott Greenberg and Joel Kuwahara at Bento Box Entertainment, Scott Gairdner, and Mooney's longtime collaborator Dave McCary.
Knowing Mooney's sense of humor and reverence for the entertainment of the 1980s and 1990s, I think this is going to be something special. So make sure to tune in when all eight episodes of the series debut at Netflix on December 10, 2021. We'll leave you with the poster for "Saturday Morning All Star Hits!," but we're hoping to see a trailer sooner than later.