The Best New Blu-Ray Releases: Candyman, Jungle Cruise, And More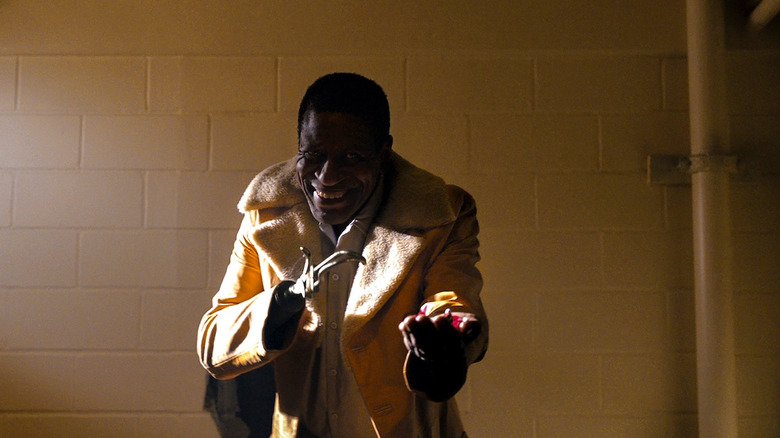 MGM
This column is called "the BEST new Blu-ray releases," but I feel a little awkward using that title this week. Because, dear reader, this week's offerings are a little hit or miss, and more miss than hit. But I have a duty to bring you these Blu-ray reviews, and I don't want to let down the two or three people who actually read this column. Besides, just because I'm not a fan of something doesn't mean you should completely avoid it. As always, I encourage you to draw your own conclusions. I am merely here as a guide to offer help, not to give you a mandate. Anyway, I now order you to read this column! 
Jungle Cruise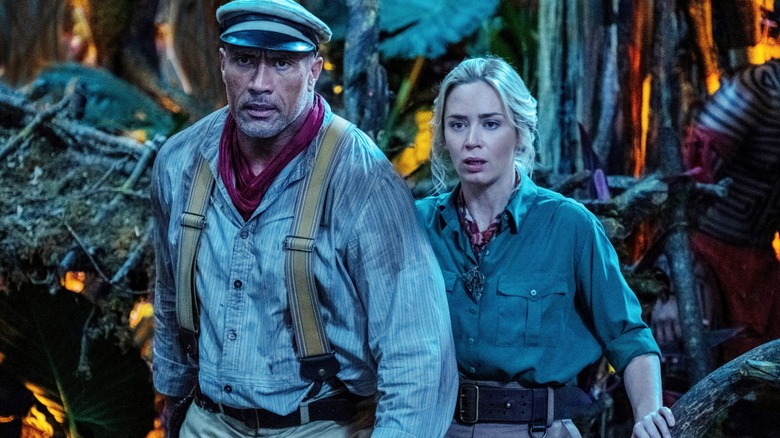 Disney
Disney had huge success turning their "Pirates of the Caribbean" ride into a film series, but their other attempts on the ride-to-movie front haven't gone over as well. Their latest is "Jungle Cruise," a mostly harmless bit of digital hokum that tries to recapture the magic of films like the 1999 "The Mummy." And this movie does have a few good things going for it. It's directed by Jaume Collet-Serra, the master stylist responsible for art-trash like "Orphan" and "The Shallows." And it features likable stars Dwayne Johnson and Emily Blunt in the lead. But "Jungle Cruise" also feels rather hollow. Say what you will about the "Pirates" franchise, but director Gore Verbinski made sure things in that first movie, "The Curse of the Black Pearl," felt as real as possible. He used real locations and practical sets whenever he could, and it made the entire film feel huge and sprawling. "Jungle Cruise," in contrast, looks like it was shot entirely in water tanks on sound stages. There's a sheen of artifice over the entire dang thing. 
In "Jungle Cruise," Blunt is Dr. Lily Houghton, a botanist who is in search of the Tree of Life. To find the tree, which is located somewhere in the Amazon, Lily and her comic relief brother (Jack Whitehall) hire steamboat skipper and pun fan Frank Wolfe (Dwayne Johnson) to take them downriver. Meanwhile, the film's villain, a German royal (played by Jesse Plemons, who is a lot of fun to watch here), is on their tail. Oh, and also, there's some nonsense about curses and supernatural conquistadors that unexpectedly tie directly into Werner Herzog's "Aguirre, the Wrath of God." Go figure. 
"Jungle Cruise" is charming enough, I suppose. But the entire endeavor feels so manufactured and so mercantile that it ends up not being nearly as fun as it should've been.
Special Features:
Jungle Cruise Expedition Mode – Climb aboard a ramshackle tramp steamer (or your own couch) to learn fun facts, discover Easter eggs and catch some pop-up trivia throughout the movie.
It's A Jungle Out There: Making Jungle Cruise – Director Jaume Collet-Serra, the cast and crew discuss the importance of the film's elements, from casting to makeup to the use of an ancient indigenous language, in creating the world that honors one of Disneyland's most beloved rides.
Dwayne And Emily: Undoubtedly Funny – Go on-set with the two stars, whose newfound friendship helped them project a natural onscreen chemistry. Although their characters challenge each other throughout the film, the actors make each other laugh. A lot!
Creating The Amazon – Explore the cinematic artistry involved in creating the world of "Jungle Cruise," including how Frank's boat coursed "dangerous" water in a tank in Atlanta, how a town was built in Kauai, and how a ferocious jaguar came to life, among other amazing effects.
Once A Skip, Always A Skip – Join a panel of "Skippers" at the Disneyland Resort as they reminisce about the rewards, challenges and surprises they've experienced while helming the world-famous "Jungle Cruise" attraction, and hear their advice to aspiring skippers everywhere!
Outtakes – Step behind the scenes of the production to catch the cast in a series of flubs, falls, foibles — and a whole lot of laughter.
Deleted Scenes

MacGregor Drives The Boat
MacGregor Water Skis
Joachim And Nilo On The Dock
Frank Talks To Proxima & Lily's Nightmares
Sub Gets Stuck
Proxima Surprises MacGregor
Frank Gets The Cold Shoulder
Trader Sam And Lily Walk In The Jungle
MacGregor And Trader Sam Say Goodbye
Frank Makes Tea For Lily
The Backside Of Water
Snake Eyes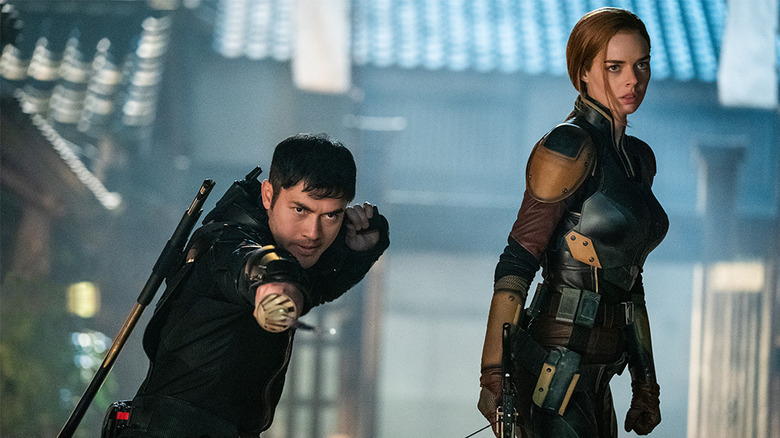 Paramount
Will Hollywood ever stop trying to make "G.I. Joe" movies a thing? After the box office failure of "Snake Eyes," they just might. To be fair, "Snake Eyes" is more sophisticated than the previous two "G.I. Joe" films, but that's also kind of the problem. This movie takes itself too seriously. There's a fine line between silly and serious, and any movie in the "G.I. Joe" world must walk that line precariously. Sadly, "Snake Eyes" never allows any trace of "fun" to seep in. Instead, everything is very dour and clearly trying to emulate the Christopher Nolan "Batman Begins" reboot method. 
But worst of all, "Snake Eyes" is boring. And I'm not even sure how that's possible because, on a technical level, this movie is full of non-stop action. One big fight sequence follows another, chases ensue, bullets fly, swords swish. It's relentless. And yet ... none of it inspires anything close to excitement. It's almost impressive to make a movie this action-packed still be so dull. Plot-wise, "Snake Eyes" follows a guy named Snake Eyes, played by Henry Golding, a handsome, talented guy who feels wrong for this part. Snake Eyes watched his father murdered when he was a kid, and the killer rolled some dice before he killed dad. The dice came up with a pair of snake eyes. And, for reasons that are never adequately explained, Snake Eyes decided to start going by the name of the thing that determined his father's fate. Whatever. 
As an adult, Snake Eyes befriends Tomisaburo "Tommy" Arashikage (Andrew Koji), the leader of a ninja clan. The friendship is doomed, though, because one day, Tommy will become Storm Shadow, Snake Eyes' sworn enemy. Meanwhile, the film keeps trying to cram references to other "G.I. Joe" crap into the narrative, and none of it works. Samara Weaving is completely wasted as "G.I. Joe" character Scarlett, and she only seems to be in the movie so characters can not-so-casually mention "the Joes." Again: whatever. 
Special Features:
Morning Light: A Weapon with Stories to Tell – Discover the secrets of Snake Eyes' legendary sword, Morning Light, in this all-new short film
Deleted Scenes – What you didn't see in theaters
Enter SNAKE EYES – Find out what it took to bring the iconic hero's origin story to life
A Deadly Ensemble – Meet fan-favorite heroes, villains, and new characters in the G.I. JOE franchise
Arashikage – Dive into the elite ninja warrior world of the Arashikage clan
Candyman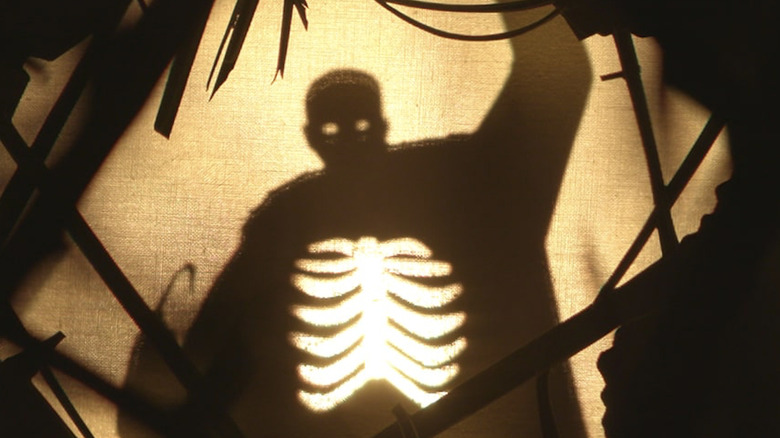 MGM
The reaction to the new "Candyman" was considerably mixed, and that's perfectly fine. I was positive about the film – I wrote in my review, "At times, "Candyman" gives off the air of something classic and old school; a movie cut from a different cloth than modern horror. Elegant; deliberate – much like the 1992 original." But I also think many of the more negative criticisms levied at the flick are warranted. Still, I think there's a lot here to appreciate. Nia DaCosta's direction is incredibly solid, and the way the film expands on the "Candyman" myth is interesting. Is this as good as the original film? Nope! The original is a horror classic, and always will be. But this new "Candyman" packs a punch. 
Anthony McCoy (Yahya Abdul-Mateen II) is an artist who has an unknown connection to the events of the original film (although every single trailer more or less gave this "twist" away ahead of time). As he begins investigating the Candyman legend, he finds his entire life spiraling out of control as the body count rises around him. All of this is handled well, but there are some things on the edges of the film that don't quite work. The motivations of a mysterious character played by the always-welcomed Colman Domingo just don't add up, and we're never given enough time to buy into the relationship between Anthony and his girlfriend (Teyonah Parris), who has a complicated backstory of her own that's quickly glossed over. The deleted and extended scenes included on the disc fleshes some of this out, but it would've been better if they had made their way into the final film. 
Special Features:
ALTERNATE ENDING
DELETED AND EXTENDED SCENES
SAY MY NAME: Filmmakers and cast discuss how the horror at the center of Candyman is both timely and timeless, which is a tragedy in and of itself.
BODY HORROR: We explore director Nia DaCosta's influences in the subgenre of body horror, and what Anthony's physical transformation means to the story.
THE FILMMAKER'S EYE: NIA DACOSTA: Take a closer look at director Nia DaCosta, and how her singular voice and perspective were perfect to tell this story.
PAINTING CHAOS: Filmmakers reveal how Anthony's artwork evolves throughout the film and how they strived for authenticity in recreating Chicago's vibrant art scene.
THE ART OF ROBERT AIKI AUBREY LOWE: Composer Robert Aiki Aubrey Lowe reveals some of the unconventional methodology he used to create the unique and haunting soundscapes sounds of the film.
TERROR IN THE SHADOWS: A behind-the-scenes look at how the analogue shadow puppetry scenes were created and an unpacking of why this ancient artistic medium was the most conceptually relevant for depicting the legends' cycle of violence.
CANDYMAN: THE IMPACT OF BLACK HORROR: A roundtable discussion moderated by Colman Domingo about the nuanced relationship Black Americans have with Candyman, the horror genre and the overall idea of monsters and victims.
Underworld 4K Collection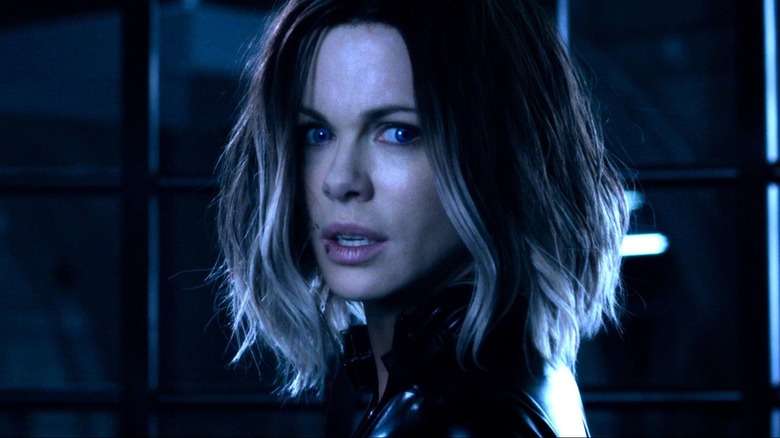 Sony
Did you know they made five "Underworld" movies? It's true! And now all those movies are together in a new 4K box set. Does anyone need a 4K box set of all the "Underworld" movies? Yes, the answer is yes. Because you know what? For all their dour nonsense, these movies are kind of fun. The first film, which arrived in 2003, was clearly something put together to appeal to fans of "The Matrix." It has the same gothy leather aesthetic, complete with bullet time-style slow-motion. But while "The Matrix" was dealing with sci-fi, "Underworld" dipped into the fantasy/horror world. 
The series chronicles the seemingly never-ending war between vampires and werewolves, or "Death Dealers" and "lycans" as the series calls them. Most of the flicks feature Selene (Kate Beckinsale), a Death Dealer who is very good at shooting guns and looking cool as hell. Throughout the course of the five films, a somewhat muddled mythology arises, jumping back and forth in time (for instance, the third film, "Underworld: Rise of the Lycans," is actually a prequel and therefore chronologically the first entry in the overall story). I do wonder if we're entering a period of late '90s/early 2000s nostalgia that will excite people about a box set like this. Or maybe there are just hardcore "Underworld" fans who really, really want all these films collected in 4K. I'll say this much: you won't be bored watching these movies. 
Special Features: 
UNDERWORLD BONUS FEATURES
4K ULTRA HD
Theatrical & Extended Versions of the Film (both 4K HDR and Dolby Atmos)
Alternate Flashbacks (4K HDR)
Theatrical Trailer
BLU-RAY
Extended Version of the Film
Director & Cast Commentary
Fang vs. Fiction Documentary
7 Featurettes
Outtakes
Storyboard Comparisons
Music Video: "Worms of the Earth" by Finch
UNDERWORLD: EVOLUTION BONUS FEATURES
4K ULTRA HD
BLU-RAY
Director & Filmmakers' Commentary
The Hybrid Theory
The War Rages On
Bloodlines: From Script to Screen
Making Monsters Roar
Building a Saga
Music and Mayhem
Music Video: "Her Portrait in Black" by Atreyu
UNDERWORLD: RISE OF THE LYCANS BONUS FEATURES
4K ULTRA HD
Rise of the Lycans: Inside the Castle Walls
Theatrical Trailers
BLU-RAY
Behind the Castle Walls: Picture-in-Picture Experience
Filmmaker Commentary
3 Featurettes
Music Video: "Deathclub (Wes Borland / Renholder Remix)" by William Control feat. Matt Skiba
And More
UNDERWORLD: AWAKENING BONUS FEATURES
4K ULTRA HD
Underworld: Endless War 3-Part Animated Series (with stereo DTS-HD MA English audio)
Theatrical Trailers
BLU-RAY
Cracking the Underworld: Picture-in-Picture Experience
Filmmakers' Commentary
5 Featurettes
Blooper Reel
And More
UNDERWORLD: BLOOD WARS BONUS FEATURES
4K ULTRA HD
Franchise Recap
Theatrical Trailers
BLU-RAY
Underworld: Blood Wars – The Official Movie Graphic Novel
The Evolution of Selene
Building a Blood War
Old & New Blood
The Evil Evolved