Lost In Space Final Season Trailer: Danger, Family Robinson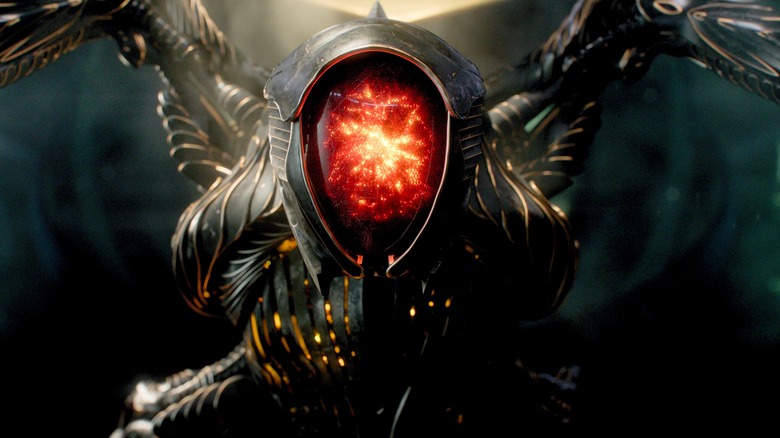 Netflix
The Robinson family is back — but they're lightyears apart. In the new trailer for "Lost in Space" season 3, the final chapter of Netflix's reboot of the classic sci-fi show, the Robinson kids and Robot are once again left to try and survive on their own, while their parents try to keep the rest of the colonists safe from the race of synthetic aliens attacking them.
It's been almost two years since "Lost in Space" season 2 released on Netflix, and it was a strong follow-up that continued so much of what had been great about the first season: the wonders of space brought to life with jaw-dropping visual effects; a family of smart, resourceful characters who are easy to root for; and a pretty much non-stop stream of terrible (but thrilling) disasters for the Robinsons to deal with.
"Lost in Space" season 2's ending also included a major cliffhanger. After the ship carrying the colonists' children disappeared through a rift in space and found itself face-to-face with the Fortuna, the ship that disappeared two decades ago, taking Judy Robinson's biological father, Grant Kelly, with it.
What's next for the Robinson family? Watch the trailer for the final season of "Lost in Space" to find out!
Lost in Space Season 3 Trailer
"Lost in Space" season 2 revealed a rather unsavory truth about the Earth colonists' missions to Alpha Centauri: They were made possible after the "Christmas Star" (actually a spaceship containing one of the alien robots, Scarecrow) crash-landed on Earth and was used to reverse-engineer a faster-than-light engine. Scarecrow himself was enslaved and forced to pilot the previous 23 colony missions, as well as the 24th colony mission that the Robinsons were a part of. Needless to say, it's not surprising that the robots have rallied an entire army against the colonists.
The trailer for "Lost in Space" season 3 confirms that June Harris aka Dr. Smith, who appeared to have sacrificed her life buying enough time for the Robinsons to escape, is actually still alive. Whether she'll be more of a help or a hindrance going forward, however, remains to be seen.
Will the Robinsons and the other colonists finally make it to Alpha Centauri? Can the synthetic aliens be defeated or placated? And will Judy get to meet her biological father? Fortunately, there are just a few weeks left until we finally have some answers to these burning questions.
"Lost in Space" season 3 premieres December 1, 2021 on Netflix.