The Daily Stream: The Hunted Is A Lean, Mean, Violent (And Underrated) Machine From Director William Friedkin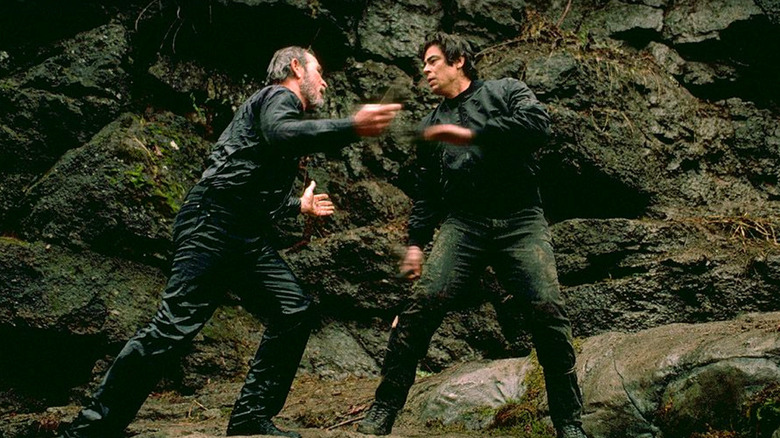 Paramount
(Welcome to The Daily Stream, an ongoing series in which the /Film team shares what they've been watching, why it's worth checking out, and where you can stream it.)
The Movie: "The Hunted"
Where You Can Stream It: Hulu, Paramount+
The Pitch: William Friedkin does "First Blood." When a former special forces assassin (Benicio del Toro) goes off the deep end and murders two hunters, the man who trained him (Tommy Lee Jones) is brought in to help bring him down. What follows is a feature-length chase culminating in a bloody knife fight. 
Why It's Essential Viewing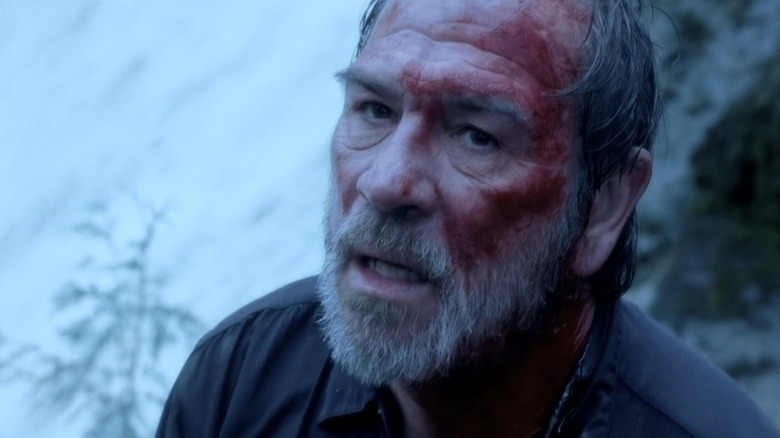 Paramount
Roger Ebert once said, "No good movie is too long and no bad movie is short enough." And I tend to agree. I try not to get too hung up on movie lengths because if a movie is good, I tend to not notice how long it is. I can sit through lengthy films like "JFK," "Zodiac," or "The Irishman" over and over again and never get bored because they're so damn good. That said, there's something special about a lean movie. A movie that clocks in somewhere in the 90-minute range. There aren't a lot of 90-minute features these days – excess seems to be the name of the game. And I often find myself pining for the days when we could have a sturdy, quick film that doesn't waste any time. And that's a good way to describe "The Hunted," William Friedkin's underrated thriller from 2003. 
Story-wise, Friedkin's film is a lot like the first Rambo movie, "First Blood." The premise is basically the same: a veteran with PTSD is hunted down by the man who helped train him. But these stories unfold much differently. Poor John Rambo was just trying to mind his dang business when local law enforcement gave him a hard time. But Aaron Hallam (Benico del Toro), the former soldier at the center of "The Hunted," is a different beast. 
In a shockingly brutal opening sequence, we see Hallam in the midst of the Kosovo War. Friedkin immediately establishes why Hallam is so mentally unstable by turning these opening moments into a kind of prolonged nightmare, where guns never stop firing and people never stop screaming. It's ugly, violent stuff, and Freidkin stages it in a decidedly un-stylish manner. There's nothing cinematic here; it's just moment after moment of mindless slaughter, and it immediately sets a bleak tone for the film that never lets up. 
Years later, Aaron Hallam has gone off the grid, living in Oregon. He's become increasingly paranoid, convinced that the government wants to kill him. So when he comes across two wealthy elk hunters with fancy equipment in the forest of Silver Falls State Park, he's sure they're there to actually hunt him. And so he does what he does best: he kills them, brutally. The murder is so extreme that law enforcement brings in outside help in the form of L.T. Bonham (Tommy Lee Jones), a former civilian military instructor. As it turns out, L.T. and Aaron know each other – L.T. was the person who taught Aaron how to become such an efficient killer. L.T. first tries to convince Aaron to turn himself in, but Aaron refuses. He's caught anyway – only to escape. Now, L.T. has to track him down and stop him. 
Jones has been here before – he famously chased another fugitive in "The Fugitive." But his character here is not like his Oscar-winning "Fugitive" role. He's quiet, more reserved, less of a showboat. He doesn't even seem to enjoy what he does. He simply does it because he's good at it. And he realizes he has to stop Aaron or else the former soldier is just going to keep killing people. 
And that's really it! This simple set-up – man chases the monster he created – is all "The Hunted" has to offer, and I'm not complaining. There's zero fat here. Friedkin is a master of chase scenes, and with "The Hunted," he gets to stage what's essentially a feature-length chase scene, with Jones constantly running after del Toro. It all climates in a big "Predator"-like showdown, where L.T. and Hallam take to the woods, fashion their own weapons, and then go head-to-head for one final battle.
"The Hunted" underperformed at the box office and critics didn't seem to care for it. But it deserved better, and the film has always stuck with me after I first saw it in theaters. Is it one of Friedkin's best movies? That's debatable. But it's certainly one of the filmmaker's most underrated works.