Wes Anderson Is Getting An Austin Street Named After Him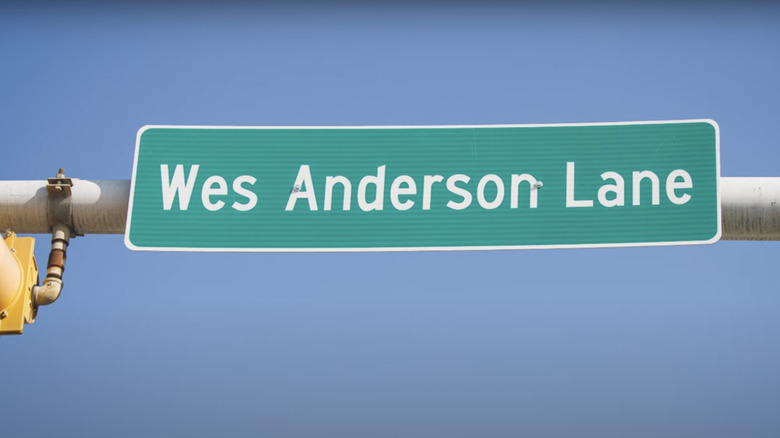 Alamo Drafthouse
As a proud Austinite since 1993, I can vouch that we're very proud of our hometown boy, Wes Anderson. He might be overshadowed a little bit locally by the reverence toward Robert Rodriguez and Richard Linklater, but this town does love our success stories. For the record, we also gave honorary hometown status to Mike Judge, Elijah Wood, and Quentin Tarantino because they've all adopted us as a city in some form over the years, and we like to collect talented people like they were Pokemon.
But when it comes to Wes Anderson, the city of Austin is going above and beyond ... by dropping a "t" on a street sign.
West Anderson Lane is a big street North of downtown that happens to be where the oldest remaining Alamo Drafthouse in the city is located. The Alamo Drafthouse Village theater was the second ever Drafthouse established, the first being the now sadly gone original downtown single-screen location. 
Sorry, getting caught up in Austin minutia. We do that sometimes. 
The point is the Drafthouse has teamed up with Austin's own Mayor Adler to change the name of West Anderson Lane to Wes Anderson Lane. They even released a nice little video, complete with the director's reaction, to celebrate the occasion.
Yes, Wes Anderson Lane Is An Officially Official Street Name Now
Now, something you should know about Austin is we have some really geeky street names. Back in the old hippie days, an enterprising Tolkien fan somehow got the city to name a whole neighborhood after "Lord of the Rings" characters and locations. Frodo Lane, Mordor Cove, Silmarillion Drive ... all real streets here in Austin (and no, Elijah Wood's Austin home isn't located in this neighborhood, which is a minor travesty in my humble opinion). 
I myself live on a street named after a very famous working actress, and when I have to give my address for anything official I'm usually greeted by a raised eyebrow. In fact, I still hold out hope to one day interview this actress so I can show her my driver's license and see what her reaction would be.
All that is to say that it wouldn't surprise me if this Wes Anderson Lane change sticks. Right now it's temporary, intended only for the month of November. As an Austinite, I can tell you that the way locals speed through saying that street name already sounds like "Wesanderson Lane," anyway.
There's A Cool Contest, Too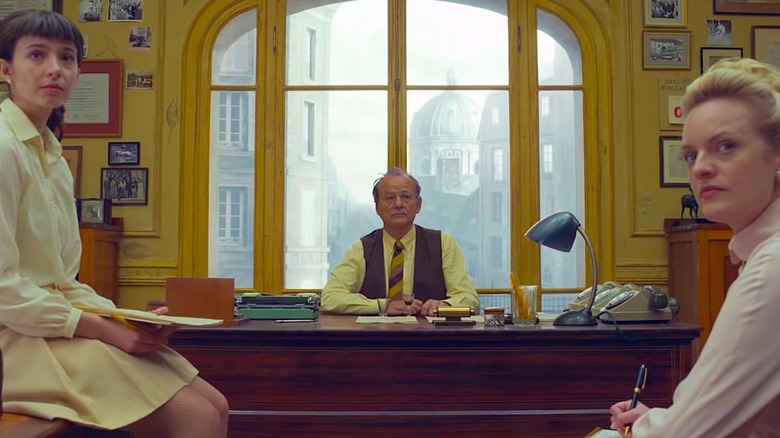 Searchlight Pictures
For enterprising Wes Anderson fans, the Drafthouse is also holding a costume contest on their Instagram page (@Drafthouse). The lucky winner will be flown to New York to attend a screening of Anderson's newest movie, "The French Dispatch," where they'll get to meet a special guest from the film. All they have to do is dress up like their favorite Wes Anderson character and they could be lucky enough to have that one-of-a-kind experience.
So, if you've got some cool vintage threads lying around, or, God forbid, a Zissou speedo, then go on with your bad self and win you that trip. I'll just be sitting here in Austin planning the next grassroots movement to totally geekify a new neighborhood. Since I'm a big Stephen King nerd, maybe a King-related neighborhood. Who wouldn't want to live on Cujo Court, Annie Wilkes Ave, or Pennywise Place? I hear Torrance Terrace is family-friendly.