Ghostbusters: Afterlife Trailer: Terror Dogs, Dan Aykroyd, And A Familiar Song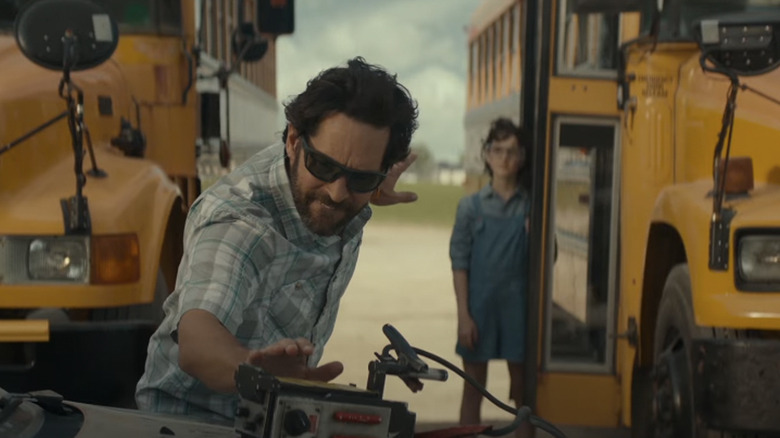 Sony
Thanks to pandemic-related delays, "Ghostbusters: Afterlife" has felt like the movie equivalent of Lucy holding a football for Charlie Brown to kick, only to yank it away at the last second. And hey, I get it: the pandemic rightfully made a lot of Hollywood studios hesitant to release their movies into an environment with more complexity than usual, and a studio like Sony needs to make as much as possible on a potential blockbuster like this in order to stay competitive.
But now the movie is finally just a few days away from being released, and the marketing department wants to make darn sure you know that not only is this film coming soon, but it's directly linked to the first two "Ghostbusters" movies and will feature the return of the original cast's surviving members.
Ghostbusters: Afterlife Trailer
It's a good thing this is listed as the "final trailer," because all of those delays necessitated a lengthier marketing campaign than usual, and we now find ourselves in the weird position of feeling as if we've seen three quarters of the movie already thanks to all of the TV spots and trailers that have already been released. We've seen and heard allusions to the original 1984 Ghostbusters squad in previous trailers (largely through the presence of Dan Aykroyd's Ray Stantz), but this trailer makes it explicit that Bill Murray is coming back to portray one of his most famous cinematic roles: Dr. Peter Venkman. 
It will mark the first time Murray has played the character since 1989's "Ghostbusters II." Weirdly, the same thing cannot be said for Aykroyd, who reprised the role for this brief and totally bizarre cameo in 1995's "Casper."
Since Harold Ramis's death, Murray, Aykroyd, and fellow Ghostbuster Ernie Hudson have appeared in other "Ghostbusters"-related projects, most notably 2016's "Ghostbusters: Answer the Call," in which they all played new characters as opposed to reprising their classic roles. But they'll be back as Venkman, Ray, and Winston in "Afterlife," and they'll be joined by another pair of familiar faces: Sigourney Weaver as Dana Barrett and Annie Potts as Janine.
Here's the movie's official synopsis:
From director Jason Reitman and producer Ivan Reitman, comes the next chapter in the original Ghostbusters universe. In Ghostbusters: Afterlife, when a single mom and her two kids arrive in a small town, they begin to discover their connection to the original ghostbusters and the secret legacy their grandfather left behind. The film is written by Jason Reitman & Gil Kenan.
"Ghostbusters: Afterlife" blasts into theaters on November 19, 2021.