Licorice Pizza Early Buzz Hypes A 'Perfect' Paul Thomas Anderson Movie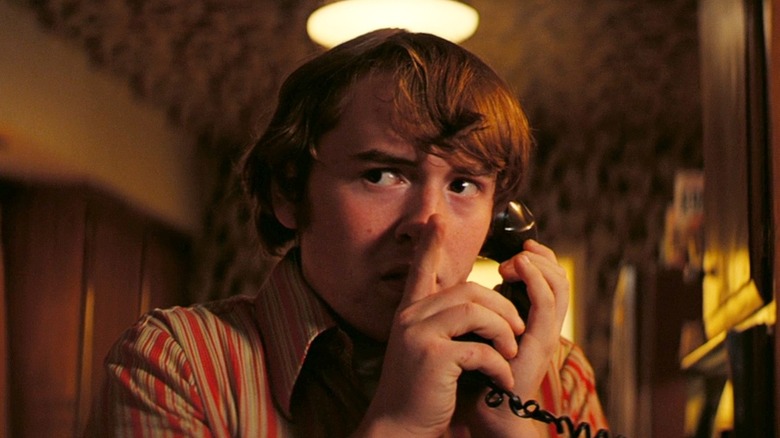 MGM Studios
Director Paul Thomas Anderson ("Phantom Thread," "There Will Be Blood") is returning this month with his brand new coming-of-age dramedy "Licorice Pizza," which had its very first screening for Hollywood guild members this weekend. Though reviews won't be out until closer to the movie's November 26 release date, early buzz from industry members — including J.J. Abrams (Star Wars: The Force Awakens") and BenDavid Grabinski ("Are You Afraid of the Dark") — is very positive.
The trailer for "Licorice Pizza" released on September 2021. The movie stars newcomer Cooper Hoffman and Alana Haim, one third of the band HAIM, for whom Anderson has been directing music videos for years. The movie also features Bradley Cooper as real-life film producer Jon Peters (whom you may know from Kevin Smith's incredible anecdote about working with Peters on the canceled movie "Superman Lives"). 
Here's the official synopsis for "Licorice Pizza," courtesy of MGM Studios:
"Licorice Pizza" is the story of Alana Kane and Gary Valentine growing up, running around and falling in love in the San Fernando Valley, 1973... the film tracks the treacherous navigation of first love.
Screenings of "Licorice Pizza" will continue for guilds and critics over the next few weeks, but the early buzz is already very positive.
First Reactions To Licorice Pizza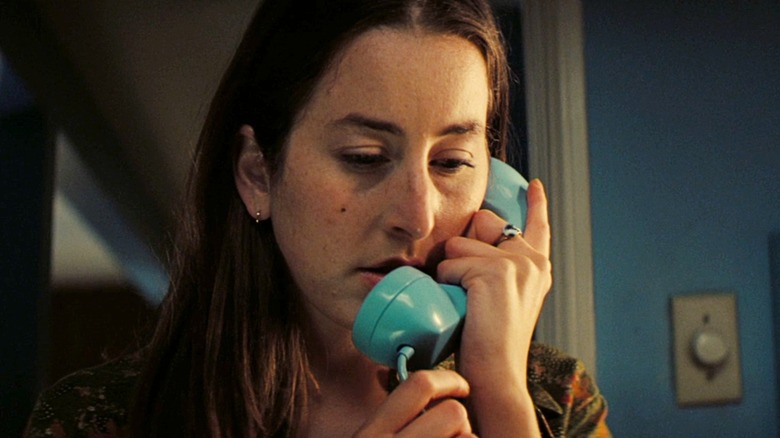 MGM Studios
J.J. Abrams is no stranger to coming-of-age stories, having written and directed the nostalgic family adventure "Super 8" — which, like "Licorice Pizza" was set in the 1970s. Abrams had particular praise for the debut performances from Hoffman and Haim, and he wasn't alone.
Truly incredible debut performances. There's little better than going to a PTA movie. Be sure to see #LicoricePizza November 26! pic.twitter.com/LIUll03XbO

— JJ Abrams (@jjabrams) November 7, 2021
Film critic and The Young Turks commentator David Mankiewicz spotlighted Alana Haim's performance as deuteragonist Alana Kane...
The movie world needs to prepare itself for the overwhelming charm, likability, and humanity of Alana Haim in @licoricepizza. https://t.co/8APF5J5RQB

— Ben Mankiewicz (@BenMank77) November 7, 2021
... As did "Valet" creator Michael A. Bina.
Licorice Pizza was brilliant. Hysterical and charming. Nothing bad I can say about it. I absolutely loved it. Alana Haim's performance is everything.

— Michael A. Bina (@michaelabina) November 7, 2021
Filmmaker Riley Stearns ("The Art of Self-Defense") also had high praise for "Licorice Pizza," calling Anderson's new film "utterly magic."
LICORICE PIZZA is utter magic and continually unexpected. Wow.

— Riley Stearns (@RileyStearns) November 7, 2021
Writer/director BenDavid Grabinski weighed in on the movie with a very succinct review.
LICORICE PIZZA IS PERFECT HOLY SHIT

— BenDavid Grabinski+ (@bdgrabinski) November 7, 2021
For Brian Hausler, screenwriter and host of the "And the Losers Are" podcast, "Licorice Pizza" made for the perfect return to the theatrical viewing experience.
LICORICE PIZZA is so fucking good. God damn. Haven't been to the theater since pandemic started and that was the most I've smiled in a long damn time. Movies are magic.

— Ben Hausler (@BenHausler) November 7, 2021
Early buzz should always be taken with a pinch of salt — especially when it comes from industry screenings, since people in glass houses (i.e. with their own movies and TV shows coming out) are less inclined to throw stones. That being said, Paul Thomas Anderson is one of the most consistently great directors working today, and it sounds like PTA fans are in for another treat.
"Licorice Pizza" arrives in theaters on November 26, 2021.