The Labor Strike Flashback In Squid Game Is Based On A Real Tragic Event In Korean History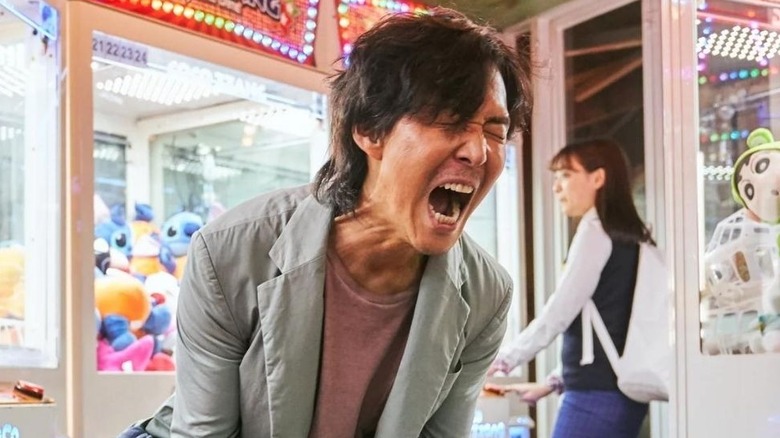 Netflix
Netflix's dystopian drama "Squid Game" is horrifying enough, but when you discover that its plot is rooted in history, it makes it considerably scarier. The South Korean language series follows 456 cash-strapped individuals who are selected to participate in a series of deadly games in a bid to escape severe debts. These games (adapted from real-life games played by South Korean citizens during their childhood) appear to be easy enough at first glance, but their true nature is revealed to the contestants when they realize that there is no elimination. There is only death.
The nine-part series that was originally conceived as a feature film has become the streamer's most significant release to date, drawing 111 million views since its premiere in September. Created by director-screenwriter Hwang Dong-hyuk, "Squid Game" has become a global phenomenon. It has dominated pop culture in mere weeks, prompting an avalanche of memes, elaborate Halloween costumes, and a candy craze likened to the Dalgona coffee trend as witnessed in 2019.
The survival drama series has earned praise for its stellar critique of capitalism and how it affects the world today. But very few know that many elements in the show borrow inspiration from real, tragic events in South Korean history.
The Truth Behind the Flashback in Episode 5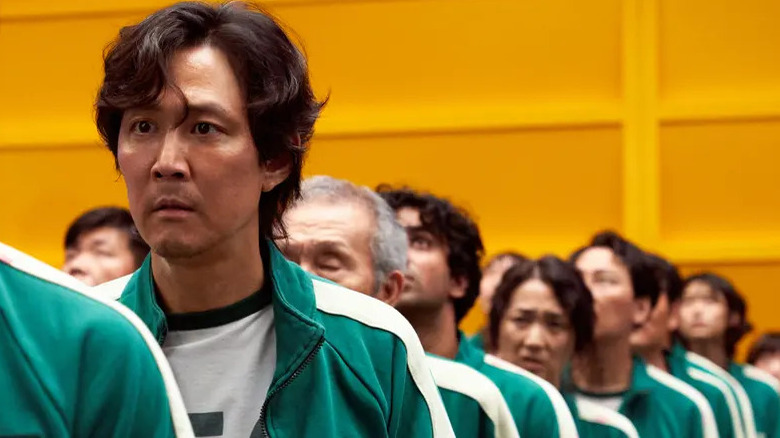 Netflix
A flashback scene in "Squid Game" episode 5, "A Fair World," ironically depicts the sheer injustice faced by labor workers in the aftermath of South Korea's 2008 global economic collapse. In the scene, Seong Gi-Hun (played by the impeccable Lee Jung-jae), who witnesses his competitors engage in a killing spree, ties the violence to his past as an autoworker.
Before Gi-Hun became the debt-ridden man we know him to be, he had a steady job at the fictional Dragon Motors as an autoworker. He was laid-off when the company went bust, and he remembers watching the violence that ensued when his co-workers attempted to protest.
There is a real-life event in Korean history that served as inspiration for the scene. In 2009, SsangYong Motors laid off hundreds of autoworkers after the company went bankrupt. The employees charged into the factory and occupied it entirely, demanding that SsangYong Motors return their jobs. The strike ended in defeat after police officers took control of the factory and brutally attacked the workers. They were physically assaulted with batons and water cannons, and helicopters dropped tear gas on them.
The 77-day strike occurred after SsangYong Motors laid off 43 percent of its entire workforce. The layoffs transpired after the company decided to transfer its assets to global investors.
Gi-Hun's Reason to Compete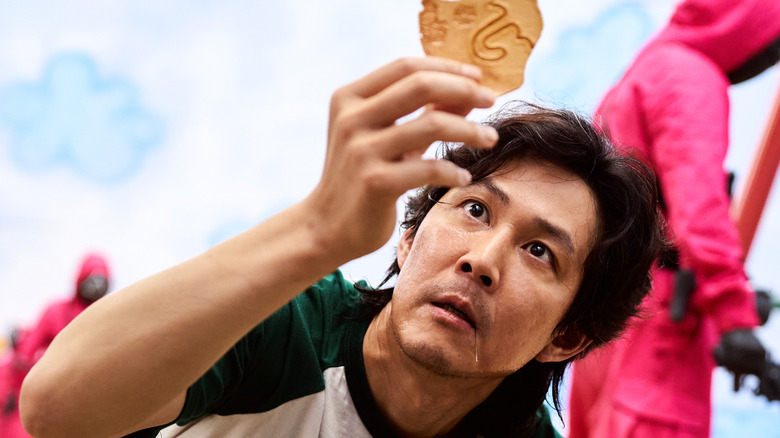 Netflix
As a striker himself, Gi-Hun watched his co-workers get beaten by the police. His unemployment and the events that followed led him to depend on loan sharks, and hide from them when he couldn't afford to pay back their money, resulting in his divorce and losing custody of his young daughter. When he was approached by a man who asked for his participation in a series of games in exchange for economic redemption, Seong (who had been made to sign off his organs as collateral against his will) saw it as his only way out.
"Squid Game" details the horrors of capitalism in modern society and carefully weaves them into its narrative. It is effortlessly binge-worthy while providing the necessary twists and thrills to keep you on the edge of your seat. But its raw, devastating depiction of class structures within our society is worth understanding.