Dwayne Johnson Is Not Playing Santa In Red One, Will Play 'Something Really Awesome' Instead [Exclusive]
Universal
Earlier this summer, we got wind about a new Christmas action movie starring Dwayne Johnson called "Red One," which was described as "Hobbs and Shaw" meets "Miracle on 34th Street." Do I know what that means? No. Am I excited about it anyway? Abso-freaking-lutely. Why? Because I am a wrestling mark who will watch Dwayne Johnson do anything his heart desires, especially a Christmas movie. Christmas movies are no strangers to wrestlers, with some of the best examples being Bill Goldberg as the slasher Santa in "Santa's Slay," Paul "Big Show" Wight's cameo as the hulking, muscular mall Santa in the factory fight scene of "Jingle All The Way," and who could forget the camp mess that is Hulk Hogan in "Santa with Muscles"?
However, /Film's own Ben Pearson recently spoke with "Red Notice" producer Hiram Garcia, who is responsible for the story of "Red One," and received an update on the project that will either excite or disappoint those invested in a Christmas movie starring Dwayne "The Rock" Johnson. Ben asked Garcia about Johnson's role in "Red One," asking the burning question on everyone's minds, "Is Dwayne literally playing Santa in it?"
Sorry, Y'all – Dwayne Johnson is NOT Playing Santa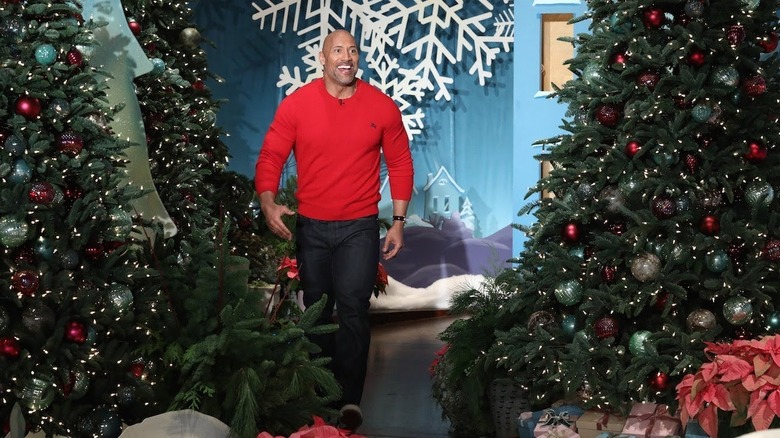 NBC
Hiram Garcia cleared things up, telling Ben Pearson the following:
It's funny, he's not playing Santa. For some reason, everyone thinks he's playing Santa. He's not playing Santa, but he's playing something really awesome. We're really excited about it. It's the movie we're looking to film next year. We're thrilled to have Jake Kasdan to direct it, because he is such a master in that space and the tone we're wanting to do. It is very much "Hobbs and Shaw" meets "Guardians of the Galaxy" meets "Miracle on 34th Street." It's going to take holiday mythology and turn it on its head. Really, it's hard to find another Christmas movie to even compare to it. I don't think there's ever been anything done like this in that space, which is always very appealing to us. We're really excited about it, Amazon's been great with it, and we're in the process – the script's about to be written, and we'll be shooting that next year. Our goal is, knock on wood, we're hoping to have that ready for December 2023.
When Johnson first took to Instagram to announce the project, he referred to the film as "A new twist on our CHRISTMAS MYTHOLOGY and creating the most fun HOLIDAY UNIVERSE to enjoy." If he's not playing Santa, it sounds like he'll possibly be playing a part of the new "Christmas mythology." What does that mean? Hell if we know, but we do know that "The Fast and the Furious" writer Chris Morgan is tackling the script, and Jake Kasdan of "Walk Hard: The Dewey Cox Story," "Bad Teacher," "Jumanji: Welcome to the Jungle," and "Jumanji: The Next Level" fame will be directing.