Y: The Last Man Director Cheryl Dunye Loves 'Everything Sci-Fi And Apocalyptic' [Interview]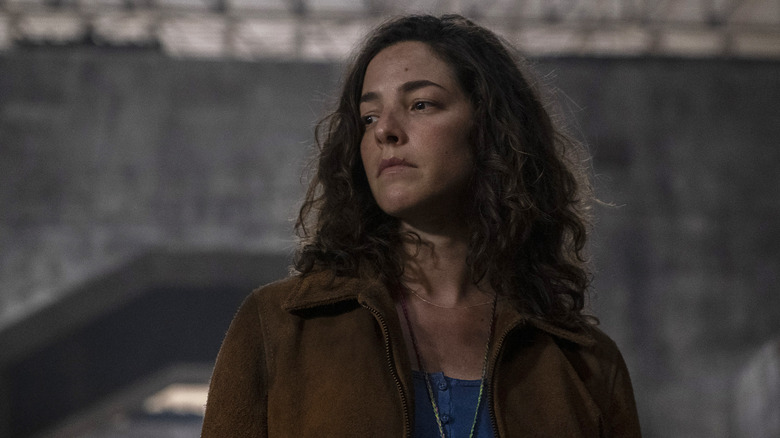 FX on Hulu
In the penultimate episode of "Y: The Last Man," nearly every character in the series is approaching a boiling point. Director Cheryl Dunye jumped aboard the story in the midst of this crucial peak, helping to usher the post-apocalyptic saga into its explosive finale. For Dunye, this wasn't the jarring experience it could've been, because of how carefully the team worked to integrate her into the process, along with her fellow directors. "They were welcoming, just welcomed me with open arms," Dunye recalled in an interview with /Film.
Though the FX on Hulu series has primarily made headlines due to its abrupt cancellation and possibilities of its renewal, the first season of the series just came to a close, earlier this week. A week prior, Dunye's episode "Peppers" hit the streamer, reckoning with big moves and heavy betrayals. The series explores the aftermath of a cataclysmic event that wipes out every living creature with a Y chromosome — except for one.
You likely know Dunye from her seminal work of autofiction, "The Watermelon Woman," her 1996 feature film. In recent years, Dunye has entered the world of directing episodic television, including her work on "Lovecraft Country," "Queen Sugar" and the upcoming second season of "Bridgerton." Speaking to /Film, Dunye talked through her experience on "Y: The Last Man," her thoughts on how the show grapples with queer identities, and even discusses her upcoming adaptation of "The Gilda Stories."
This interview has been edited for clarity.
"I love everything sci-fi and post apocalyptic."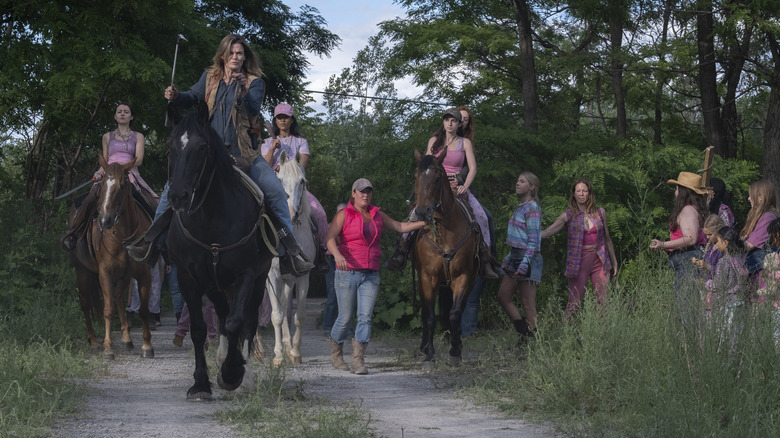 FX on Hulu
So what piqued your interest in Y: The Last Man? What about the story resonated with you and why did you sign on?
Oh yes. I think that, as a graphic novel, the source material really, really sparked interest in the world that I believe in. Worlds where gender dynamics are explored and I love everything sci-fi and post-apocalyptic. And also this notion of what a world looked like if women took over and picking that apart. With all the context right now around whiteness, blackness, Karens and Kens and whatnot, it's interesting to see who our allies are and what kind of politics they really hold ... especially if the Karens took over. So it's the effect of what that could possibly be and what our allegiances are, once we take out a certain gender.
And then, more importantly was the team. When I walked into my first meeting with Eliza [Clark] — pre-Covid — she had brought together a crew of writers and executives that were very diverse, very up my LGBTQ POC alley and really brought that into the show. That's how the show was made and how people were working together and collaborating. So I was like, let me be a part of this. Even down to the directors that were picked and her organizing directors, by giving us source material, and giving us even a big research pack and films to watch and books to read. Those were things that I really believed in and resonated with.
What were some of those books and movies?
"Born in Flames" by Lizzie Borden. I think maybe one of my films was on the list... Texts about transgender people, texts about escape artists. Just a variety of text and materials. And I was like, wow! This is really, really exciting.
I know that when you directed an episode of "Lovecraft Country," you talked about that being an opportunity to explore code switching and shape shifting. So for this episode, what were the core concepts guiding you through the story?
For my part of the world, I came in more towards the end of the process and my entrance was sort of bringing everything together ... or actually pulling everything apart. So I was really dealing with a different world, a world that was disintegrating. One of the more exciting things in my episode was using what was happening in the US, and what happened at the Pentagon. So I brought and introduced a new group of anarchists. Women who blew up at the Pentagon and said, "look, we have to really tear down their system, regardless of [the system] being women."
That resonated with me even more, because it's something I really think about too. Is it that it's men or women, or is it the system in general? So it really struck upon my beliefs about capitalism and post-capitalism. And concepts of the world as we know, in the sense of the consumer world. So I was really excited about that.
"I felt like I was with family again."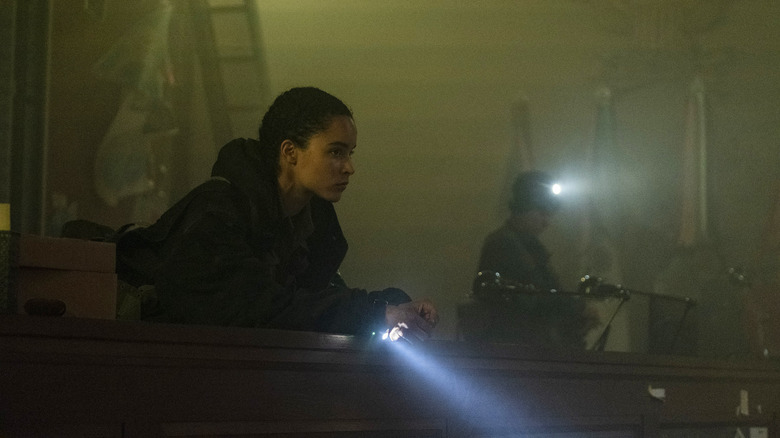 FX on Hulu
Your episode boils over like three different storylines. What was it like to jump in on those characters just when things are, like you said, falling apart?
What was exciting was that the team gave us access to all the episodes and we read the graphic novels, so we were able to collaborate. It was the first time, maybe since "Queen Sugar," where directors connected. Like we even had a sort of director's room, where we met a couple of times and we were able to speak with each other and kind of meet with each other.
So that was really exciting and important for me to understand where other people were coming from and what to take from that. And then the family of "Y." I mean, the cast in general was already a family alone. They were welcoming, just welcomed me with open arms and just sort of made everything like, "ain't no thang." It was really great. I felt like I was with family again.
There's a lot of interesting discussion happening around how this world is dealing with queerness and constructions of gender. It sounds like that was a big part of the process for the whole team, so how did you want identity to be in conversation with the show's premise?
I think the show did a great job of incorporating and introducing us to some of the deeper notions of what it means to be trans. How trans people feel, how they walk, how they think, and the context of them fitting in gender politics. So I think that was really interesting, and then also, I think a lot of people really got to dig into that being a normal thing. Right? I think that was something that the world of "Y" really just allowed. There are trans-men in the world and gender politics is much more complicated than just what you were born with and who you are.
So I think that really broke it down a lot and opened conversation for people to discuss what that might be. So that was really big on the show, as well as race. [Having] a Black woman, Agent 355, as a number and having her more or less saving the world, in a way. That was the core of this show to me.

I'd love to hear your take on how community functions in the world of "Y: The Last Man," especially since so much of your prior work has this emphasis on community and identity as a uniting factor.
Community functions as communities. I think it goes back to my concept of Audre Lorde. One of the things I like about Audre Lorde and why I'm an Audre Lordian is that there are intersecting pieces of my identity that have intersecting communities. And I can navigate myself to live and allow myself to be a part of multi-communities at the same time. I don't have to let one rise above another. I could all live in unison inside of me and I could speak to them. I don't feel completely marginalized from anything, at least for me.
"There's more that the universe had me prepare for."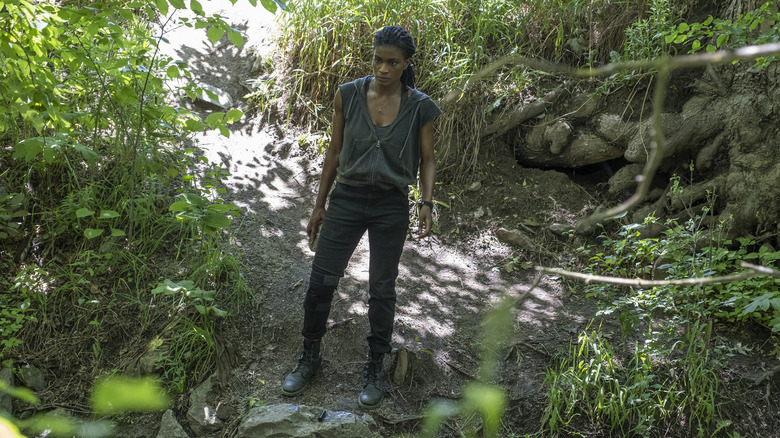 FX on Hulu
I know you also have the "The Gilda Stories" in the works, and you've talked about wanting to adapt that for years. I'm curious, when did you first read the novel?
I was in novel, I guess when it was really back in the '90s. I knew of Jewelle and I'd seen her around speaking, and I knew that whole group of Black lesbians in New York and that was something that drew me to New York. The relationship with Audre and the Black Queer Woman Arts Movement that was happening at that time — and they were sort of gods to me. So anything that they did, the poetry of Cheryl Clark, the writing of Jewelle Gomez, just all of the literature that was created and dance troops, et cetera.
New York at that time was somewhere that I was just destined to head to. So I did land in New York in the early '90s and tried to find that world and tried to find these texts. I struck upon Audre Lorde before she had passed. I'd seen her a couple times. And then, of course I consumed "The Gilda Stories" and immediately was like, Wow! How can I get a hold of this? Even though I [knew] I'm not ready, but you know, I have to do something with this one.
I mean, this Black woman vampire who is queer and searching for community, a world that I'm searching for. And using history in so many interesting ways, as these social justice movements that Gilda is navigating her way through, in searching for family. And the concept of stories being plural and told by so many people in so many different ways, like a song tells a story, or speech tells a story, and Gilda was doing all these things.
And then, just ... a Black woman, vampire! And queer! So that just was like, all right, let me put a big pin on it. And, and this is around the time I was also reading a lot of ... I had consumed all of Octavia Butler stuff as well. When she was alive, I wanted to option her stuff as well as Jewelle's stuff. But again I felt, there's more that the universe had me prepare for, to be able to option these texts or be in line for these texts. So, the universe allowed it and I think that it's time for me to sort of take it on and do that work. So I'm ready. You know what I'm saying?
Yeah! Do you think that your relationship to the story has changed at all, now that you're actually putting in the work and adapting it and getting ready to put it on screen?
No, not at all! I mean, I'm hyper and excited about it. I'm very much in touch with Jewelle. And I think, what one thing that I realized as I moved through directing episodic and stories that are based on exciting IP is, how much of my storytelling I can add to it and how true you have to be to IP to bring it to life.
I think as I've [grown] as a storyteller, an episodic director and producer, I feel that there's something kind of innate in my doing this. I'm almost sort of being chosen for these things. I mean, the gods and the goddesses, the ancestors and things above really put me in line to translate these things. So that's where I'm at.
"Y: The Last Man" is streaming on FX on Hulu.