Quasi: Broken Lizard Is Making A Comedic Vision Of The Hunchback Of Notre Dame For Hulu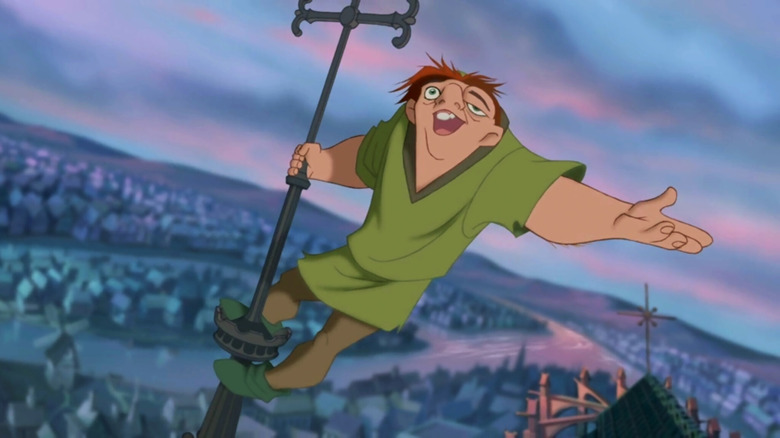 Disney
No one say "Shenanigans." The Broken Lizard gang is back, and this time they're losing the moustaches and putting on tights and berets for a comedy adaptation of "The Hunchback of Notre Dame." If anyone can make Victor Hugo's wildly depressing tale about a hunchback who lives in the bell tower of the Notre Dame cathedral into something funny, it would have to be the gang behind "Super Troopers" and "Beerfest." 
Searchlight Pictures announced that Broken Lizard have started production on the project, titled "Quasi," and that it will stream exclusively on Disney's direct-to-consumer platforms like Hulu, Star+, and Disney+.
A Hapless Hunchback, the King of France, and the Pope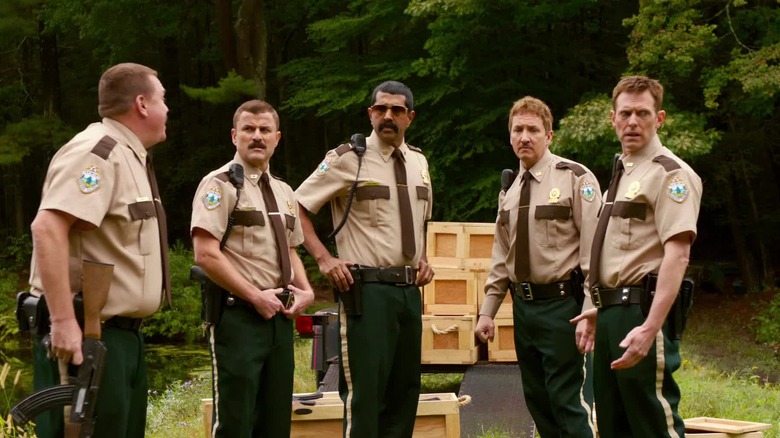 Searchlight Pictures
According to the press release, the film follows a "hapless hunchback who only yearns for love, but finds himself in the middle of a murderous feud between the Pope and the King of France when each orders the hunchback to kill the other."
That's definitely a comedic take on Victor Hugo's gothic novel. "The Hunchback of Notre-Dame," published in 1831, follows Quasimodo as he falls in love with the beautiful Romani woman Esmerelda. The only problem is that she's also caught the eye of Captain Phoebus and Archdeacon Claude Frollo. The men all fight for Esmerelda's affections and in the end, she ends up being wrongly hanged for a murder Quasimodo committed. The titular hunchback then crawls into a mass grave beside her and dies, and their intertwined skeletons are found decades later. That's not exactly the stuff of gut-busting laughs. Good thing the Broken Lizard crew decided to turn this into something a little sillier, bringing in a royal feud with the Vatican instead of staring directly into the existential abyss.
Broken Lizard's Kevin Heffernan is set to direct. He wrote the script along with the rest of Broken Lizard, which includes members Jay Chandrasekhar, Steve Lemme, Paul Soter, and Erik Stolhankse. They will all executive-produce and star. "Quasi" will stream exclusively on Hulu in the U.S., on Star+ in Latin America, and on Disney+ everywhere else. The movie will also feature "The Orville" star Adrianne Palicki in an unknown role, though Esmerelda is probably a safe bet.
Getting the Gang Back Together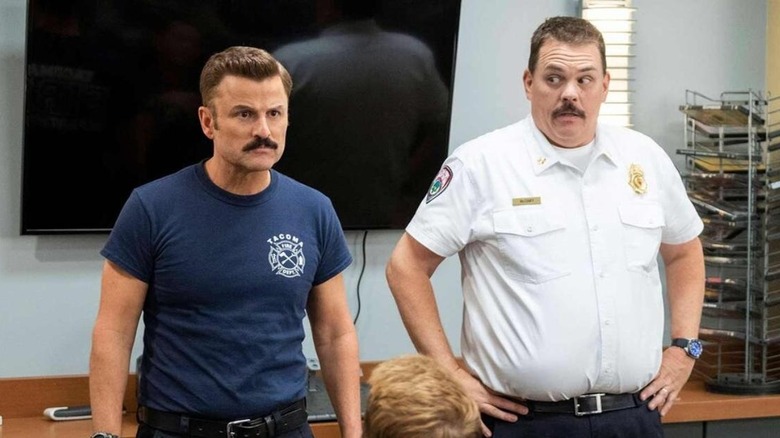 TruTV
The project will reunite Broken Lizard with many of its wild crew of movie-making compatriots, including "Super Troopers" franchise producer Richard Perello and "Super Troopers 2" director of photographry Joe Collins. They're also bringing in a bunch of people from their TruTV comedy "Tacoma FD," including production designer Bianca Ferro, costume designer Kelly Kwon, hair department head Lorna Reid, makeup department head Amy Sparks, and line producer Matt Medlin. They've also reteamed with casting director Wendy O'Brien from "Bad Trip" and "Dave." It sounds like "Quasi" will be one seriously fun production to be a part of, like a family reunion with croissants.
"I'm très, très excited to get the Broken Lizard gang back together. But I'm even more excited to finally put my PhD in French Medieval Studies to use. It's been a long time coming," Heffernan said. An anonymous member of the crew pitched in that they're excited to do "something without mustaches." 
Broken Lizard are currently at work on developing "Super Troopers 3: Winter Soldiers," while Heffernan and Lemme are currently starring on "Tacoma FD" on TruTV. "Quasi" has only just begun filming, so it won't be ringing its way into our hearts anytime soon.