The Deep House Clip: The Haunted House Movie Goes Underwater [Exclusive]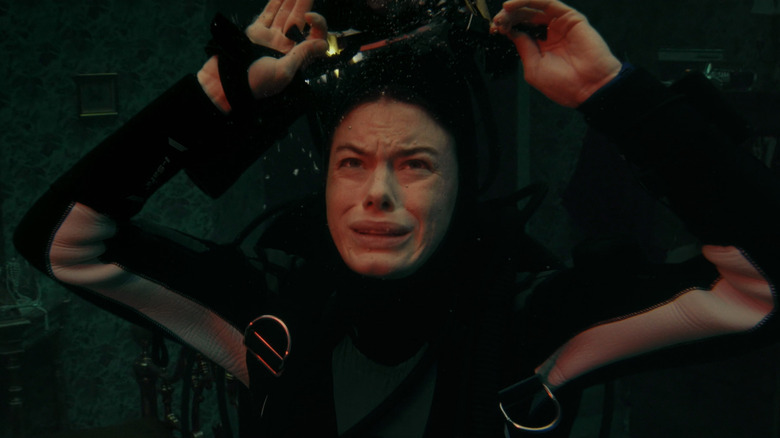 Epix
"The Deep House" is putting an aquatic spin on the classic haunted house movie. What could possibly make a ghost-infested home more anxiety-inducing, you ask? Flooding it with water, of course! As if being haunted by angry spirits isn't enough, try surviving on a limited air supply. The couple at the center of this film are especially vulnerable once they realize that their deep sea diving trip includes some unwelcome and very ghoulish guests.
Creators of the gory French horror flick "Inside," Julien Maury and Alexandre Bustillo are wading into strange waters once more. Shot largely underwater on a small budget, "The Deep House" creates a deeply unnatural, eerie atmosphere that makes for a delightfully terrifying hour and a half of entertainment. Critics are already praising the film for revitalizing the haunted house narrative, with /Film's own Chris Evangelista writing:
"From a technical standpoint alone, what the filmmakers and cinematographer Jacques Ballard have created here is nothing short of remarkable. The underwater imagery is incredibly haunting; eerie in its unnaturalness, and crushingly claustrophobic. What would seem like open-air freedom in a traditional haunted house flick is here a thick, secluded space that characters can't simply run through. They have to swim, and you can only swim so fast."
Before the film arrives on streaming, you can check out an exclusive sneak peek below.
The Deep House Exclusive Clip
"This could be the door to a million views."
James Jagger (son of Mick Jagger) stars as Ben, a dedicated YouTuber who specializes in creepy places. He's joined by his partner and fiancée, Tina (Camille Rowe), as the couple set out to discover new terrors in a secluded, submerged house. Together they strap on their gear and head underwater with video cameras, in search of the next "million" or so views — but at what cost? The clip shows off Ben's excitement and Tina's caution, as the pair explore the sunken home in all its creepy glory. Mysteriously decked out with images of children and creepy dolls, the house is without a doubt haunted, confirmed when Tina catches sight of what looks to be a person hiding beneath the sheets. 
Given the ominous music and deadly implications of the premise, we're guessing this little trip won't be worth the views for those surely doomed characters. Whatever Tina and Ben happen to discover, and whatever spirits that awaken, they'll have only a few hours to escape — and with a limited oxygen supply, time is not on their side. The odds of living through a haunted house are generally pretty slim in horror movies anyway, but the time crunch and lack of breathable air certainly won't help.
"The Deep House" debuts to Epix on November 5, 2021 and will also be available for digital purchase on Paramount Home Entertainment. You can read the official synopsis below.
Deep below the surface of a seemingly tranquil remote lake lies a perfectly preserved family home. When a young influencer couple sets out to explore the submerged house to capture uncharted content for their social media followers, their dive turns into a nightmare as they discover a sinister presence. With limited oxygen supply and time running against them, the couple must find a way to escape the underwater house of horrors before it's too late.