That Harry Potter Version Of Pokemon GO Is Shutting Down In 2022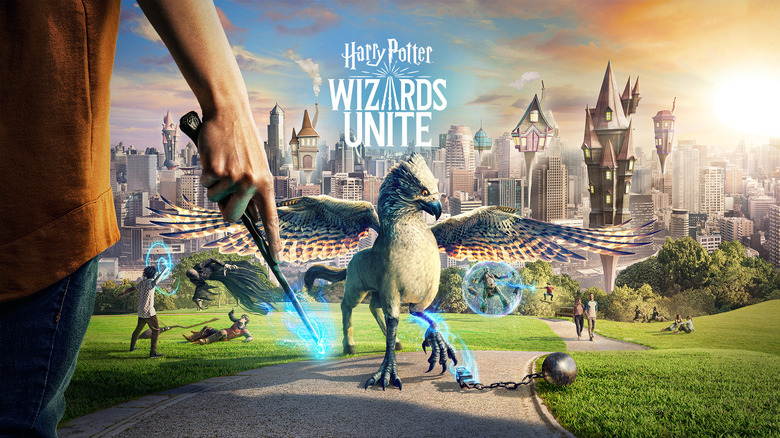 Niantic
The release of "Pokémon GO" was so popular that it inspired plenty of copycats trying to capitalize on the craze of the augmented reality (AR) mobile game that had people wandering the streets trying to catch'em all. In fact, the "Pokémon GO" creators at Niantic tried to capture lighting in a bottle a second time back in 2019 with "Harry Potter: Wizards Unite," an AR game that allowed fans of the Wizarding World to visit real-world locations while casting spells, discovering mysterious artifacts, and encountering iconic characters and legendary beasts from the magical franchise. Unfortunately, the game never caught on in the same way that "Pokémon GO" did, and now Niantic will be closing up shop on the title in 2022.
Avada Kedavra!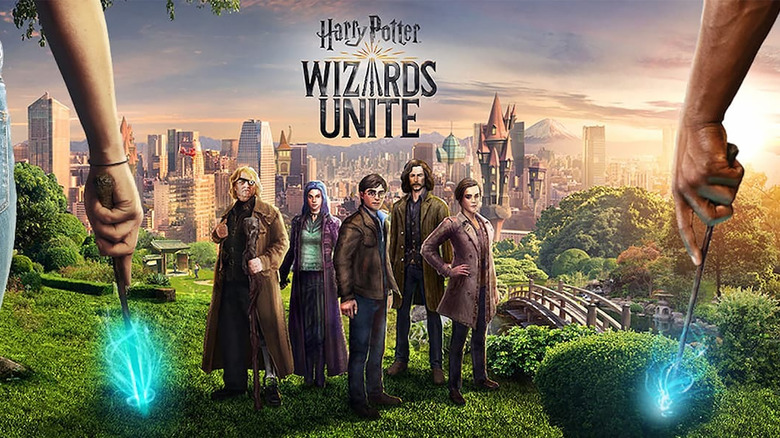 Niantic
Niantic made the announcement about "Harry Potter: Wizards Unite" shutting down in a blog post on the game's official website. Here's what they had to say:
"Today we're announcing that Harry Potter: Wizards Unite will officially close on January 31, 2022. The game will be removed from the App Store, Google Play and Galaxy Store on December 6, 2021, and players will no longer be able to make in-game purchases as of December 6, 2021.

When we launched Harry Potter: Wizards Unite, our vision was to allow players to experience the wizarding world right in their real-world surroundings as they stepped outside and explored their neighborhoods. Over the years, millions of witches and wizards around the globe have embarked on real-world adventures, coming together to keep magic hidden safe within the wizarding world while joining forces to take on The Unforgivable. During this time, players have also worked alongside Hermione and Harry as part of the Statute of Secrecy Task Force to unravel the mystery behind the disappearance of the London Five and are now on the verge of putting an end to the Calamity."
So it sounds like the narrative within the game will get wrapped up before the game shuts down at the end of January next year. Plus, Niantic has promised these bonuses that are now active in the game in order to give players the maximum amount of fun for the last few months of the game's life:
All Daily Assignments will have their rewards increased
All Potion Brew times will be reduced by 50% with Master Notes
The daily cap on sending and opening Gifts will be removed
Barrufio's Brain Elixir potion will now award 3× player XP
1920s Portkey Portmanteaus will appear on the map more frequently and associated Fragment rewards will be doubled
Spell Energy and Ingredients will appear on the map more frequently
The Last Round of Events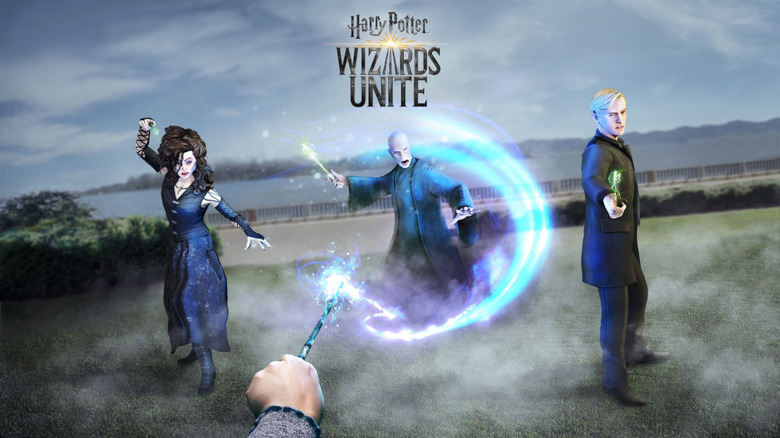 Niantic
"Harry Potter: Wizards United" players will also still see the last round of events in the game unolding in November and December, including the unleashing of the remaining Lethal Adversaries that fans will be happy to do battle with:
November

Dolores Umbridge Lethal Adversaries Event
Half-Blood Prince Brilliant Event Part 1
Lucius Malfoy Lethal Adversaries Event
Half-Blood Prince Brilliant Event Part 2

December

Bellatrix Lethal Adversaries Event
Horcrux Hunt Part 2
Voldemort Lethal Adversaries Event
Deathly Hallows Brilliant Event Part 1
Holiday Event
Deathly Hallows Brilliant Event Part 2
It's a shame that this game didn't inspire quite as much excitement as "Pokémon GO." Perhaps there's only room for one massively popular AR game on the market. Maybe there are too many "Harry Potter" fans who are already spending so much time catching Pokémon that they simply aren't able to focus on the Wizarding World game. Plus, J.K. Rowling hasn't been doing the multi-billion dollar franchise any favors with her disparaging remarks about the transgender community. It's possible that fans just aren't as invested as much as they once were, especially without any new books and the "Fantastic Beasts" being such an underwhelming spin-off. 
Just to be clear, starting January 31, 2022, "Harry Potter: Wizards Unite" will no longer be playable. Even if you don't delete the game and you keep it on your phone, all features and servers for "Harry Potter: Wizards Unite" will be turned off, rendering the game unplayable. If you would like to request your account data, you can contact support to make such a request by January 15, 2022. If you're still playing the game, hopefully you've had some fun, but all good things must come to an end.