Upcoming Christmas Movies To Keep On Your Radar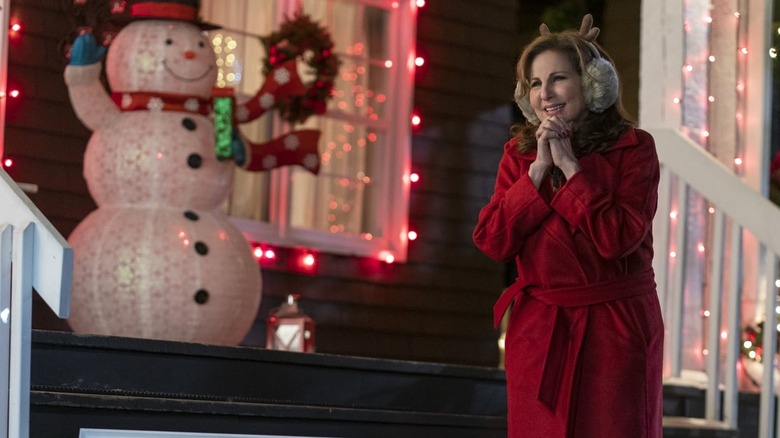 Netflix
Sadly, spooky season is behind us — time to sweep away the cobwebs and toss your plastic spiders back into their boxes. But no worries, more holidays are just around the corner! And along with the promise of holiday cheer, hot cocoa, and festive decorations, is another crucial December staple — Christmas movies! While this was once territory claimed by Hallmark and Lifetime, streaming services are stepping up their game. With so many movies in so many places, we thought it might help to highlight the most enticing of the bunch. Here are some upcoming Christmas movies to keep an eye on!
Love Hard (Netflix)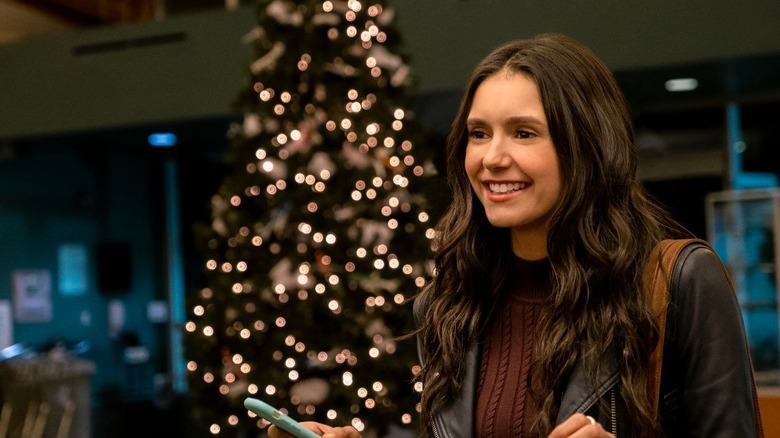 Netflix
Netflix is embracing all the cliché's with this one. Hopeless romance? Yup. Mistaken identity? Uh-huh. Fake dating turns into love? You betcha. "Love Hard" follows unlucky-in-love Natalie (Nina Dobrev) as she flies across the country in search of, you guessed it, true love. After matching with the handsome Tag (Darren Barnet) via a dating app and striking up some too-good-to-be-true chemistry-filled conversation, she decides to track him down for a surprise. But her dreams of happily ever after are dashed when she discovers that she's been catfished by Tag's friend, Josh (Jimmy O. Yang). So the pair strike a deal, coming up with a perfectly logical solution — Natalie will be Josh's fake-girlfriend for the holidays and he'll set her up with Tag. 
"Love Hard" hits Netflix on November 5, 2021.
Single All The Way (Netflix)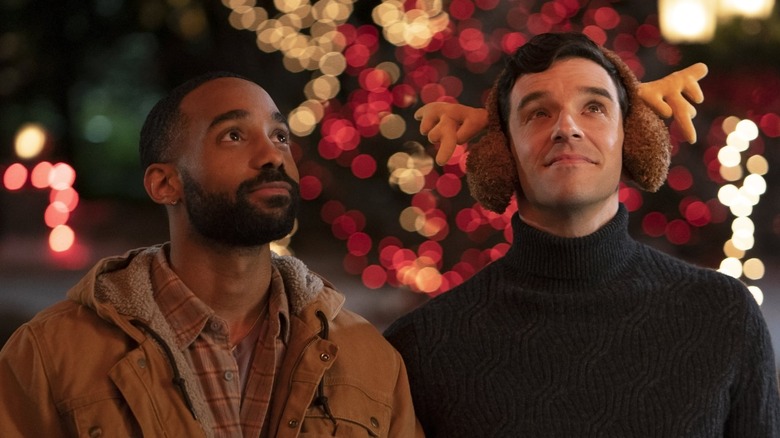 Netflix
Okay, now consider this: a Netflix holiday movie about two people pretending to be in a relationship. Surely, that hasn't been done before! Anyway, it's a solid plot, can't go wrong. This time around, we're following Peter (Michael Urie), so desperate to avoid his family's judgment about his perpetual single status that he enlists his best friend Nick (Philemon Chambers) to be his fake boyfriend. The complication? His mother sets him up on a blind date with her handsome trainer James (Luke MacFarlane) and everything explodes into romantic chaos.
"Single All The Way" arrives on Netflix on December 2, 2021.
Boyfriends of Christmas Past (Hallmark)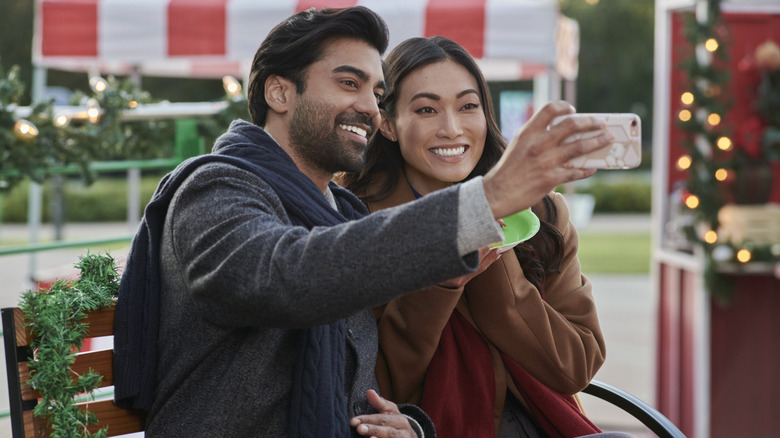 Hallmark
Hallmark is dipping into the classics with this one: "Boyfriends of Christmas Past" is a modern twist on the famous Dickensian Christmas tale. Catherine Haena Kim stars as Lauren, a marketing executive learning to open up her heart to her best friend, Nate (Raymond Ablack). How will she learn to accept love, you ask? Simple — by taking a trip down memory lane. On Christmas Eve, she gets a visit from the ghosts of her three ex-boyfriends, who help her see where past holidays and loves went wrong.
"Boyfriends of Christmas Past" is available to stream or watch on Hallmark.
Silent Night (In Theaters and AMC+)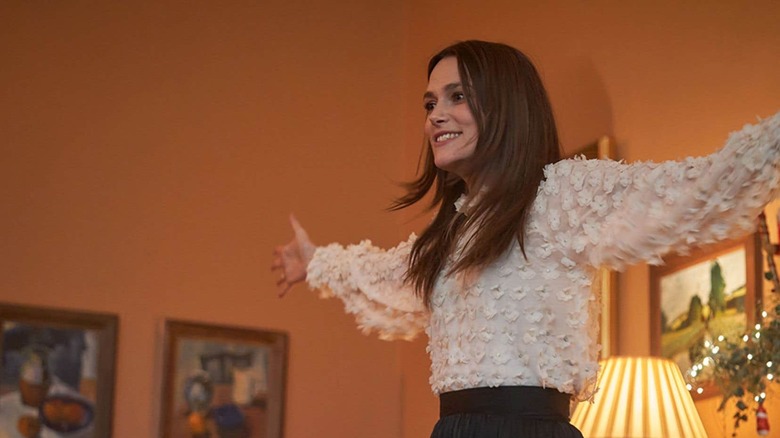 RLJE Films
Clearly, the options provided have been much too cheerful. If your holiday season needs a dose of dread or a light sprinkle of nihilism, then be on the lookout for "Silent Night," the dark British comedy on its way to theaters. Keira Knightley stars as stressed out hostess Nell, whose extended family are visiting for a spirited Christmas dinner. As if the terror of family isn't enough, this film has an extra cloud of darkness — the world is ending. A toxic cloud of lethal poison is sweeping the planet, set to reach their location around midnight on Christmas night. Knowing the end of humanity approaches, this bunch has nothing to do but drink their sorrows away and engage in some intense family awkwardness.
This boozy apocalypse comedy arrives in theaters and on AMC+ on December 3, 2021.
Under The Christmas Tree (Lifetime)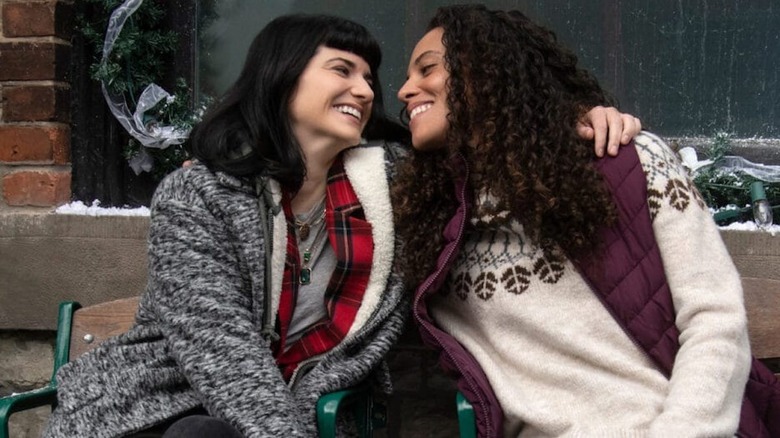 Lifetime
When Lifetime unveiled their upcoming slate of 2021 holiday movies, this included the channel's first lesbian romance. Tattiawna Jones stars as Charlie Freemont, a Christmas tree whisperer who crosses paths with Alma Beltran (Elise Bauman) after finding the perfect tree in her backyard. While they initially clash, it isn't long before sparks are flying and the pair are embracing Christmas magic and taking great leaps for love.
"Under the Christmas Tree" debuts on December 19, 2021.
Home Sweet Home Alone (Disney+)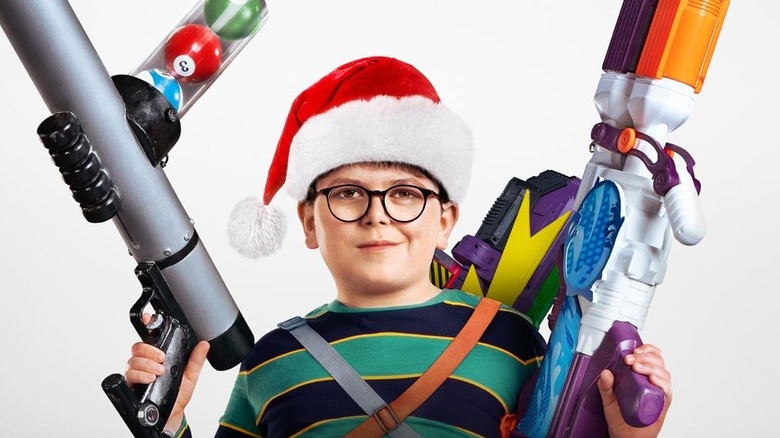 Walt Disney Pictures
Disney is sliding onto this list with — surprise, surprise — a reboot. Sorry, no Kevin McCallister here, "Home Sweet Home Alone" follows a new child, recklessly abandoned by his parents and forced to fend off dangerous criminals through elaborate pranks. Archie Yates stars as Max Mercer, a 10-year old left alone when his family goes on vacation in Tokyo and, through a series of errors, forgets to bring him along. At first, he revels in his newfound freedom — but when two burglars set their sights on his family home, Max must get creative.
"Home Sweet Home Alone" arrives on November 12, 2021.
Robin Robin (Netflix)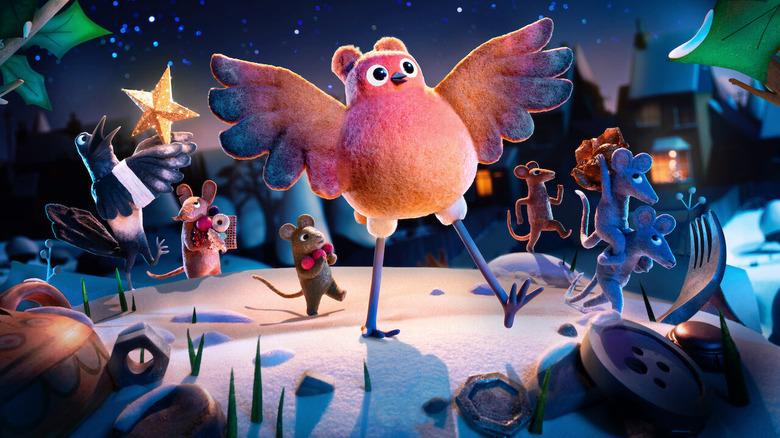 Netflix
Aardman Animation is teaming up with Netflix for the most adorable Christmas movie you've ever seen. "Robin Robin" is a stop-motion short film about a robin raised alongside a family of mice. Though this sweet bird has been raised as one of their own, she can't help but spot all her many differences. Robin isn't quite a bird, but she's obviously not a mouse, so the film sees her kickstarting a journey of self-discovery. With a gorgeous snowy background and some very magical music, Robin sets off on a heist to prove herself as a true mouse.
"Robin Robin" comes to Netflix on November 24, 2021.