Clips Round-Up: Mothers Of The Revolution Protests, Creepy Bits Interrogates, And Electric Jesus Mines '80s Nostalgia [Exclusive]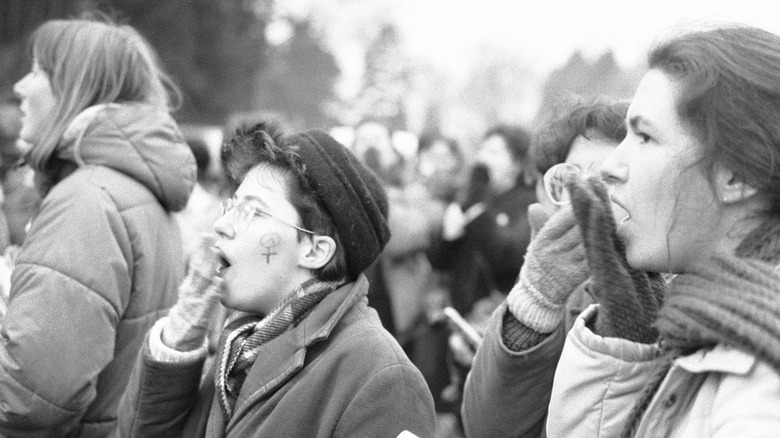 Universal Pictures
(Welcome to SlashClips, a series where we bring you exclusive clips from hot new Digital, Blu-ray, and theatrical releases you won't see anywhere else!)
In this edition:
Mothers of the Revolution
Creepy Bits
Electric Jesus
Mothers of the Revolution
Universal Pictures provides us with our first clip from the documentary "Mothers of the Revolution" about the extraordinary women behind the Greenham Common Peace Camp. This clip focuses on some of the deplorable acts of violence and aggression against the all-female protest group.
Here is the official synopsis:
"On September 5th, 1981 a group of women came together to change the world. These women marched from Wales to Berkshire to protest over nuclear weapons being kept at RAF Greenham Common. The Greenham Common Women's Peace Camp that followed, challenged world leaders, altering the course of history and went on to inspire millions as the world's first and biggest female-only demonstration, preceded only by the suffragettes. Narrated by Glenda Jackson and featuring interviews with key participants including Julie Christie and Rebecca Johnson, alongside archive footage from the Greenham Common Women's Peace Camp, Mothers of the Revolution takes you through one of the longest protests in history, when between 1981 and 2000, thousands of women from around the world came together at Greenham Common to take a committed stand against nuclear proliferation."
Creepy Bits
This next clip comes from the sixth and final episode of the horror web series "Creepy Bits," specifically titled "Chapter 6: Soul Sucker" and debuting on YouTube at 9 P.M. on Sunday, October 31, 2021. That's Halloween for those not keeping score. In the clip a young woman is given an intense working over during a police interrogation. 
Here is the official synopsis for the series:
Created and Directed by David J. Fernandes (RE-WIRE, Binge), shot entirely in Hamilton, Ontario, 'Creepy Bits' is an anthology that explores surveillance parenting, missing people, abandoned tunnels, creepy clowns, empty schools and a gruesome murder. Creepy Bits stars Madison Claringbold ('Within the Deep,' 'The Bookstore'), Malaika Hennie-Hamadi ('Age of the Living Dead'), Daniela Rendon-Shazi ('Haunted Hospitals'), Andrew Ravindran (Toronto Short Film Festival-winner 'To No Man's Land'), Casey Fleming ('Paranormal 911'), Elina Miyake Jackson ('Age of Samurai: Battle for Japan') and 5 year old Emily Mitchell ('Women Talking').
Electric Jesus
1091 Media provided us with a clip from the comedy "Electric Jesus," wherein promoter Ship Wick (Brian Baumgartner of "The Office" fame) discovers a stowaway on the tour bus. Judd Nelson of "The Breakfast Club" is also featured in the clip. The film will be available digitally on November 2, 2021.
Here is the official synopsis:
"​​When a flashy promoter (played by Brian Baumgartner, The Office) sells sound man Erik (Andrew Eakle) and his favorite local Christian hair metal band, 316, on the promise of a bus tour in the summer of 1986, their desire to 'make Jesus famous' meets the complexities and confusion of personal ambition, religious conviction, youthful zeal, lifelong friendships, and first love."