New Moonfall Images Feature Cool Spacesuits, Hot Movie Stars, Moons Falling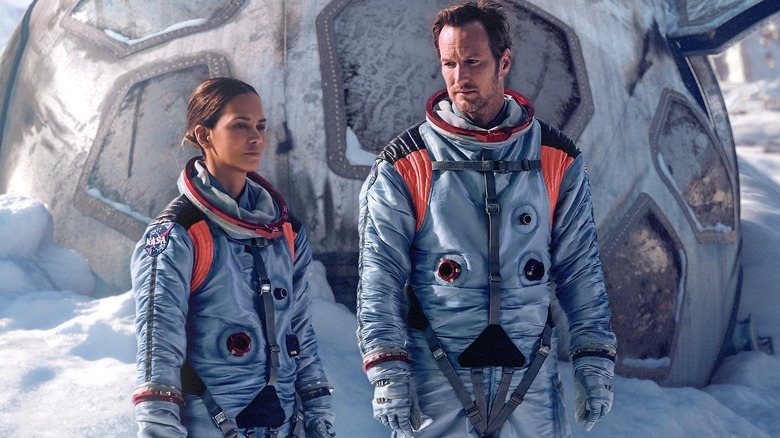 Lionsgate
Today brings something fun for fans of disaster movies, as we have new images from director Roland Emmerich's "Moonfall." Emmerich, the man behind "Independence Day" and "2012," is no stranger to such large-scale disaster filmmaking. In this case he appears to have truly outdone himself, bringing the moon on a collision course with Earth, with Halle Berry and Patrick Wilson along for the ride. 
If you want to know what a fight between the Earth and the moon looks like, check out these new stills from "Moonfall:"
We previously got a teaser trailer for the flick, which was precisely what one might expect from a movie titled "Moonfall" from the mind of Emmerich. These images further assert that we are getting what I might be willing to call a spiritual successor to "Armageddon." Bring it on. We also have the synopsis for the movie, which reads as follows: 
In Moonfall, a mysterious force knocks the Moon from its orbit around Earth and sends it hurtling on a collision course with life as we know it. With mere weeks before impact and the world on the brink of annihilation, NASA executive and former astronaut Jo Fowler (Academy Award winner Halle Berry) is convinced she has the key to saving us all – but only one astronaut from her past, Brian Harper (Patrick Wilson, "Midway") and a conspiracy theorist K.C. Houseman (John Bradley, "Game of Thrones") believes her. These unlikely heroes will mount an impossible last-ditch mission into space, leaving behind everyone they love, only to find out that our Moon is not what we think it is.
Roland Emmerich Loves Conspiracy Theories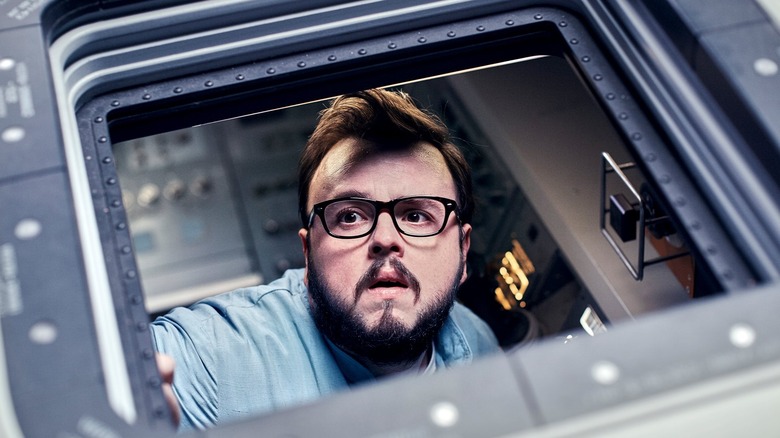 Lionsgate
To go along with the new images, Vanity Fair profiled Emmerich and did a deep-dive on the upcoming blockbuster. Interestingly, the whole concept was birthed from the "Hollow Moon" theory, which has been popular in conspiracy theory circles for some time now. As Emmerich explains, he has a thing for conspiracy theories.
"As you know, I did the movie "Independence Day," where we were strongly inspired by the whole Area 51 conspiracy. When you have a conspiracy which a lot of people believe, you already have some built-in interest. You don't have to believe them yourself ... Most of the time I'm a skeptical person — I'm German after all."
The modern world being what it is, one might wonder if pushing a conspiracy theory via a big-budget blockbuster is the best idea. Emmerich considered this and feels that the fantastical nature of this one will put it squarely in the harmless entertainment category.
"Our world, more and more, has become driven by conspiracy theories. Look at Qanon, look at all this stuff, the flat-earthers. It's just incredible when you think about it. When you have it about the moon, it's so fantastic—I don't think it will hurt anybody. It's interesting for people to see. Qanon is hurting people. Anti-vaxxer conspiracies can hurt people, and actually may kill people."
Emmerich co-wrote the screenplay for "Moonfall" with Harald Kloser, and Spenser Cohen. Michael Peña, Charlie Plummer, Kelly Yu, Eme Ikwuakor, Carolina Bartczak, and Donald Sutherland also star.
"Moonfall" is set to hit theaters on February 4, 2022.