Moonfall Trailer: Director Roland Emmerich Is Back To Destroy The World, Again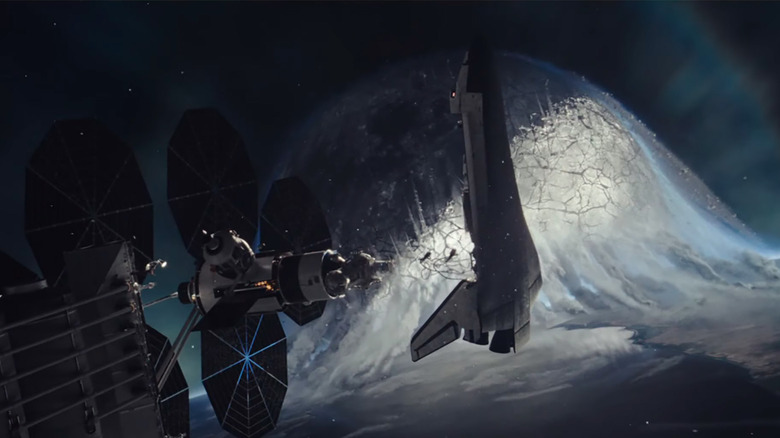 Lionsgate
Director Roland Emmerich has wreaked havoc on planet Earth several times before. He brought an alien invasion in "Independence Day." He froze the world in "The Day After Tomorrow." And he threw everything but the kitchen sink at humanity in "2012." Now he's back at it again with his new film "Moonfall," and this time he's literally crashing the moon into the Earth. This is exactly the kind of blockbuster nonsense that the big screen was made for. Watch the "Moonfall" trailer right now.
Moonfall Trailer
In "Moonfall," the moon suddenly comes falling towards Earth. It's that simple. We have only a few weeks before the moon comes crashing into our planet, and for some reason, former astronaut Jo Fowler (Halle Berry) thinks that she knows how to stop it. But she'll have an uphill battle convincing anybody to believe her.

As if the insanity of the ramifications of the moon being on a collision course with Earth wasn't crazy enough, especially with all the environmental chaos it will create with the tides and gravity and all that jazz, there appears to be another mystery at the center of this catastrophe. You'll notice that in the last few closing shots of the trailer, there appears to be some kind of creature involved in the action. Along with that, the official synopsis for the movie notes that we'll find out "our Moon is not what we think it is."

Oh boy, the moon is actually some kind of giant spaceship for a dormant alien race, isn't it? If that's the case, this may be the most Roland Emmerich movie to ever exist. Aliens, planetary destruction, space, nonsense. It's all here! If the pandemic doesn't allow me to see this movie when it's intended to hit the big screen this year, then I will figure out a way to crash the moon into the planet myself.
Wait, is Emmerich Back?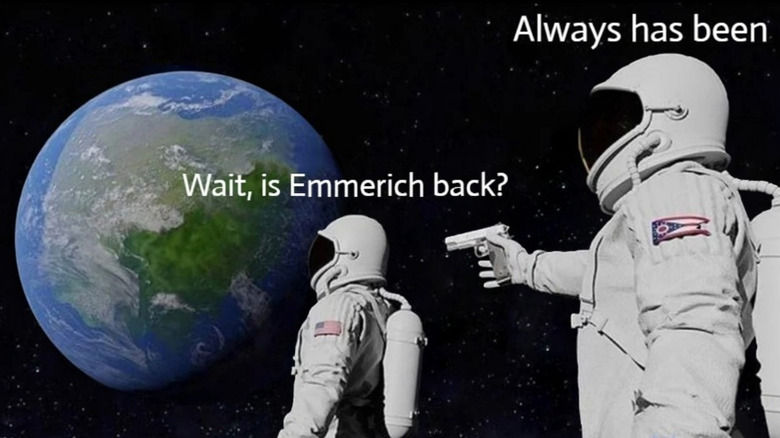 Kapwing
"Moonfall" also stars Patrick Wilson, John Bradley, Michael Peña, Charlie Plummer, Kelly Yu, Eme Ikwuakor, Carolina Bartczak, and Donald Sutherland. In case you forgot, it's directed by Roland Emmerch, who is not messing around. Here's the official synopsis from Lionsgate:
In Moonfall, a mysterious force knocks the Moon from its orbit around Earth and sends it hurtling on a collision course with life as we know it. With mere weeks before impact and the world on the brink of annihilation, NASA executive and former astronaut Jo Fowler (Academy Award winner Halle Berry) is convinced she has the key to saving us all – but only one astronaut from her past, Brian Harper (Patrick Wilson, "Midway") and a conspiracy theorist K.C. Houseman (John Bradley, "Game of Thrones") believes her. These unlikely heroes will mount an impossible last-ditch mission into space, leaving behind everyone they love, only to find out that our Moon is not what we think it is.
"Moonfall" is slated to hit theaters on February 4, 2022.