Wendell & Wild Teaser: Keegan-Michael Key And Jordan Peele Torment A Teen In Henry Selick's Stop-Motion Film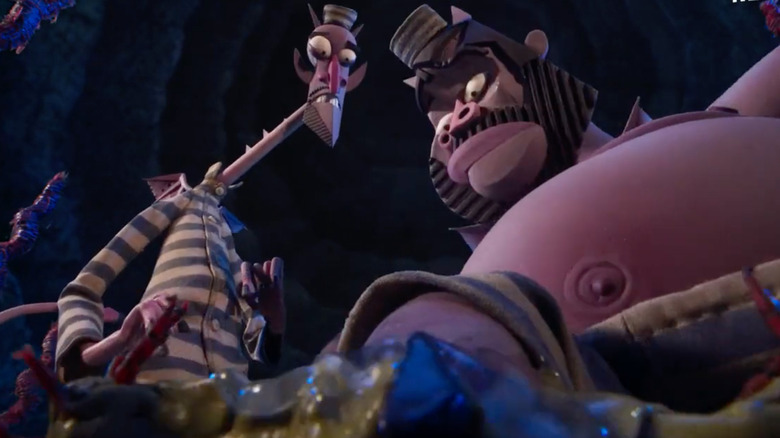 Netflix
Netflix has debuted our first look at the forthcoming stop-motion dark fantasy film "Wendell & Wild," featuring the voice talents of comedy team Keegan Michael Key and Jordan Peele as the titular demonic brothers. While the teaser is short on actual footage, it's long on design with it's near-cubist aesthetic. 
This movie marks the first feature in over a decade from "The Nightmare Before Christmas" director Henry Selick (no, Tim Burton did not direct that, stop asking). Despite a big success with Laika's "Coraline" in 2009, Selick has had a rough go of it since then, having shifted over from Laika to Pixar where he set about making the stop-motion feature "The Shadow King." However, as was sadly common during the John Lasseter-era, the studio put the film into turnaround midway through production in 2012 after spending $50 million dollars. You can see some footage from that lost movie here. After that debacle Selick tried to go back to the Neil Gaiman well for an adaptation of "The Graveyard Book" but that fell by the wayside as well. 
A Return-to-Form for Selick?
Luckily for Selick he fell in with creative powerhouse Jordan Peele, whose Monkeypaw Productions is behind "Wendell & Wild." Peele also co-wrote the screenplay with Selick (who conceived of the story), Keegan-Michael Key and Clay McLeod Chapman. Shot at studios in Portland under remote COVID conditions, the movie is set to debut at an unspecified time in 2022.
This will hopefully mark a return-to-form for Selick, who is truly a rare talent in the animation market. His visions don't always translate to accessible storytelling (see "Monkeybone" or "James and the Giant Peach") but everything he does is always interesting. Even the little stop-motion bits and pieces he did for director Wes Anderson's "The Life Aquatic" retain Selick's distinct visual sensibilities. 
Here is the official synopsis:
Wendell & Wild' is an animated feature film from writer/director Henry Selick ('Nightmare Before Christmas,' 'Coraline') and writer Jordan Peele ('Key & Peele,' 'Get Out') with Monkeypaw Productions. Two demon brothers (voiced by Keegan Michael Key and Jordan Peele) escape the Underworld and find themselves in a town where they must evade a demon-duster teenager, Kat, who is trying to destroy them. Peele is also producing through his Monkeypaw company along with Selick and Ellen Goldsmith-Vein from the Gotham Group. Sarah Serata will co-produce. Executive producers are Win Rosenfeld for Monkeypaw, Peter Principato and Joel Zadak for Principato-Young, Lindsay Williams and Eddie Gamarra for The Gotham Group. Argentinian artist Pablo Lobato will design the characters.