The Daily Stream: Night Of The Ghoul Log Will Provide Halloween Comfort During These Weird Times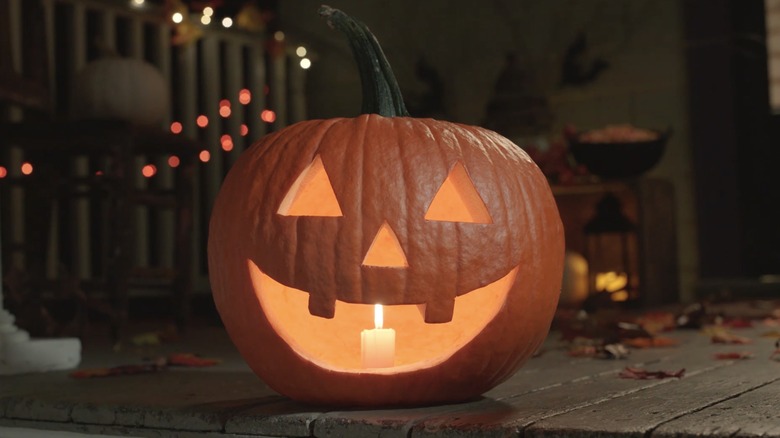 Shudder
(Welcome to The Daily Stream, an ongoing series in which the /Film team shares what they've been watching, why it's worth checking out, and where you can stream it.)
The Movie: "Night of the Ghoul Log"
Where to Watch It: Shudder
The Pitch: A Jack O'Lantern sits on a porch, candle burning. And that's it, really! As Shudder explains, "A Shudder annual tradition returns. Bring the Halloween night vibes inside with our ever-burning Jack O'Lantern, perfect to light up all your October celebrations." Like the TV Yule Log of old (and the modern one, which streams on Netflix under the name "Fireplace For Your Home"), the Shudder "Ghoul Log" is meant to serve as ambiance; background mood-setting that's perfect for spooky season, or any time of year, really. 
Why It's Essential Viewing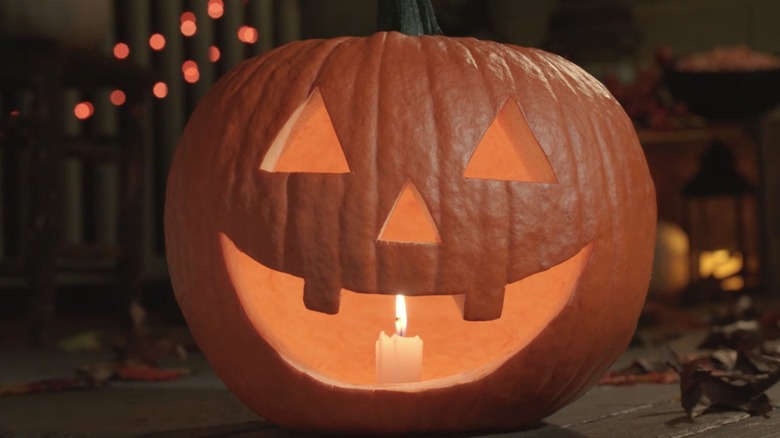 Shudder
Halloween is days away, and as is usually the case around this time of year, I'm melancholy. I love Halloween, and I look forward to it every year. And every year I tell myself I'll be taking part in some sort of grand Halloween plan, or at least watching as many scary movies as humanly possible. But as the saying goes, if you want to hear god laugh, make a plan. Inevitably, every year, Halloween sneaks up behind me and before I know it, it's over, and I've accomplished nothing. 
This Halloween is bound to be another weird one. Last year's Halloween came both in the grip of the pandemic and just before an election that had pretty much everyone on edge. This year, we don't have a huge election to worry about (although there are elections on state levels, of course), and there's a vaccine at the ready. However, there are also a small group of people who are refusing the vaccine – a decision that's hurting the rest of us and keeping us in some sort of weird limbo where it's unclear if we'll ever get back to any semblance of normality. 
So, yes. It's Halloween, and things remain pretty odd and uncertain. And that's likely contributing to the melancholy; the feeling that time is moving along and things just aren't improving or progressing. With all that weighing heavily on my dumb brain, I need comfort where I can find it. And I can find it in "Night of the Ghoul Log," the latest "Ghoul Log" from the fine folks at Shudder. There have been four "Ghoul Log" specials total – the original "Ghoul Log"; "The Return of the Ghoul Log," which was helmed by indie horror legend Larry Fessenden; a "Trick 'r Treat"-themed "Ghoul Log" which sadly is no longer streaming due to rights issues; and the latest entry, "Night of the Ghoul Log." And folks, I think it's the best "Ghoul Log" yet. 
The October Country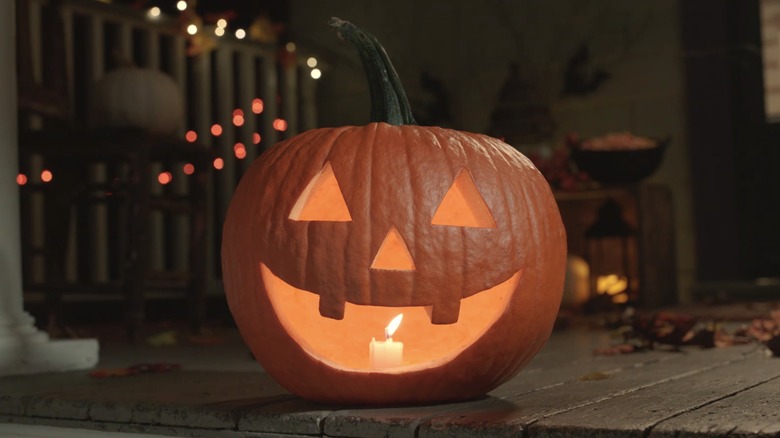 Shudder
All of the "Ghoul Log" movies have the same "premise": a Jack O'Lantern burns somewhere. The first entry has the Jack O'Lantern sitting in what appeared to be a yard. We hear wind howling, and we also hear some sort of screeching sound; an animal, perhaps? Or some sort of hellish monster? Who knows! The follow-up, "The Return of the Ghoul Log," is my least favorite installment. I love a lot of Larry Fessenden's work, but "Return" is just too damn busy. The Jack O'Lantern is inside now, in some sort of cluttered room. As the entry plays, random objects in the room come to life, making noises in the process. It's fine, I guess, and I certainly enjoy the way it all looks. But the constant sounds make it a little too unnerving for my tastes. Which brings me to "Night of the Ghoul Log," the latest and, I think, best "Ghoul Log" yet. 
What's the secret to making this one so special? Simplicity. Once again, there's a burning Jack O'Lantern. This time, though, there are no screeching sounds. And there's nothing coming to life in a distracting manner. It's just a pumpkin on a porch. Occasionally, a breeze will blow some leaves about. And once or twice there's a flash of lightning. But that's really it, and that's really all I need. The overall autumnal mood, combined with the comforting flicker of the candle as it burns down within the Jack O'Lantern grin, warms my troubled heart. It's the perfect bit of Halloween atmosphere, and it makes me nostalgic for something I never really had. Nostalgic for the type of Ray Bradburry-tinged Halloween that swims through my deadening dreams. The type of Halloween summed up perfectly by Bradburry in this passage from "The October Country":
"October Country ... that country where it is always turning late in the year. That country where the hills are fog and the rivers are mist; where noons go quickly, dusks and twilights linger, and mid-nights stay. That country composed in the main of cellars, sub-cellars, coal-bins, closets, attics, and pantries faced away from the sun. That country whose people are autumn people, thinking only autumn thoughts. Whose people passing at night on the empty walks sound like rain ... "
Happy Halloween, folks. Be careful out there.