Everything You Need To Know About Manhattan's New Alamo Drafthouse [Interview]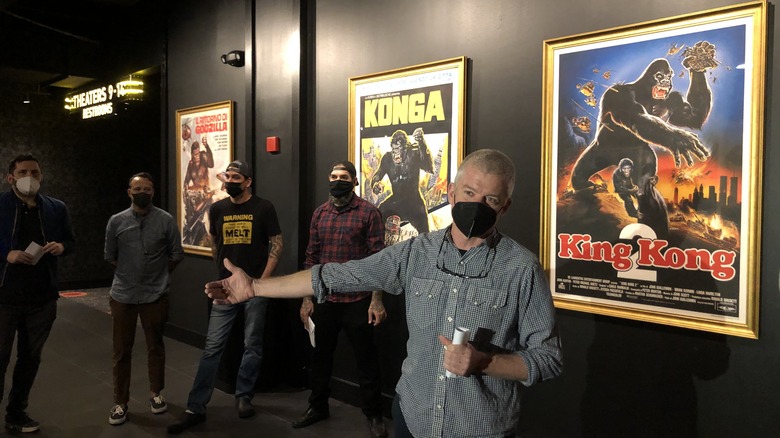 Max Evry
After years of waiting, cineaste New Yorkers can finally get their Alamo Drafthouse fix as the movie lovers' theater chain finally arrives in the Big Apple proper. Building off their other two locations in Yonkers and Brooklyn, the new Manhattan Alamo is located in the heart of Wall Street's Financial District at 28 Liberty Street, occupying 37,000 square feet of two sub-basement floors.
Despite the subterranean locale, don't expect an eerie lair. During a recent media preview for the grand opening, we stepped into a gorgeous and spacious movie palace with 14 different screens, tied for the most of any location with the Alamo in Springfield, Missouri. There's lots of amazing vintage genre posters adorning the walls, along with an exceptional bar called The Press Room filled to the brim with vintage movie ads that you can get custom printed at the titular press. All the beers (48 of them actually), craft cocktails, and decadent food options the brand is known for are available for in-theater purchase and rapid consumption, along with copious movie nerd merch in the gift shop.
We were able to have an exclusive sit-down with Alamo Drafthouse founder and executive chairman Tim League where we discussed the new location and future of the company, which has managed to bounce back after filing for Chapter 11 bankruptcy earlier this year. 
"We thought it was going to be about a two year process."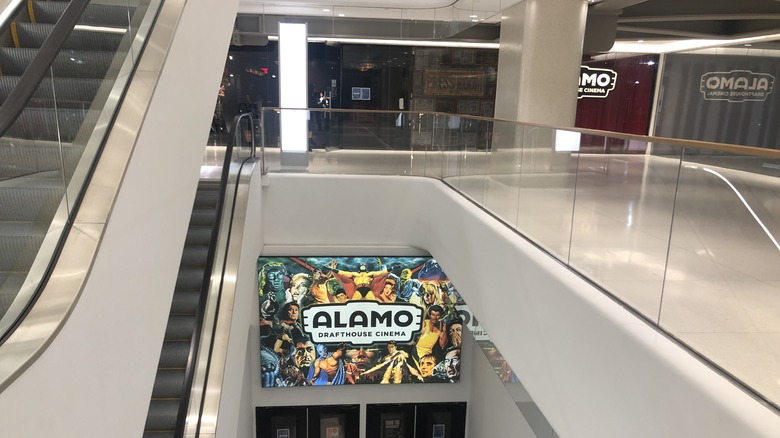 Max Evry
You had to sit on this location for a little while, right? How long has it been waiting in the wings?
It was delayed and over budget, over deadline a long time. We thought it was going to be about a two year process, and then it got delayed, and we were just about ready to open it. We were targeting January of 2020, and then it got delayed again, and then March 2020 happened, and we just kind of sat on it. COVID was the most recent problem, but it was just complicated. It's tough to get building materials into a site like this, this far down below ground, and we had a lot of work to do. 
The first thing I noticed is it's a much more expansive interior. The House of Wax bar at the Brooklyn location is beautiful but it's a little tight. Here in The Press Room you can really breathe. Everything feels bigger, like it's designed to accommodate far larger crowds.
House of Wax in Brooklyn was not designed as the House of Wax. It was just a small little bar, and then halfway through construction I came across that collection and shifted gears, much to everybody's chagrin. They made it happen. The Press Room we've been thinking about since 2017, so we had a long time to consider how it was going to be done.
"A great way to expand our expression of beautiful movie nerd posters."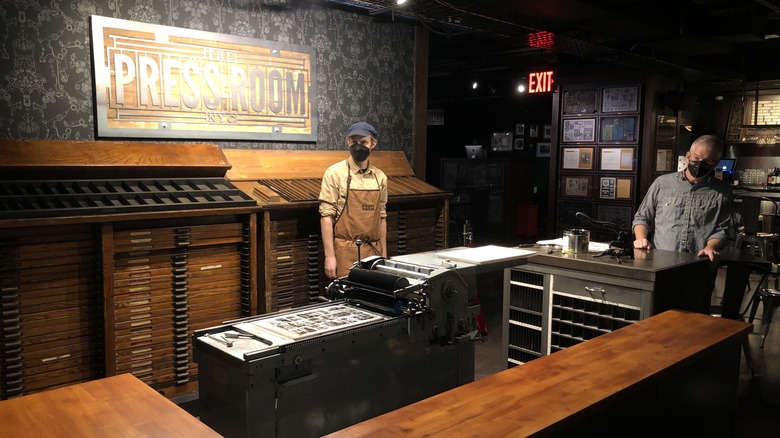 Max Evry
Having founded the Mondo brand you've been putting out high quality prints who really good artists for a long time. I have a great "Black Sunday" print from Mondo hanging in my office right now. How did your passion for that lead into The Press Room bar?
Obviously I like printed posters, right? The whole letterpress community... that's not generally what we do at Mondo, so it's a new facet, but I think it's a great way to expand our expression of beautiful movie nerd posters in this very handmade, tactile way.
Alamop used to host a lot of screenings where the prints would be pre-made and signed and numbered. Here you have the opportunity to actually not only print them to order for the customer, but actually have the customer be a part of the printing process.
Yeah, it's quite fun. We're also going to probably do some basic intro to printmaking classes here, and expand the art form in that way. I think what's really cool about it is people come in here to see a movie, and they're just gonna look over to the right and say, "What the hell is that?" Not really expecting it. We're going to be able to expose a lot more people to the art of letterpress printing.
"We need to get back to Alamo at its best."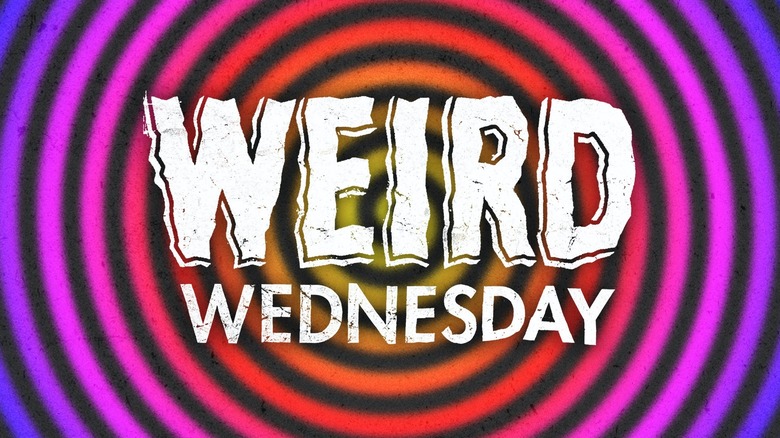 Alamo Drafthouse
One of my favorite things to do in the pre-COVID times was host a screening for Terror Tuesday or Weird Wednesday [subject of the great new book "Warped and Faded"] at the Alamo in Brooklyn. I love the older repertory content I got to introduce like "Death Race 2000" or "Santa Sangre." At the moment most of the Alamo revival content is centralized in Houston and being curated across all the locations, as opposed to the localized programming managers you used to have. As COVID becomes less of a thing and the theaters get back in the black, is the idea to eventually bring back the unique localized programming?
Yeah, yeah. We're gonna sort of casually, gradually get there, right? Coming out of chapter 11 and watching our bank balance very carefully, we had to scale back. But we need to be, right? We need to get back to Alamo at its best. Especially in New York, and especially with the Staten Island location coming, there's just too much. This is too big of an audience and it needs for us to be at our best, we need that too. We need to get back there. So that's the plan and the goal. We're gonna take it step by step, as people get comfortable coming back to movies.
Yonkers and Brooklyn have film projectors, but the Manhattan location does not yet. Is the plan to eventually make one of these 14 screens a film-capable screen?
That's what we want. It honestly was budgetary. There's a lot of little things that, as we exceeded our budget, we trim things back to keep costs in line. But there's no bigger believer in 35MM in the United States than me. I think it's important to do.
You said that AGFA actually does more print distribution than the Motion Picture Academy.
We like our films to be played, right?
"The job has always been fun."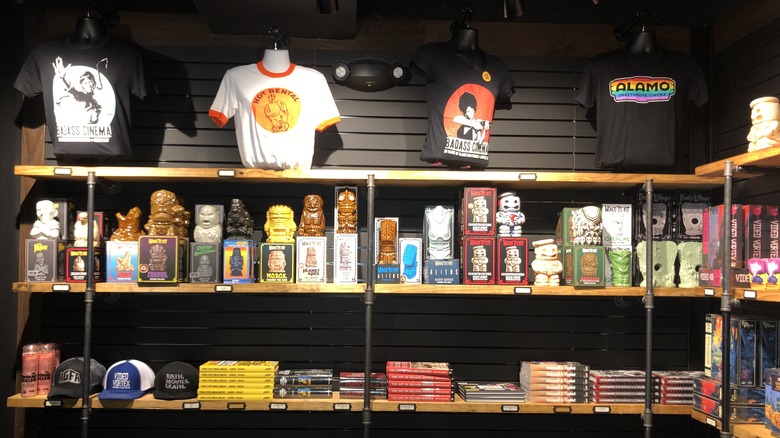 Max Evry
When I used to recommend things to the programmers in Brooklyn back in the day sometimes they would say, "Oh, we don't have a print of that." So does doing everything on DCPs at this location actually open you up to more varied revival content?
Over the last five years there have been a lot more DCPs created. AGFA also has a 4K scanner, and so we were scanning stuff from the AGFA archive. We've also worked with studios and smaller distributors so that if we can't get it, it's like, "Send us the print." We just made a 3D DCP of the martial arts movie "Dynasty 3D." We worked with Kino Lorber and they didn't have DCP. It's like, "Well, we're gonna make you a 3D DCP and then you can distribute it." 
What are you most excited about now that this Manhattan location is finally open? 
Oh, gosh. I mean, there's a lot of cool movies coming out this quarter. I'm excited for tonight. I'm actually going to be printing tonight, the "Putney Swope" plates. I'm excited to see the bar function when people come in and see actual printing happening and what that experience is like. I'm coming back to movies, too. Retiring from Mondo Games, and I'm gonna start focusing on the theaters we have in the pipeline. I'm curating the collection of posters for the Staten Island theater over the next two months. The job has always been fun. There's a lot of fun projects on the horizon.