How Jason Momoa Used A Dune Scene To Sneak In A Message To His Son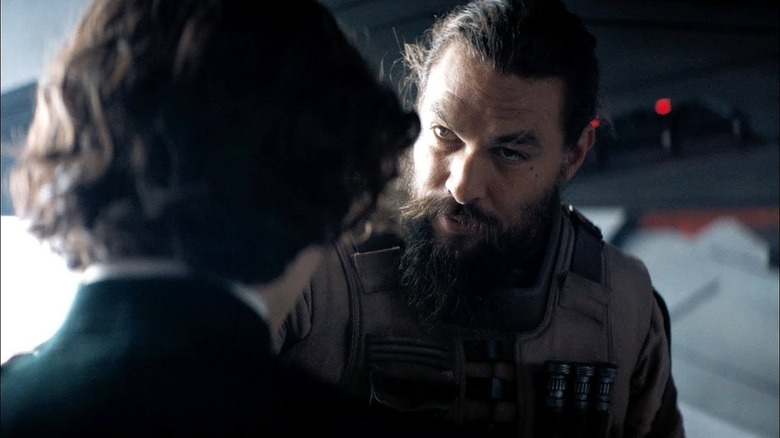 Warner Bros.
Jason Momoa, known as Aquaman in the DC movie universe and Khal Drogo in "Game of Thrones," got to add another incredible role to his roster this weekend in the form of Duncan Idaho. The actor appears as the badass fighting machine in "Dune," director Denis Villeneuve's big-budget adaptation of the Frank Herbert sci-fi classic. Momoa, ever the charmer, has revealed that he managed to sneak in a secret message to his son in the movie — rather amazingly — in one of these badass fight scenes.
Speaking with IndieWire, Momoa was discussing the process of making the movie, which dominated the competition at the box office over the weekend. It turns out, through a form of martial arts known as Kali, a technique native to the Philippines, Momoa was able to include a message to his sonin the movie:
"We had to fight numerous people, so a lot of training went into that last battle scene...We did a bunch of stuff like Kali. I never really learned that. My son does that. There's definitely these intimate moments where I'm signaling to my son. That's a Kali move, where you put your hand on your heart and put it on your head. That's to Timothée [Chalamet] in the movie, but that's to my son in real life."
That is, in a word, sweet. Not every dad gets the chance to sneak a message like that into a massive blockbuster movie.
What About Dune Part 2?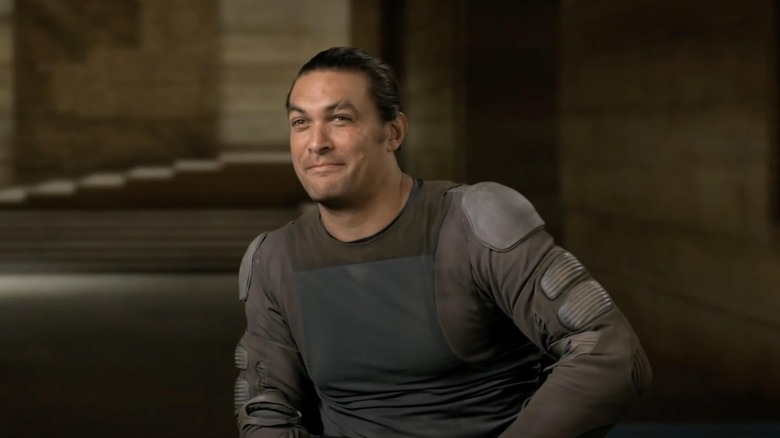 Warner Bros.
The question on the minds of many fans right now is whether or not we are going to get a sequel. As those who watched "Dune" over the weekend are surely aware, it was billed as "Part One," meaning that Villeneuve and Warner Bros. fully intend/hope to make the follow-up. As for Momoa, he explained in the same interview: "I finally saw Denis at a cocktail party, and I was picking his brain going, like, 'Hey, what's up buddy? What are we doing? I'm ready.' We'll find out."
The massive cast also includes Rebecca Ferguson, Oscar Isaac, Josh Brolin, Stellan Skarsgard, Dave Bautista, Stephen McKinley Henderson, Zendaya, Chang Chen, David Dastmalchian, Sharon Duncan-Brewster, Charlotte Rampling, and Javier Bardem.
"Dune" is in theaters and streaming on HBO Max now.
A mythic and emotionally charged hero's journey, "Dune" tells the story of Paul Atreides, a brilliant and gifted young man born into a great destiny beyond his understanding, who must travel to the most dangerous planet in the universe to ensure the future of his family and his people. As malevolent forces explode into conflict over the planet's exclusive supply of the most precious resource in existence—a commodity capable of unlocking humanity's greatest potential—only those who can conquer their fear will survive.