Spider-Man: No Way Home Images Show Spidey On The Run From Doc Ock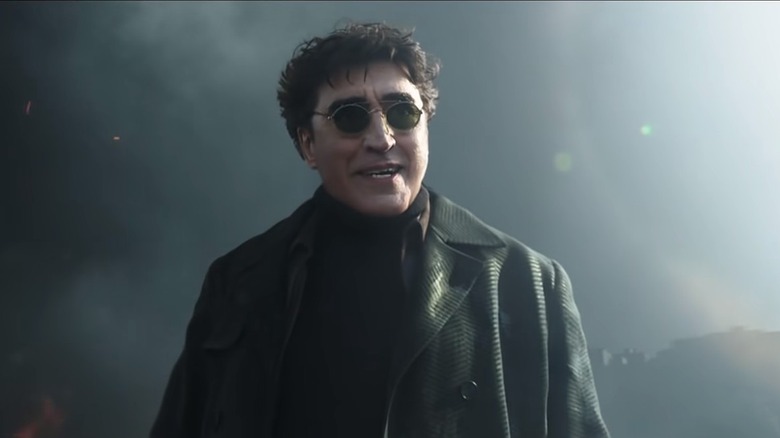 Sony Pictures
Today brings us a brand new look at the much-anticipated "Spider-Man: No Way Home," which is set to hit theaters later this year. It will pit Tom Holland's Peter Parker against a multiversal lineup of Spidey villains from the past, including Alfred Molina's Doc Ock, who makes his return to the franchise for the first time since 2004's "Spider-Man 2." Now, we have a new photo of the villain in action.
A couple of new photos were released by the folks at Empire Magazine. One features Holland looking quite distraught, while the other features Molina attacking the web-slinging hero. Check them out. 
Aside from the photos, we have some meaty comments from the filmmakers to chew on. Director Jon Watts, who returns after helming both "Spider-Man: Homecoming" and "Spider-Man: Far From Home," isn't shy about hyping up the movie's scope. "We're definitely trying to be ambitious," Watts says to the publication, going so far as to say "It's 'Spider-Man: Endgame.'" Take that as you will, but that is, at the very least, a bold statement. It also lines up with recent comments made by Holland, with the actor saying they were treating this like the end of the franchise.
Additionally, Marvel Studios head Kevin Feige discussed his long-standing hope to bring Molina back to the role, after he nailed the part during Tobey Maguire's run as the hero in director Sam Raimi's trilogy.
"I remember having discussions with Amy Pascal years ago. 'Do we want to revisit villains we've seen before?' No, let's do Vulture, and Mysterio, and characters we haven't brought to the screen before. But I remember thinking, 'How would you even do Doc Ock again?', because Alfred Molina is perfect casting. If you ever brought him back, it would have to be him somehow."
A Crazy Idea Becomes Reality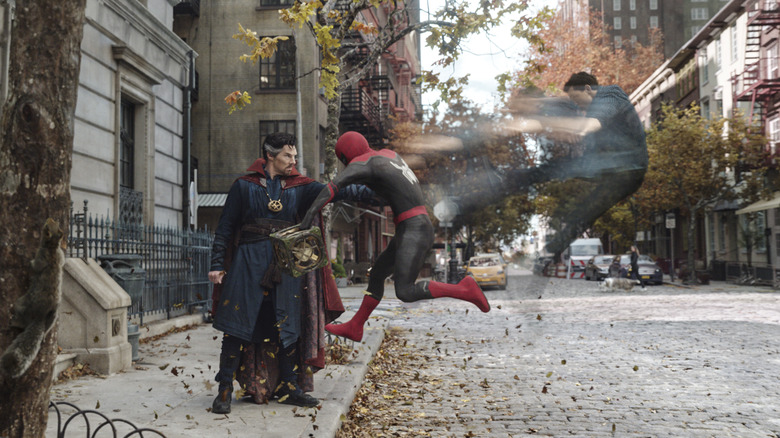 Sony Pictures
Aside from Doc Ock, it's believed that other villains, such as Willem Dafoe's Green Goblin, Thomas Haden Church's Sandman, and Jamie Foxx's Electro will get in on the action as well. Sinister Six, anyone? Not to mention that Benedict Cumberbatch is returning as Doctor Strange, with the Marvel multiverse fully coming into play here. Plus, there are persistent rumors that both Maguire and Andrew Garfield will return as their respective Spider-Mans. Holland, for his part, is amazed the crazy pitch was able to come to fruition.
"When I was first pitched the idea, I was like, 'Wow, that would be awesome if we could pull it off. But there's just no way it's going to work. You're just not going to be able to get everyone to do what they need to do. It's just not going to happen.' But it did happen. And it's crazy."
Chris McKenna and Erik Sommers penned the screenplay, with Zendaya, Jon Favreau, Jacob Batalon, and Marisa Tomei also set to star.
"Spider-Man: No Way Home" is set to hit theaters on December 17, 2021
For the first time in the cinematic history of Spider-Man, our friendly neighborhood hero is unmasked and no longer able to separate his normal life from the high-stakes of being a Super Hero. When he asks for help from Doctor Strange the stakes become even more dangerous, forcing him to discover what it truly means to be Spider-Man.