AMC Theatres Now Offering Open Captions For Deaf And Hard Of Hearing Audiences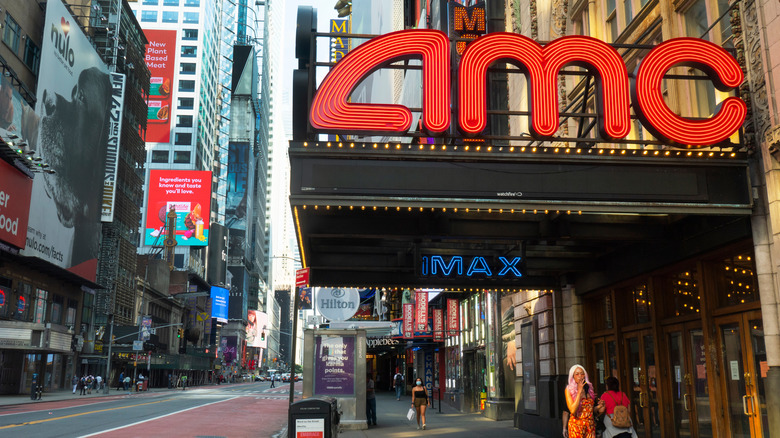 MNAphotography/Shutterstock
Today in "news about things that probably, no, definitely should've happened a long time ago," AMC Theatres revealed that it would be expanding its captioning services throughout the nation.
The chain made the announcement on October 19 and revealed that its captioning services — also called open captions by the company — will expand to more than 240 locations throughout the United States. A select few locations had already offered captioned screenings of mainstream blockbusters and were listed on the AMC app and website as "open captions (on screen subtitles)."
According to The Verge, "not all AMC showings will include open captioning — but AMC said that theaters that do offer open captioning screenings will do so for any new releases. Markets with at least two or more AMC theaters will support open caption screenings, according to the company. Showtimes will be a mix of matinee, evening, weekend, and weekday showings, and the company said it will adjust based on demand for the format and customer feedback."
"Initial consumer response has been very positive, and we anticipate strong demand with growing awareness of open caption showtimes at AMC," the company's EVP of worldwide programming and chief content officer, Elizabeth Frank, explained in a statement, noting that AMC's theaters will "become a more welcoming place for millions of Americans who are deaf or hard of hearing, as well as many for whom English is not their native language" as a result of the change.
Finally
On October 13, the company's CEO, Adam Aron, gushed about the expansion via Twitter. "I am proud to announce that @AMCTheatres permanently will offer some Open Caption showtimes each week. Well marked on our website and mobile app," he wrote. "A real advance for those with hearing difficulties or where English is a second language. And right in time for Eternals from @Disney."
While we happily welcome this historic change with open arms, it's been too long a time coming.
When Bong Joon-ho's "Parasite" won the Oscar for Best Foreign Language Film in 2020, he implored English-speaking viewers to embrace subtitles. "Once you overcome the one-inch tall barrier of subtitles," he said via his translator during his now famous acceptance speech. "You will be introduced to so many more amazing films."
That sentiment is tenfold for folks who are deaf or hard of hearing and not just actively opting against watching a subtitled movie in another language — and this expansion will vastly broaden their horizons, enrich their imaginations, and truly bring those people into the fold in a meaningful, quantifiable way. The fact that this hasn't been common practice up until this point is a real shame, and truly, there is still quite a bit of work to do.
The job won't truly be done until AMC expands this initiative to all theaters nationwide and other major theater chains follow suit — but we'll take the small victories and celebrate them when they come.