5 Frances McDormand Movies To Stream After The French Dispatch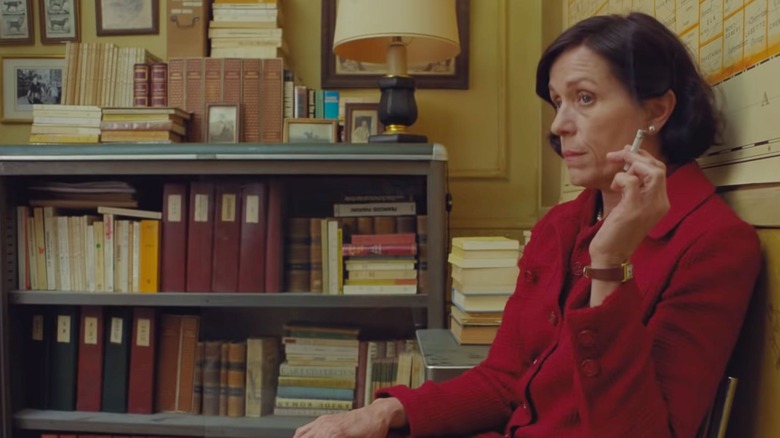 Searchlight Pictures
Wes Anderson's newest movie, "The French Dispatch," hits theaters this week. /Film's own Hoai-Tran Bui wrote of the movie in her review: "'The French Dispatch' is so breathlessly stylized that one might accuse it of being airless and emotionally inert (and indeed, many have). But that's not the case at all." The story of an American magazine in a fictional French city boasts a dynamite ensemble cast featuring Anderson staples like Bill Murray, Owen Wilson, Jason Schwartzman, Edward Norton, and Willem Dafoe. The core group are joined by Liev Schreiber, Saoirse Ronan, Timothée Chalamet, Matheiu Amalric, Stephen Park, Lyna Khoudri, Léa Seydoux, Benicio Del Toro, Tilda Swinton, Adrien Brody, and the subject of this article, the great Frances McDormand.
There are few actors who possess such a talent that any movie is immediately elevated by their existence on screen, but Frances McDormand is absolutely one of them. A three-time Academy Award-winning actor, McDormand's career spans decades and across genres, solidifying her place as one of the greatest performers of all time. After watching "The French Dispatch," you'll likely feel inspired to have your own personal McDormand celebration afterward, so here are five of her best currently available to stream.
Almost Famous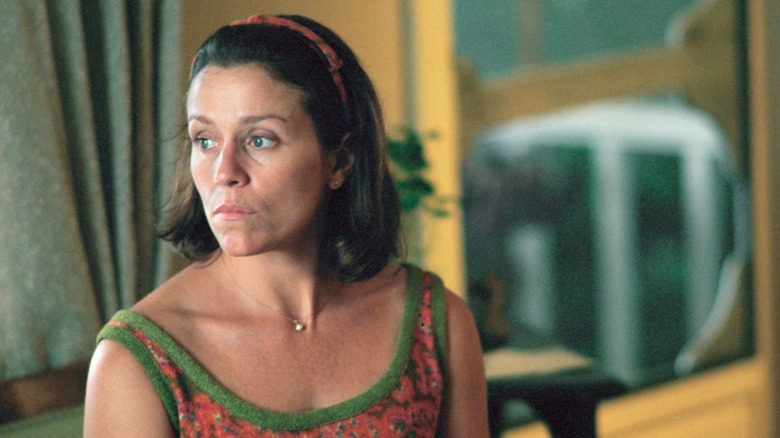 Columbia Pictures
Where to Stream: Paramount+, Amazon Prime, Pluto TV
Choosing only five films from Frances McDormand feels like asking a parent to choose their favorite child, which is why one of her best "mom" roles deserves to be highlighted. McDormand plays Elaine Miller, the grounded heart yet pseudo-antagonist of "Almost Famous." Elaine is the mother of protagonist William (Patrick Fugit) who lets her 15-year-old son go on a rockstar adventure across the country, but serves as a nagging reminder that William is still just a teenager, and his mom is still on his case. What's so brilliant about McDormand's performance is that if you watch "Almost Famous" as a young and ambitious teen (as many of us did), she is an immediately unlikable villain, a total buzzkill, and an uptight reminder of the status quo. As an adult, we can see that despite her smothering demeanour, she's the one person who genuinely cares about William and wants to see him succeed despite pursuing a life in an industry that will rip you to shreds. She grows with him in her own way and on her own terms, but her love for her son and her desire to see him safe does not waver.
Blood Simple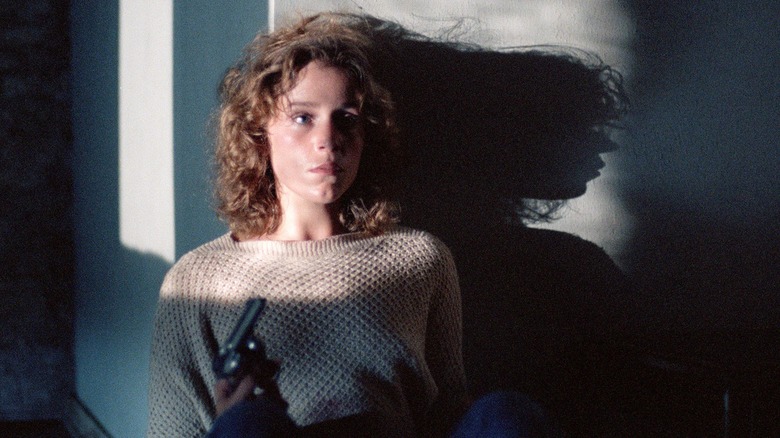 Circle Films
Where to Stream: HBO Max
The debut feature of both the Coen Brothers and France McDormand, the film noir "Blood Simple" shows McDormand as a woman named Abby who is cheating on her derisive husband Julian with a bartender working at one of Julian's bars. Due to her affair, Abby gets caught up in a murderous web of blackmail, and gets put on an absolute emotional rollercoaster with no signs of getting off. McDormand auditioned for the role at the encouragement of her friend Holly Hunter, and would eventually marry Joel Coen after working together on this film, and starring in subsequent Coen Brothers movies that follow. What makes McDormand's role in "Blood Simple" so memorable, though, is that we can see the building blocks of what would become her career being assembled throughout her performance. Despite Abby's mistakes, McDormand is able to humanize the character and bring a sense of dignity to someone who would have been easily written off as a stereotype by a lesser performer. McDormand's debut came out swinging, and she knocked it out of the park.
Three Billboards Outside Ebbing, Missouri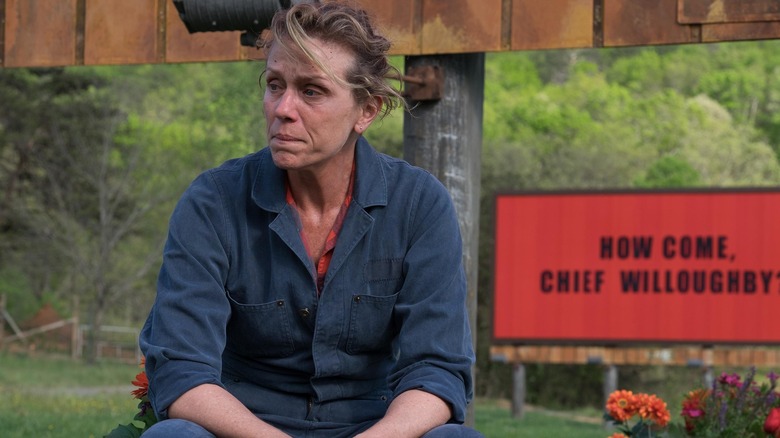 Fox Searchlight Pictures
Where to Stream: Sling
Is "Three Billboards Outside Ebbing, Missouri" a bit of a tonal mess with conflicting messaging? Yes. Is Frances McDormand absolutely deserving of her Academy Award for this performance? Also yes. In this political dark comedy, McDormand plays Mildred Hayes, a working-class mother mourning the loss of her daughter's murder while simultaneously trying to navigate the justified fiery rage she feels knowing corrupt law enforcement don't actually care about trying to bring her daughter's murderer to justice. McDormand's Mildred is an absolute masterclass in grief, with the character having frequent mood swings, impulsive decision making, and a constant fight not to just fall apart at the seams. She is in control of every single frame she's on screen. McDormand makes this messy film worth watching.
Nomadland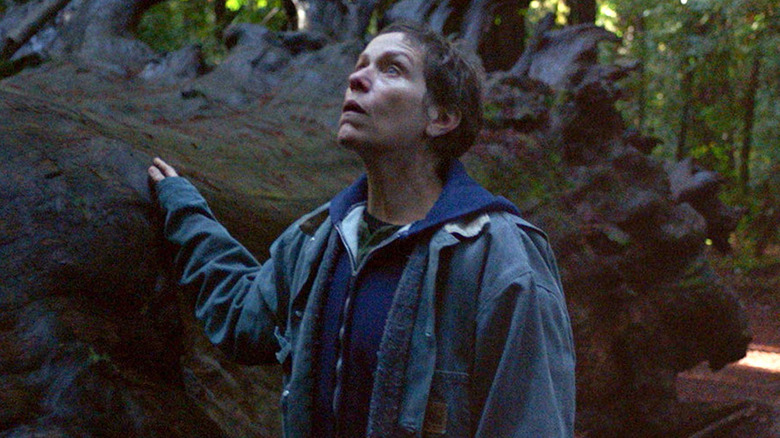 Searchlight Pictures
Where to Stream: Hulu
In her most recent Academy Award-winning performance, McDormand truly proved why she's one of the greats. Thanks to her work with The Coen Brothers and Martin McDonagh, audiences are familiar with McDormand's seemingly effortless skills of weaving overwritten monologues and intricate dialogue, but "Nomadland" allows a depth of character through restrained moments, long bouts of silence, and a genuine humanity shared alongside her non-actor co-stars. McDormand is a very vocal activist for social justice, and this aspect of her personhood really shines in "Nomadland," extending the grace and nuance of the characters she's known to play to those she meets along her journey as Fern. Believe the hype, "Nomadland" and McDormand's performance are the real deal.
Fargo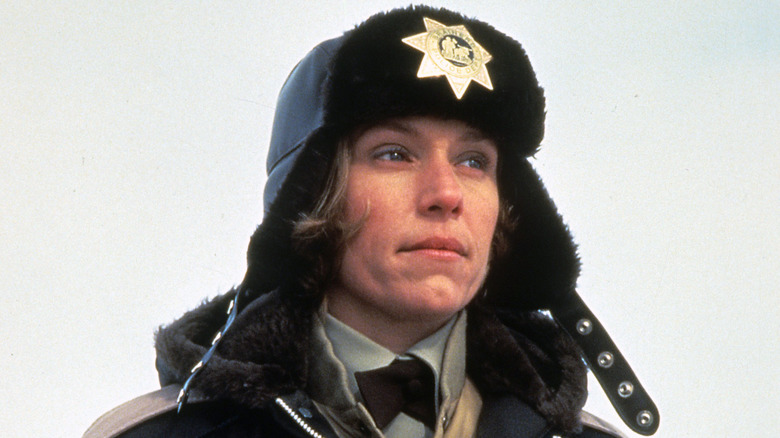 Gramercy Pictures
Where to Stream: Philo
Arguably her most iconic performance, it's hard not to consider McDormand's performance as Marge Gunderson in "Fargo" her very best. The Coen Brothers are known for their lovable lowlife characters, forcing audiences to relate to some of humanity's most despicable. That isn't the case in "Fargo," where Marge Gunderson serves as the only responsible and just character surrounded by a rogue's gallery of jerks and monsters. McDormand is the sigh of relief and hope for humanity throughout the film, and consistently acts as the moral compass and voice of reason. Marge brings a much needed warmth to this Midwestern nightmare, and is undoubtedly the best character the Coen Brothers have ever crafted (sorry, Jeff Lebowski). However, it's McDormand's talent as Marge that really elevates the character to her legendary status. It's impossible to imagine anyone else in the role, and the performance cemented her as an all-time great.