The 20 Best '90s Halloween Movies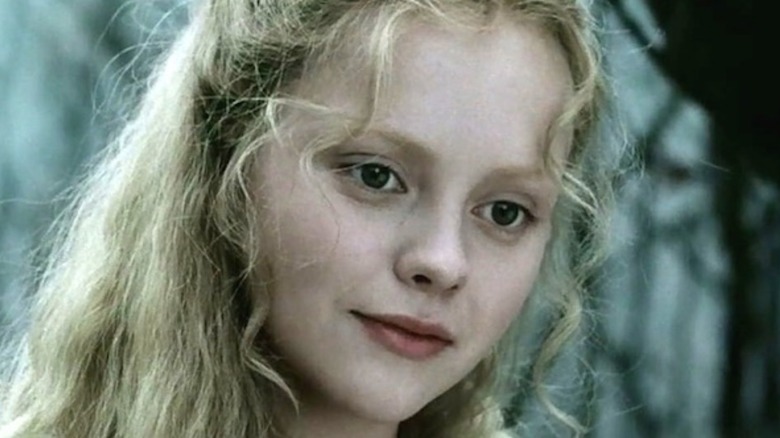 Paramount Pictures
Witches and spiders and ghosts, oh my! Sure, the '90s gave us some great movies across many genres, but if you're specifically in the mood to watch some Halloween fare and you're looking to expand beyond the current century's offerings, the '90s is a decade that boasts some great options for a creepy night in.
From family-friendly fun to dark fantasy and horror, the decade that came after the '80s and before the '00s birthed a number of spooktacular movies that still thrill and delight today. Whether you're into headless horsemen, armies of the dead, vampires, or masked killers, you're sure to find something that'll fit your taste on the following list of the best Halloween movies of the '90s. So, kick back with your candy corn, candied apples, and pumpkin-flavored beverage of choice, and enjoy... if you dare!
The Witches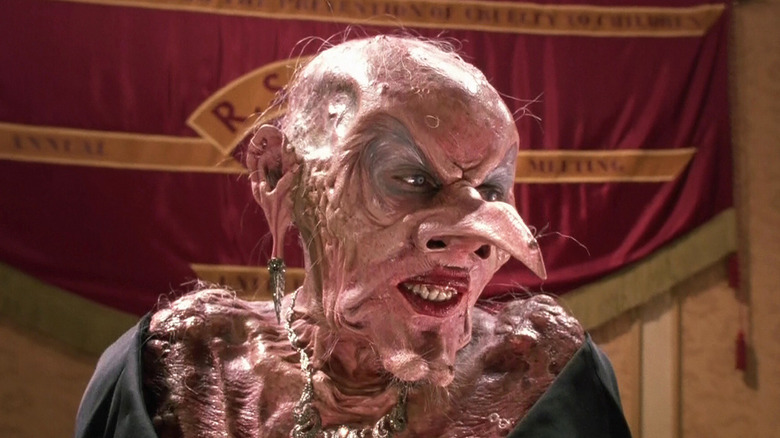 Warner Bros.
Nicolas Roeg directed a heck of a disturbing horror-thriller in 1973's "Don't Look Now," so he was an inspired choice by producer Jim Henson, who selected him to direct "The Witches," an adaptation of Roald Dahl's dark fantasy children's novel of the same name.
"The Witches" follows an orphaned young boy named Luke (Jasen Fisher), whose grandmother, Helga (Mai Zetterling), warns him about the dangers of witches. Later, Luke stumbles upon a witch convention at a hotel where he and Helga are staying. Soon, Luke discovers that the Grand High Witch (Anjelica Huston) plans to turn all the world's children into mice, starting with him. With a delectably wicked performance by Huston, and delightfully elaborate prosthetics and puppetry by Jim Henson's Creature Shop, "The Witches" is a vibrant cult classic full of imagination and a playfully dark sense of fun.
Sleepy Hollow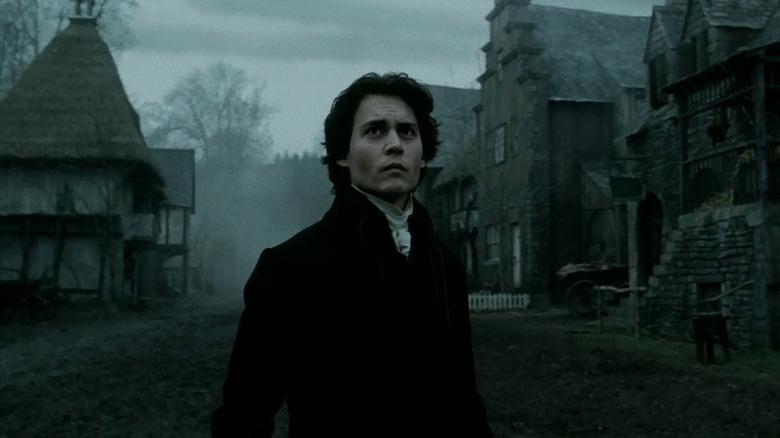 Paramount Pictures
Tim Burton's "Sleepy Hollow" has everything one could hope for in a Halloween movie, including a creepy gothic ambiance, dense, foggy woods, and a sleepy 1800s town plagued by a series of decapitations committed by an apparition known as the Headless Horseman (Christopher Walken).
Based on Washington Irving's classic tale, "The Legend of Sleepy Hollow," Burton's "Sleepy Hollow" follows Johnny Depp as Ichabod Crane, a police constable sent to the titular locale to investigate the aforementioned decapitations. There, he encounters love interest Katrina (Christina Ricci) whose stepmother, Lady Van Tassel (Miranda Richardson) has some dark secrets. "Sleepy Hollow" won an Oscar for best art direction thanks to the spooky production design by Rick Heinrichs ("Pirates of the Caribbean"). Gorgeous cinematography by Emanual Lubezki ("Birdman") and lively performances all around further establish "Sleepy Hollow" as a richly atmospheric '90s Halloween staple.
Arachnophobia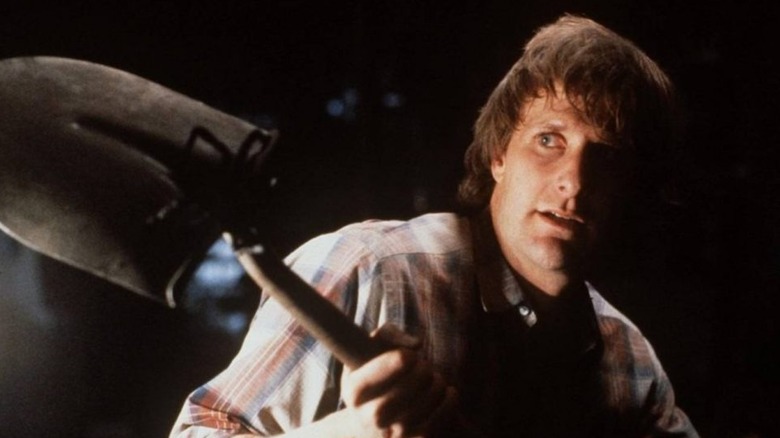 Buena Vista Pictures
Spiders are an integral part of Halloween, at least if the decorations aisle at your local drug store are any indication. Let's face it, the little eight-legged critters are kind of freaky, and tend to creep people out, if not downright terrify them. So what could be more terrifyingly fun than watching Jeff Daniels and John Goodman battle it out with an invasive and deadly species of spider in "Arachnophobia?"
The Amblin Entertainment-produced, Frank Marshall-directed creature-feature has a lot of hair-raising fun with its premise, in which a spider-averse, city-slickin' doctor, Ron Jennings (Daniels), moves to a small town, only to discover that killer spiders have set up camp in his barn and threaten to overrun the world. Enlisting the help of exterminator Delbert McClintock (Goodman), Jennings must face his worst fear in an effort to save humanity. Featuring tons of spiders, hot flame throwin' action, and an endearing sense of playfulness, "Arachnophobia" is a creepy-crawly, goosebump-inducing good time.
Army of Darkness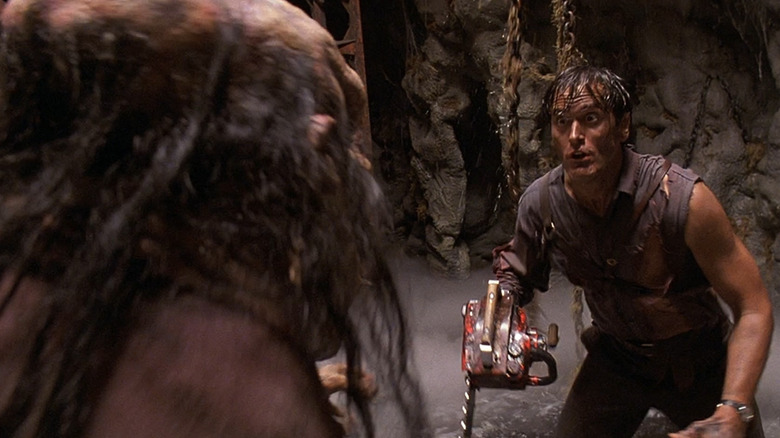 Universal Pictures
Both Sam Raimi's "The Evil Dead" and its sequel, "Evil Dead 2," make great Halloween movies, but neither one was released in the '90s. Luckily, the third installment in the franchise, "Army of Darkness," came out in 1992.
This chapter sees hero Ash Williams (Bruce Campbell) transported to the Middle Ages, where he is promptly captured by Lord Arthur, and must find the Necronomicon, aka the Book of the Dead, in order to return home. As if all that weren't enough, he also accidentally releases and must consequently battle an army of the dead. Like its predecessor, "Army of Darkness" is a zany horror-comedy, though this one is bigger and more adventurous with its setting and its army of skeletons. With wild special effects inspired by the stop-motion animation of Ray Harryhausen and storyline that borrows from the legend of King Arthur's Court, "Army of Darkness" is a fantastical choice for your Halloween watch list.
Death Becomes Her
Universal Pictures
Robert Zemeckis is known for making some incredibly fun films, including "Back To The Future" and "Who Framed Roger Rabbit?," but he also has a taste for slightly spookier fare. One example comes in the form of "Death Becomes Her," which he both produced and directed.
"Death Becomes Her" stars Meryl Streep as actress Madeleine and Goldie Hawn as writer Helen. The two women are bitter rivals who both end up fighting for the attention of Helen's husband, plastic surgeon Ernest Menville (Bruce Willis). Their rivalry eventually leads them to both drink a magic potion that promises eternal life and beauty, even in the event of "death".
The macabrely comedic "Death Becomes Her" won an Oscar for best visual effects, and has become a cult classic, especially within the LGBTQ+ community. Vanity Fair called it "gloriously queer" and described it as "'Lifestyles of the Rich and Famous' meets 'Tales from the Crypt.'"
The Crow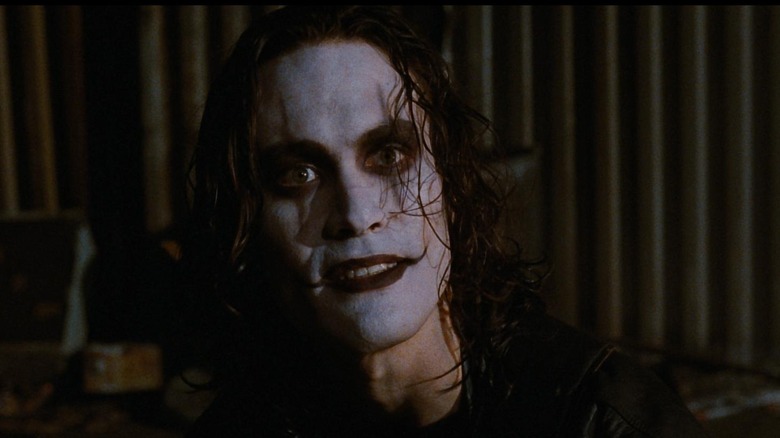 Miramax
If you prefer your Halloween movies on the grittier, gothier side, "The Crow" is a perfect, if solemn, choice. Alex Proyas' dark fantasy noir, based on the comic by James O'Barr, is set in Detroit on October 30th, aka Devil's Night, during which a gang of thugs assault and murder Eric Draven (Brandon Lee) and his girlfriend, Shelley (Sofia Shinas). One year later, a mystical crow brings Eric back from the dead, leaving him free to exact revenge upon the perpetrators.
The film's dark, gothic, visual aesthetic along with its grungy soundtrack and action-packed sequences all add to its brooding appeal. Sadly, the film's legacy is marred by Brandon Lee's tragic death during filming, which invariably haunts the finished product, but his dramatic and sensitive performance as the heartbroken Eric Draven is worth paying tribute to, and renders the long-considered remake generally unnecessary.
The Craft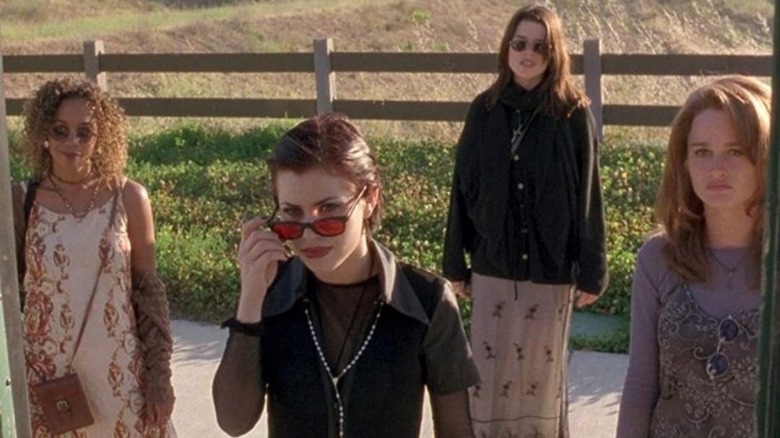 Columbia Pictures
"Now is the time. This is the hour. Ours is the magic. Ours is the power." Yet another '90s movie about witches, "The Craft" zeros in on teen girl power as it follows the misadventures of a burgeoning coven of teenage witches led by the charismatic but troubled Nancy Downs (Fairuza Balk).
When Sarah Bailey (Robin Tunney) moves to a new high school, she finds friendship among a group of outcasts, including Nancy, Robin (Neve Campbell), and Rochelle (Rachel True), who soon discover that they can conjure up powers by worshipping a deity called Manon. As their powers grow, the teens use them to exact revenge upon their abusers, but discover that their gifts come with a price. Soon, Nancy's thirst for power threatens them all. With excellent performances and its centering of troubled teen girls, "The Craft" has become a cult classic, one whose themes of empowerment have been especially popular with young women.
Hocus Pocus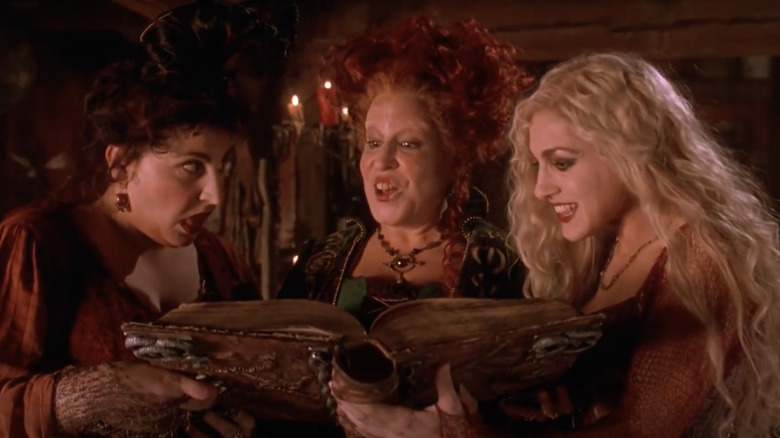 Buena Vista Pictures
Critics might not agree, but audiences of all ages have made Disney's "Hocus Pocus" something of a cult Halloween staple.
The campy comedy directed by Kenny Ortega centers around two young siblings, Max and Danni Dennison (Omri Katz and Thora Burch), who have recently moved to Salem, Massachusetts. On Halloween night, Max inadvertently reincarnates the Sanderson Sisters (Bette Midler, Sarah Jessica Parker, Kathy Najimi), a trio of witches who, three centuries prior, had been hanged after murdering a girl in order to steal her youth and turning the girl's brother, Thackery Binx (Sean Murray), into a black cat. The only way to stop the wicked witches is to steal their book of spells, which is exactly what Max, Danni, Thackery the cat, and Max's crush Allison (Vinessa Shaw) set out to do. Lots of hocus pocus ensues.
Despite being critically panned, "Hocus Pocus" has only grown in popularity over the years, with an upcoming sequel in the works at Disney+. All three of the original Sanders Sisters are slated to return.
The Addams Family and Addams Family Values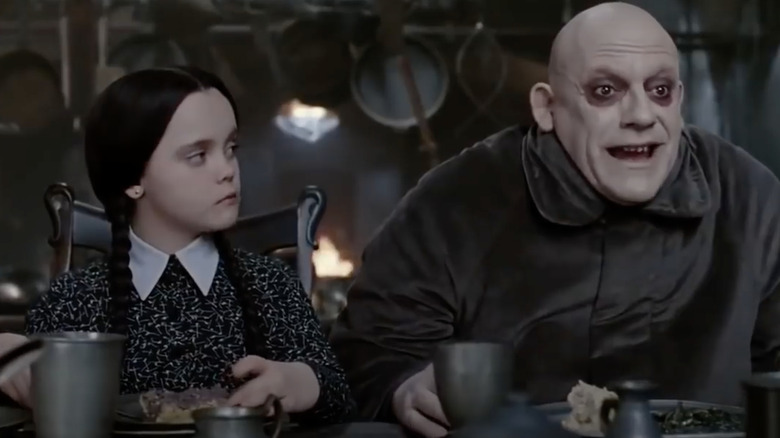 Paramount Pictures
They're creepy and they're kooky, and they're the perfect company for Halloween. "The Addams Family" and "Addams Family Values" both follow the spooky exploits of the titular family, including Morticia and Gomez Addams (Anjelica Huston and Raul Julia), their children Wednesday and Pugsley (Christina Ricci and Jimmy Workman), Gomez's brother Uncle Fester (Christopher Lloyd), Grandmama (Judith Malna), the Thing (Christopher Hart), and Lurch (Carel Struycken).
Sure, their plots vary a little bit; the first film focuses on whether Fester is really Gomez's brother or an imposter bent on defrauding the family, and the second sees Fester marrying a gold-digging serial killer (Joan Cusack) while Wednesday and Pugsley are sent off to summer camp. But the unapologetically macabre family and their eccentric yet loving ways make both films winners. "The Addams Family" was a hit at the box office, and while "Addams Family Values" didn't do quite as well, critics praised its satire and new characters.
Scream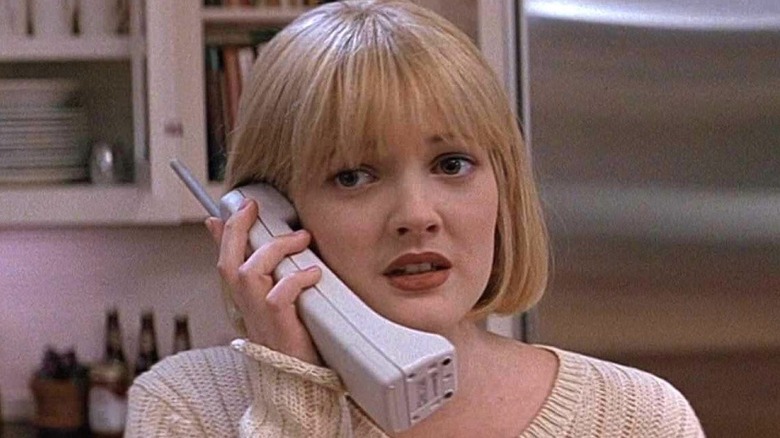 Dimension Films
"Do you like scary movies?" If so, Wes Craven's meta horror flick "Scream" makes for a terrifically scary and fun Halloween watch. "Scream" revitalized the slasher genre in the '90s with a smart, snappy, darkly comedic script about a mysterious costumed killer known as "Ghostface" who terrorizes the teens of Woodsboro, California, all of whom seem hyper aware of horror movies and their various cliches.
The iconic opening scene featuring Drew Barrymore receiving a phone call from a threatening stranger is an homage to films such as "When a Stranger Calls" and "Black Christmas." It's just one throwback that screenwriter and horror fan Kevin Williamson incorporated into his script, which was also inspired by a real-life killer known as the Gainesville Ripper. Other cast members include Neve Campbell as the grieving Sidney Prescott, Courtney Cox as reporter Gayle Weathers, David Arquette as Deputy Sheriff Dewey Riley, Skeet Ulrich as Sidney's boyfriend Billy Loomis, and Matthew Lillard as fellow teen Stu Macher. "Scream" spawned several sequels, including an upcoming fifth entry.
The Blair Witch Project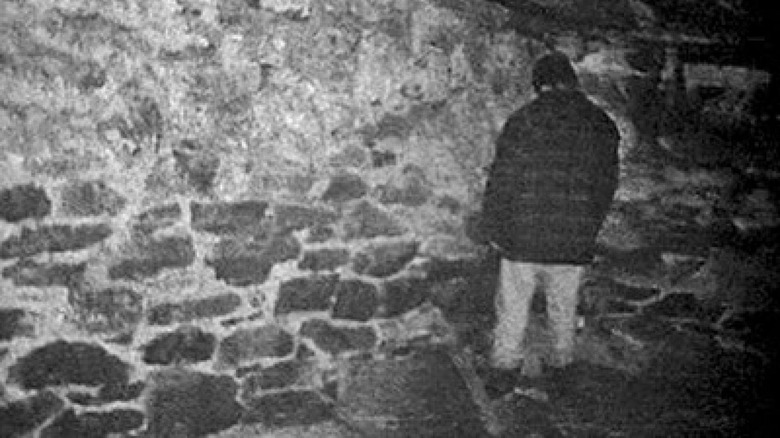 Artisan Entertainment
Witches and Halloween go together like eye of newt and toe of frog, which is why there are multiple witch-centric movies on this list. "The Blair Witch Project" focuses on a folksy sort, "an old woman whose feet never touched the ground" who leaves ominous stick figures strewn around the woods in the Black Hills outside of Burkittsville, Maryland.
The fictional film is presented as the "recovered footage" of a trio of student documentarians, played by Heather Donahue, Michael C. Williams, and Joshua Leonard, who had come to the Black Hills in October of 1994 to investigate the Blair Witch, which includes tales of ritualistic murders. The footage documents the trio's harrowing last days as they become lost in the woods, and are drawn closer to the titular witch. With help from a viral marketing campaign and a super creepy ending, "The Blair Witch Project" became a huge hit, and is credited with reviving the and popularizing the "found footage" genre.
Bram Stoker's Dracula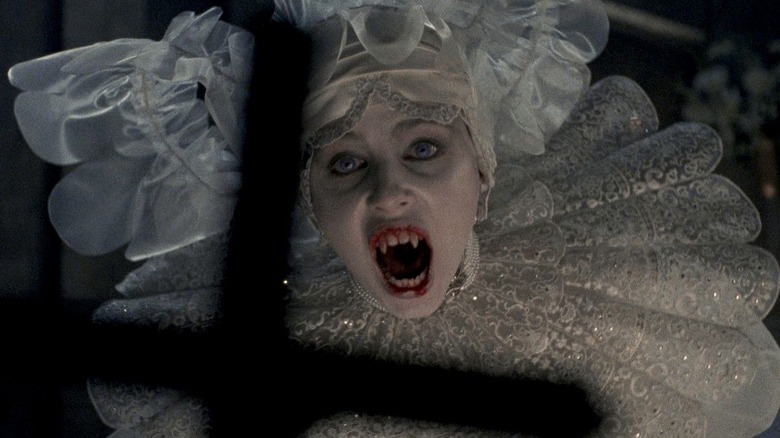 Columbia Pictures
Vampires are another hallmark of Halloween, and the granddaddy of all vampires is, of course, Count Dracula, who first came to life (or to the undead, if you will) in 1897 via Bram Stoker's classic novel. Francis Ford Coppola's film adaptation, "Bram Stoker's Dracula," is a lavish, gothic romance that's equal parts sexy and terrifying.
Gary Oldman plays Vlad the Impaler, who renounces God and vows to use the powers of darkness to avenge his slain love, Elisabeta (Winona Ryder). Centuries later, Vlad is now known as Count Dracula, and he's "crossed oceans of time" to find Mina Harker (Ryder), who looks like she could be his beloved Elisabeta reincarnated. Easily morphing between a seductive Count and a rather nasty looking bat-like monster, Dracula attempts to woo Mina, and her unfortunate friend, Lucy (Sadie Frost), but both Mina's fiancé, Jonathan (Keanu Reeves), and the charismatic Abraham Van Helsing (Anthony Hopkins) intend to put a stop to that.
Flatliners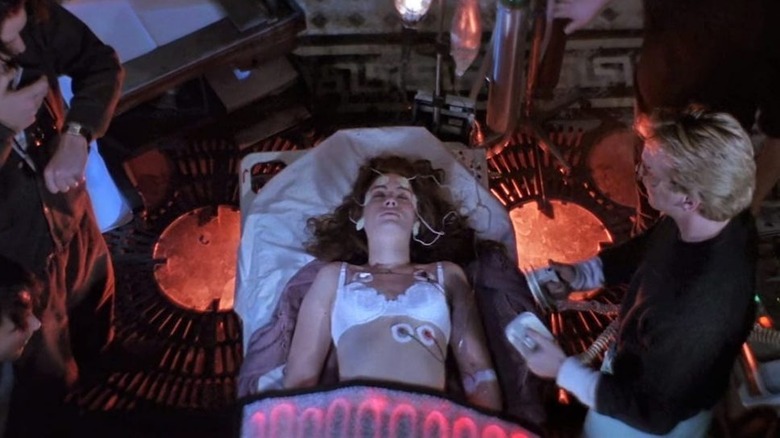 Columbia Pictures
The '90s was apparently a popular time to harken back to Gothic literary classics, as director Joel Schumacher did with "Flatliners," which evokes shades of Mary Shelley's "Frankenstein" with its tale of five medical students who decide to play chicken with the line between life and death.
Set during Halloween, the students, led by Nelson Wright (Kiefer Sutherland), decide to explore the moments that occur just beyond death by "flatlining," which involves killing then quickly resuscitating the volunteering individual. As the students take turns flatlining, they experience their own unique visions, making them want to remain on the other side longer in order to figure out what's happening to them.
In addition to the Frankenstein-esque themes about playing God, Schumacher also infuses the psychological horror film with a cool modern Gothic aesthetic. Featuring a stellar cast of '90s stars that includes Julia Roberts, Kevin Bacon, William Baldwin, and Oliver Platt, "Flatliners" is the sexy '90s Frankenstein ode you never knew you needed.
The Frighteners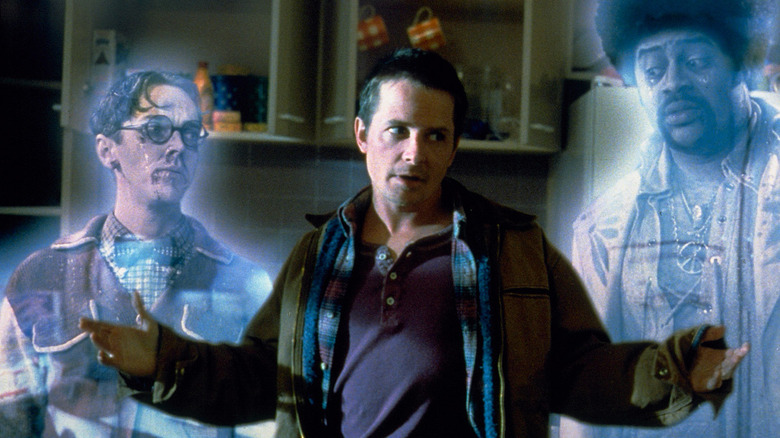 Universal Pictures
These days, Peter Jackson is best known for directing The Lord of the Rings trilogy, but back in the '90s he got his start directing zany horror comedies like the bloody zombie movie "Brain Dead" (aka "Dead Alive") and the more ghost-centric "The Frighteners," which was his first big-budget Hollywood film and the second film, after "Heavenly Creatures," to utilize the special effects of his Weta Digital company.
"The Frighteners" stars Michael J. Fox as Frank Bannister, whose wife is killed in a car accident, after which he gains the ability to see ghosts, including three that live in his house, Judge (John Astin), Cyrus (Chi McBride) and Stuart (Jim Fyfe). Frank begins charging people in a con to rid their home of spirits, but soon encounters a ghost posing as the Grim Reaper who is actually killing people, leaving it up to Frank to save the day. Produced by Robert Zemeckis, "The Frighteners" is a true relic of the '90s with unusual special effects that were state of the art at the time. It's worth watching for its commitment to the bit, and its general sense of spooky fun.
Halloween H20: 20 Years Later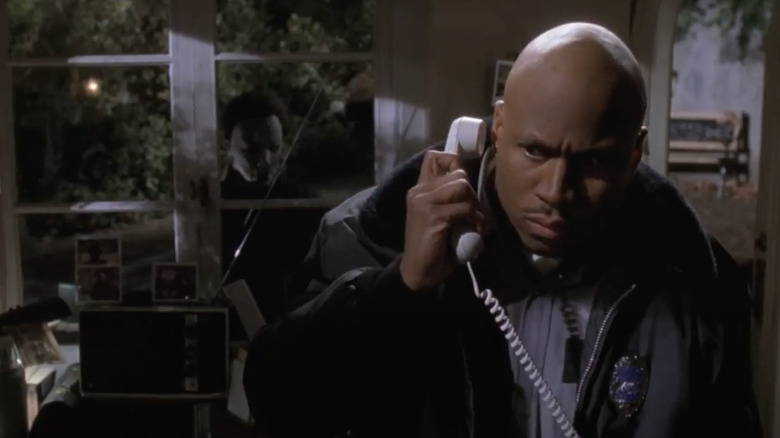 Miramax/YouTube
It may not be the best film in the series, but "Halloween H20" has its charms. The seventh installment of the "Halloween" franchise, "Halloween H20" ignores the storyline of the prior three movies, and brings back Jamie Lee Curtis as Laurie Strode.
Directed by Steve Miner ("Friday the 13th Part 2," "House," "Lake Placid"), "H20" finds Laurie Strode working as a headmistress at a boarding school, where she lives under an assumed name in order to hide from her brother, Michael Myers (Chris Durand). But, being the determined slasher that he is, Michael raids Dr. Loomis' old house, steals Laurie's file, tracks her down, and, of course, does some killing along the way. "Halloween H20" is elevated by its colorful cast, which includes Adam Arkin as Laurie's boyfriend, Josh Hartnett as Laurie's son, Michelle Williams as his girlfriend, and LL Cool J as a security guard. "Halloween H20" also has the distinction of being the second and final horror film Jamie Lee Curtis would appear in with her mother, Janet Leigh, the other being 1980's "The Fog."
Edward Scissorhands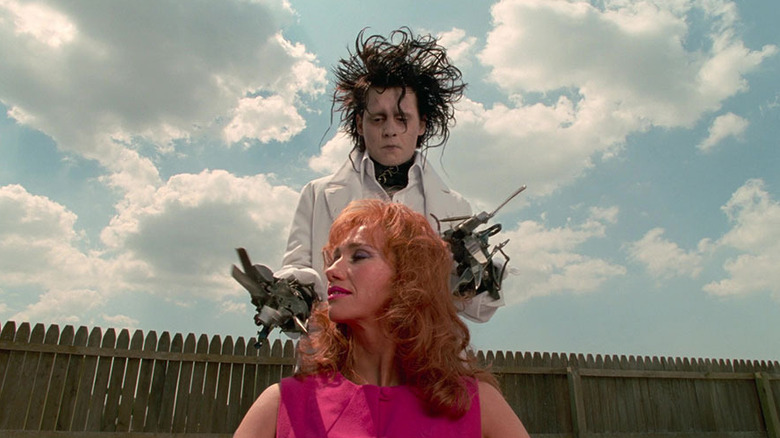 20th Century Fox
Tim Burton's "Sleepy Hollow" is one of many Halloween-friendly films the master of the macabre has directed. Although the film doesn't take place on Halloween, Burton's beloved "Edward Scissorhands" is a delightfully dark romance, featuring a spooky castle and a blade-fingered goth protagonist. The film and its creepy characters have inspired countless Halloween costumes since its 1990 debut.
Johnny Depp stars as the scissor-blade-handed Edward. The mad scientist (Vincent Price) who invented him dies before he crafted human-like hands. Left alone in the inventor's gothic manor, the locals of the boring nearby suburb eventually discover Edward. He dazzles them with his impressive bush-sculpting abilities before falling in love with a beautiful and kind young woman named Kim (Winona Ryder). "Edward Scissorhands" is a magically moody affair with a tender-hearted and misunderstood weirdo at its core, making it a great viewing choice for a romantic yet spooky Halloween night.
The Nightmare Before Christmas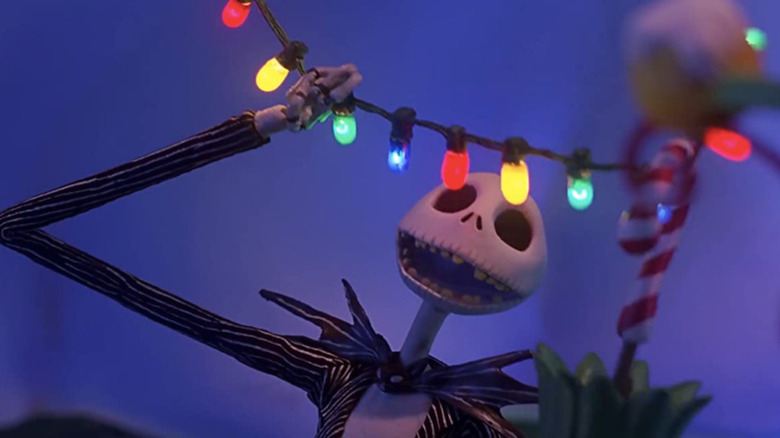 Disney
Here's another spookily enchanting Tim Burton classic! "The Nightmare Before Christmas" might sound like a Christmas movie, but it's a Halloween movie at heart. It even features a song called "This is Halloween!" The hero is, after all, the "Pumpkin King" of Halloweentown, aka Jack Skellington (portrayed by Chris Sarandon and Danny Elfman). He decides to take over Christmas after stumbling upon Christmastown and becoming enchanted by the strange and festive holiday. Of course, it ends up causing disastrous results.
When Jack dresses up as Sandy Claws and tries to deliver gifts to children in the real world, he frightens everyone. Meanwhile, his arch nemesis, Oogie Boogie (Ken Page), holds the real Santa Claus hostage. With a talented voice cast that includes Doris Hess and Catherine O'Hara, music by frequent collaborator Danny Elfman, and Academy-award nominated stop-motion animation, "The Nightmare Before Christmas" is the perfect gift to delightfully enjoy on Halloween or Christmas.
Practical Magic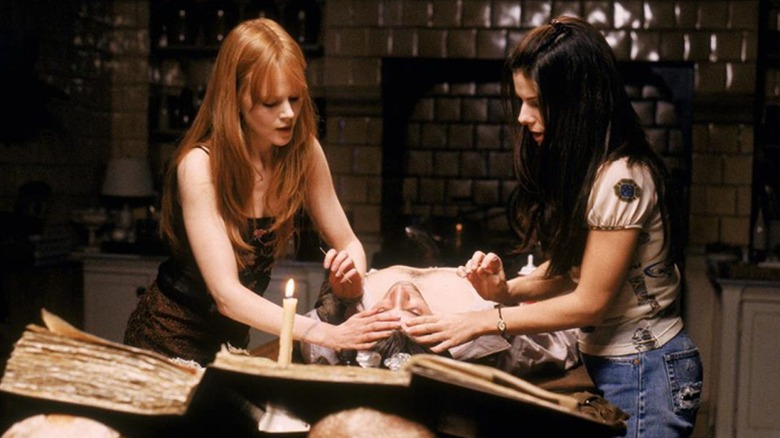 Warner Bros.
Witches, magic, and love, oh my! Put Nicole Kidman, Sandra Bullock, Dianne Wiest, and Stockard Channing in a romantically shabby-chic Victorian manor overlooking the Atlantic Ocean and this charming recipe will yield the enchanted witchy rom-com "Practical Magic."
This whimsical cult classic stars Kidman and Bullock as the Owens sisters, Gillian and Sally, descendants of a line of witches. After losing their parents at a young age, they move in with their aunts: Jet (Wiest) and Frances (Channing). Tragically, the Owens' witches are victims of an unfortunate curse — any man they love will meet an untimely demise. Determined never to fall in love, Sally performs a spell ensuring that she'll only fall for a man with impossibly specific traits. However, Gillian can't wait to fall in love — even if her choices are questionable. But when a detective (Quinn) with those traits shows up at the Owens' home, all bets are off!
Casper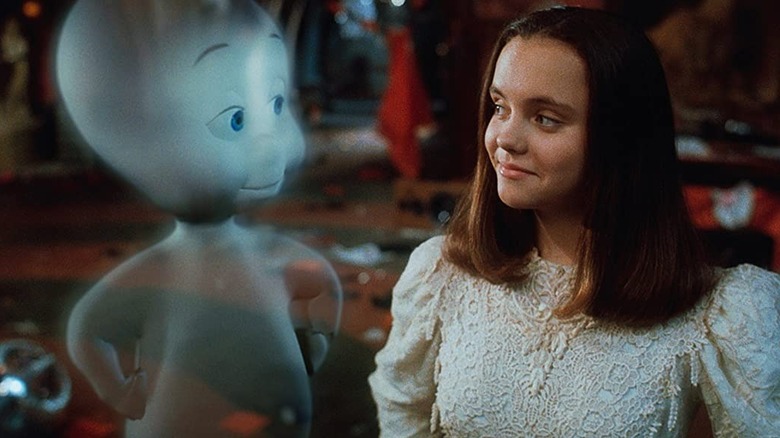 Universal Pictures
Who wouldn't want to move into a haunted manor with a ghost-therapist dad portrayed by Bill Pullman? Further, what youngster wouldn't want to have a sweet pre-teen romance with a friendly ghost?
 A dreadfully underrated kid-friendly Halloween classic, "Casper" offers such an experience for Christina Ricci, who plays Kat Harvey. She moves in with her father, Dr. James Harvey, into the Whipstaff Manor. Casper (Devon Sawa), the resident ghost of a 12-year-old boy who had died of pneumonia at the same residence, resides with his trio of poltergeist uncles. The lonely Casper takes a shine to Kat, and spooky shenanigans ensue, spurred on by the Ghostly Trio of uncles who want to scare the Harvey's away.
It's a shame this movie didn't get as much love as "The Addams Family" films. But it's never too late to get in on the haunting fun! The Amblin-produced "Casper" is a heckuva ghostly good time for the whole family.
Halloweentown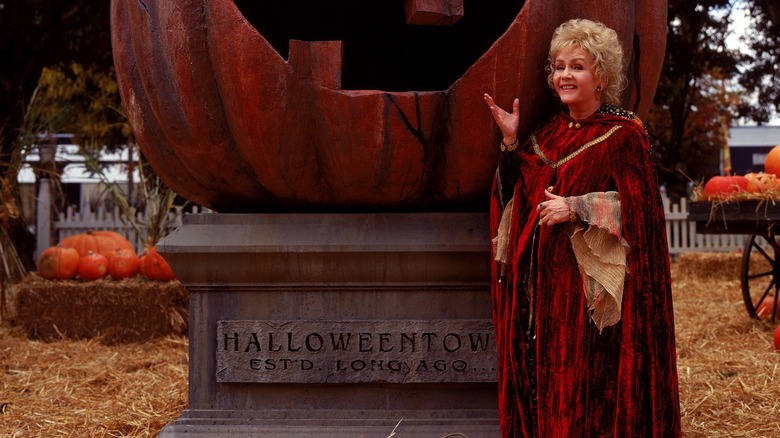 Disney
When it comes to Halloween fun, you simply can't go wrong with the Debbie Reynolds-led Disney Channel Original Movie, "Halloweentown." The classical family-friendly film embraces the spirit of the spooky season. 
Reynolds plays the feisty Aggie Cromwell, the Aunt to young Marnie Cromwell (Kimberly J. Brown). But Aunt Aggie is a witch, and Marnie's mom, Gwen (Judith Hoag), is one too. Gwen doesn't want Marnie to learn the ways of witchcraft. Instead, she prefers to raise her and her younger siblings as mere mortals. Aggie becomes determined to show her niece a magically good time by enlisting her help to save the titular Halloweentown — a land where monsters, vampires, and other supernatural creatures happily reside.
If you like your Halloween movies to be of the festive Disney variety, "Halloweentown" with its eternally effervescent Ms. Reynolds is a must-see. The film's success led Disney to craft three sequels too.