Judy Greer Says The Ending Of Halloween Kills Is Beautiful, But Also A Bummer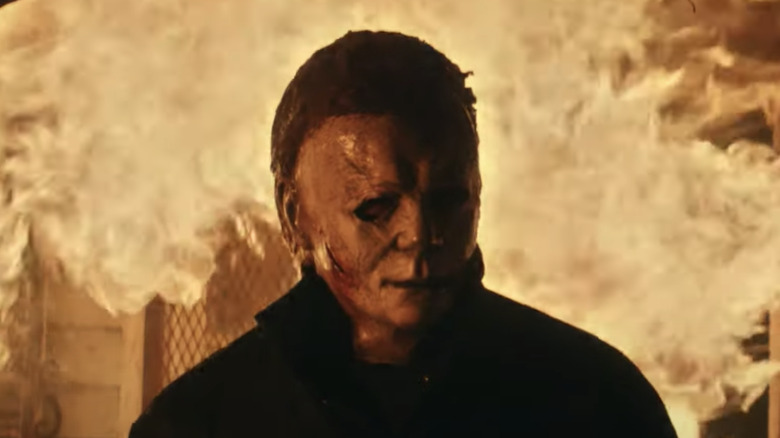 Universal Pictures
David Gordon Green's newest entry in the "Halloween" franchise has now debuted both in theaters and at NBCUniversal's own Peacock streaming service. The film takes place directly after the events 2018's "Halloween," and we follow the Haddonfield residents on a fearful and feverish hunt for the escaped masked maniac Michael Myers. All the while, returning protagonist Laurie Strode (an always exceptional Jamie Lee Curtis) is recovering from the trauma and injuries of what's come before, with her daughter Karen Nelson (an also exceptional Judy Greer) and granddaughter Allyson (Andi Matichak) join in the collective hunt. 
The "Halloween" franchise is no stranger to fan controversy, with a number of competing timelines, plot choices, reboots, and even various Michael masks proving sources of debate. Unsurprisingly, "Halloween Kills" is no exception, with an ending that directly sets up the events of the final David Gordon Green entry in the franchise, "Halloween Ends." Series star Judy Greer has chimed in on the new film's ending, and we have to warn you ...  there are spoilers on the horizon, so read at your own risk if you haven't seen "Halloween Kills."
The Shape Hunts Karen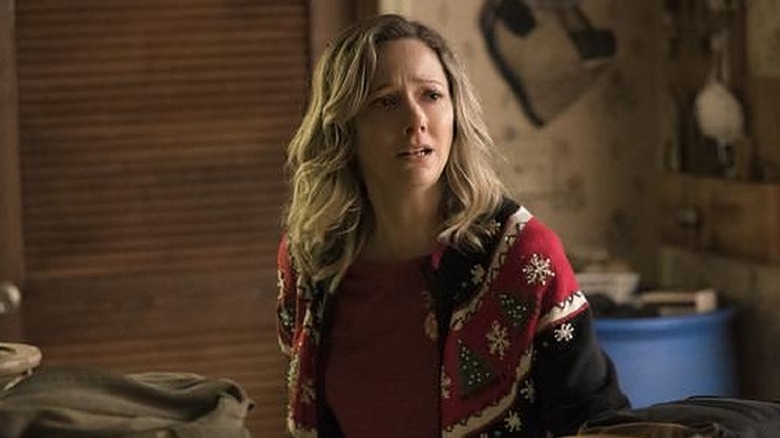 Universal Pictures
"Halloween Kills" ends in thrilling fashion: Judy Greer's Karen Nelson gets a wounded Michael to give chase by successfully removing his mask. He follows her into the street and into a trap: the town's mob surround the unmasked menace, taunting him. He leans down, picks up and dons the infamous mask, and fruitlessly slashes at the crowd as they attack him in a guerilla-warfare style fashion. Michael goes down, and Karen gets the last big stab before returning to Michael's old home. Unbeknownst to her, the Shape gets up and dispatches the crowd in a stunningly brutal fashion. The film ends with Karen looking out the window of Michaels' childhood home when Michael appears from the shadows, brutally stabbing her, apparently to death.
In an interview, star Judy Greer has finally shared her feelings on her characters' demise:
"Well, I was bummed to see the ending. I thought it was a good idea, though. I thought it was really beautifully written, and it felt like a dance, like an opera, kind of. But it was also a little bit of a bummer, mostly because I like to play with my friends."
The actress shares the feeling of many fans, undoubtedly, as the death certainly fits the modus operandi of Michael as a nigh-unstoppable, vengeful killing machine, but it's also a sad sudden reversal of an up-to-that-moment triumphant character trajectory.
Will Halloween Kills be Karen's resurrection?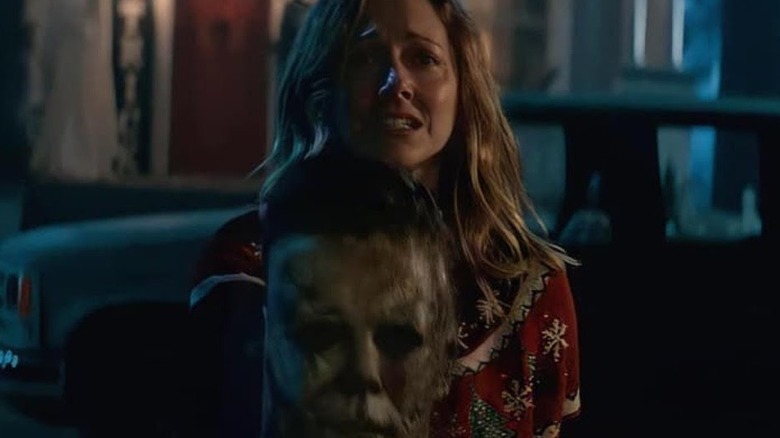 Universal Pictures
The question remains whether or not it's truly the end for Greer's character, but it certainly looks that way. She's viciously stabbed in the way Myers is known to do, and we see her drop. Then again, the franchise has improbably brought characters back from even more supposedly certain fates, and we never see the confirmation of Karen's death. 
At the same time, David Gordon Green isn't looking to make an ungrounded franchise with improbable rules. Greer's comments certainly make it sound like the end for Karen (and Andi Matichak refers to it as a "finale" in the same interview), while David Gordon Green has stated elsewhere that even Michael Myers himself is "capable of spectacular things but not impossible [things]. So I don't personally see him as supernatural." So if Michael isn't beyond death, Karen likely isn't either. Of course, we won't really know until "Halloween Ends," which is currently set to release in theaters on October 14, 2022.