The French Dispatch Featurette Introduces The All-Star Ensemble Of Wes Anderson's Latest Film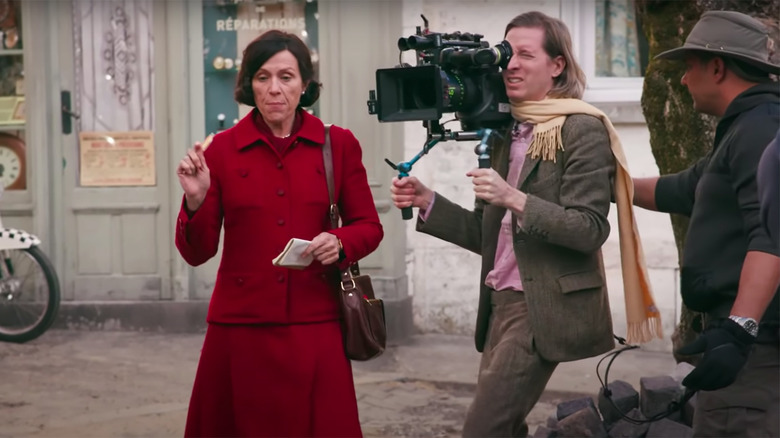 Searchlight Pictures
Wes Anderson's "The French Dispatch" is nearly upon us, bringing another all-star ensemble into the filmmaker's quirky world of eccentric characters and symmetric cinematography. Though Wes Anderson is one of the more well-known filmmakers working today, his style still keeps him in the niche category, which is probably why Searchlight Pictures is touting the immense ensemble cast to entice moviegoers into a trip to the theaters this fall. A new featurette highlights so many of the stars involved with the production, ranging from Wes Anderson's frequent collaborators like Bill Murray and Owen Wilson to those who haven't worked with the filmmaker before, such as Elisabeth Moss, Henry Winkler, and Timothée Chalamet. 
The French Dispatch Cast Featurette
"The French Dispatch" is said to tell collection of stories from the final issue of an American magazine published in a fictional 20th-century French city, so we won't see this entire ensemble getting involved in the same story or anything like that. One of the featured stories focuses on the May '68 student occupation protests, inspired by Mavis Gallant's two-part article "The Events in May: A Paris Notebook." Meanwhile, another story is based on "The Days of Duveen", a six-part feature in The New Yorker on art dealer Lord Duveen.
For those keeping track, here's the roster of "The French Dispatch" stars: Benicio del Toro, Tony Revolori, Adrien Brody, Tilda Swinton, Léa Seydoux, Frances McDormand, Timothée Chalamet, Lyna Khoudri, Jeffrey Wright, Alex Lawther, Mathieu Amalric, Stephen Park, Bill Murray, Owen Wilson, Liev Schreiber, Elisabeth Moss, Edward Norton, Willem Dafoe, Lois Smith, Saoirse Ronan, Christoph Waltz, Cécile de France, Guillaume Gallienne, Jason Schwartzman, Rupert Friend, Henry Winkler, Bob Balaban, Hippolyte Girardot, and Anjelica Huston.
Turned Up to 11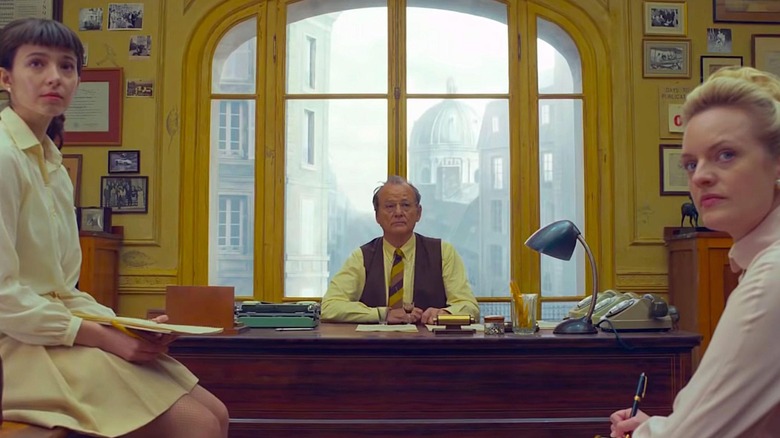 Searchlight Pictures
Whew, that's an impressive array of talent. Though many have worked with Wes Anderson before, there are plenty of them working with the director for the first time, and it will be interesting to see how they fit into the filmmaker's trademark style of storytelling. It sounds like Anderson didn't pull any punches when telling each of the stories in "The French Dispatch." Not only did he utilize some of his trademarks, but, as our own Hoai-Tran Bui writes in her review, he mixes things up a bit:
"Each vignette is as packed with the same amount of meticulous detail and immaculately clipped dialogue delivery as a full-fledged Anderson movie. The visual language changes from vignette to vignette, some a pleasant pastel; some pop with bright, saturated colors; some in black-and-white; some a fantastical blend of both. It's Anderson, 25 years into his career, flexing every stylistic trick in his pocket, and then some."
In the review, she also added, "All of Anderson's stylistic quirks are turned up to 11 in this film; his pop-up book aesthetic, but one where each page explodes with glitter and flowers and tinny saxophone music, and somehow, real fireworks." That sounds wonderful to me. However, if the box office performance of "The Last Duel" is any indicator, adult fare like this may not be what moviegoers are looking for in their trip to the multiplex. But maybe Wes Anderson's lighter approach that mixes quirky comedy with a bit of drama will be a little more appealing in these frustrating times.
"The French Dispatch" hits select theaters on October 22, 2021 and will expand to more theaters the following week on October 29.