Kumail Nanjiani Has An Amazing Name For His Eternals Superpowers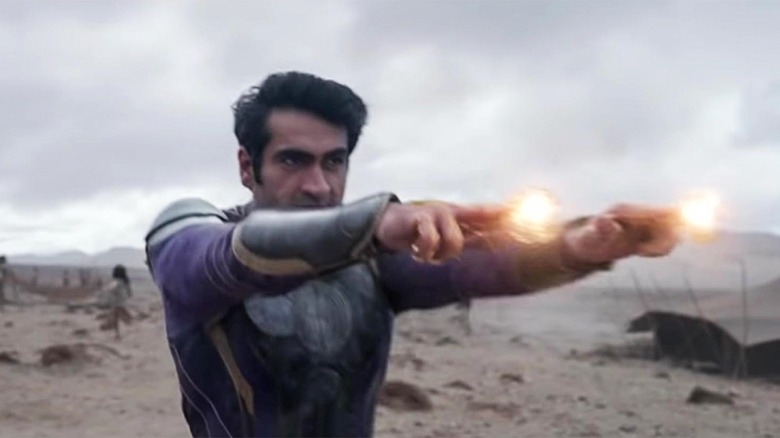 Marvel Studios
Kumail Nanjiani's bringing some guns to the upcoming Marvel flick "Eternals" — and no I'm not talking about his Schwarzenegger-esque biceps. During a chat on "Jimmy Kimmel Live," Nanjiani and his superhero co-star Salma Hayek dished on some behind the scenes stories from the making of their upcoming tentpole. Included in this conversation was what exactly Nanjiani's superpower is.
"I shoot sh*t. I shoot sh*t from my hands. Finger guns!

"I got to work and I said, 'So, how do I shoot?'" Chloe was like, 'Finger guns.' I was like, 'Chloe, that's so goofy.' She's like, 'No! It's gonna be finger guns... I promise it'll look cool.' And so I felt stupid for six months doing this [mimics finger guns] every day."
And he ain't lyin'. A clip ran with the interview that showed off his finger gun powers in full action. 
Kingo's Fingos
Nanjiani plays an Eternal named Kingo, who happens to be a Bollywood star when he's not shooting energy bolts out of his fingertips. In the chat with Kimmel, Nanjiani admitted that director Chloe Zhao had to convince him it was going to look cool. I can understand that. It has to feel like you're running around like a 10 year-old playing war with the neighborhood kids using "finger guns" on imaginary bad guys. Then you see the clip and it does indeed look cool. Always listen to Chloe Zhao is what I'm getting at.
Nanjiani also has a Bollywood musical number and communicates with another Eternal using American Sign Language, which means he was always practicing different finger stuff while making this giant movie. Blasting, Bollywood dancing, communicating using ASL... What I'm saying is Kingo's got some magic fingers and it's about damn time we appreciate those bad boys.
Who Are the Eternals Anyway?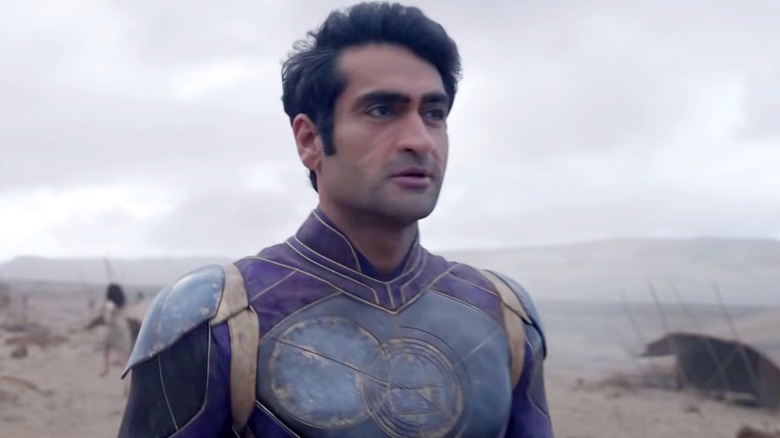 Marvel Studios
The Eternals were created by the late, great Jack Kirby back in the 1970s and are a diverse team dedicated to protecting Earth against the Deviants, a race of mutants that apparently like to eat humans sometimes.
Both the Deviants and the Eternals were created by the Celestials, a God-like race of beings that have been around since the beginning of time (allegedly). That's exciting because it plants "Eternals" in firm Cosmic MCU territory alongside stuff like "Guardians of the Galaxy" and, presumably and eventually, "The Fantastic Four." 
The Cosmic side of Marvel gets weird as hell, but that's a blessing for the MCU, which needs to do any and everything it can to keep their momentum going and the best way to do that is to avoid their movies feeling "samey." Certainly they did that with "Shang-Chi" and the "Eternals" promises more diversity in tone and feel than the previous films.
Plus we got Kingo's Fingos(TM) thrown into the mix so it's a success already!
Marvel's "Eternals" is due on theater screens November 5, 2021.