Decoding The Batman Trailer's Floor Of Clues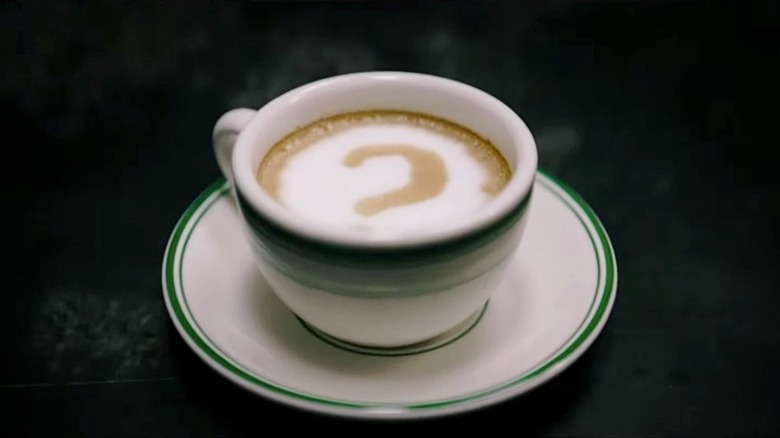 Warner Bros. released a spectacular new trailer for Matt Reeves' "The Batman" during this year's DC FanDome event, and one of the trailer's most intriguing moments comes about a minute and twenty seconds into it. 
Robert Pattinson's Bruce Wayne is standing in the Batcave trying to decipher clues left by The Riddler (Paul Dano). Instead of using a Bat-computer or a Bat-spreadsheet or running information through a Bat-database (a "Batabase," if you will) like you or I might do in that situation, he does what I presume all traumatized orphan billionaire detectives do when they encounter a tough conundrum: he spray paints a big question mark in the center of the floor, lays out all of the evidence, and sets up a trio of red bulbed lamps and an overhead blacklight to create the perfect ambiance for riddle-solvin'. My man saw John Locke trying to figure out the hatch symbols in season 2 of "Lost" and was like, "THAT's the vibe I'm going for."
Let's take a closer look at those clues and see if we can do a little riddle solving ourselves.
Who is Mitchell?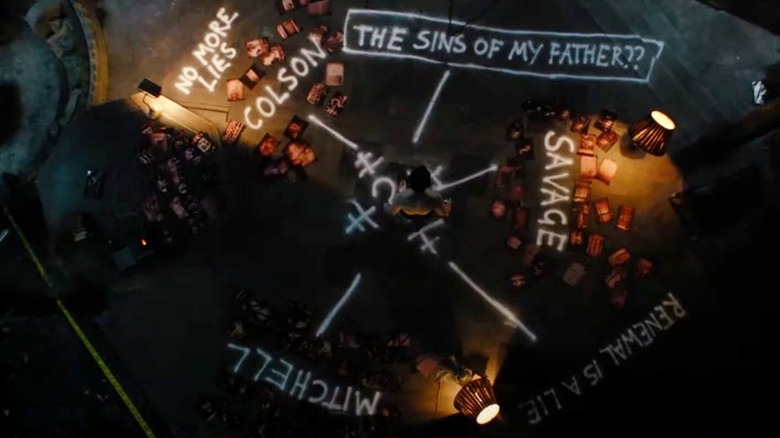 Warner Bros.
Mitchell (Rupert Penry-Jones) is Don Mitchell, the Mayor of Gotham City. He's killed by Edward Nashton, aka The Riddler, who breaks into Mitchell's home, bags the mayor's hands and feet, and leaves a clue for Batman at the scene of the crime. Newspaper headlines on his wall seen in first teaser trailer revealed that before the events of "The Batman," Mitchell ran a sting operation against the Maroni crime family, which led to their arrest. That teaser also revealed that Mitchell's funeral is crashed by someone driving a van with the letters "DOA" sprayed on it, and an explosion ends up knocking Batman backwards through the air. (We see that again in the new trailer.)
Who is Colson?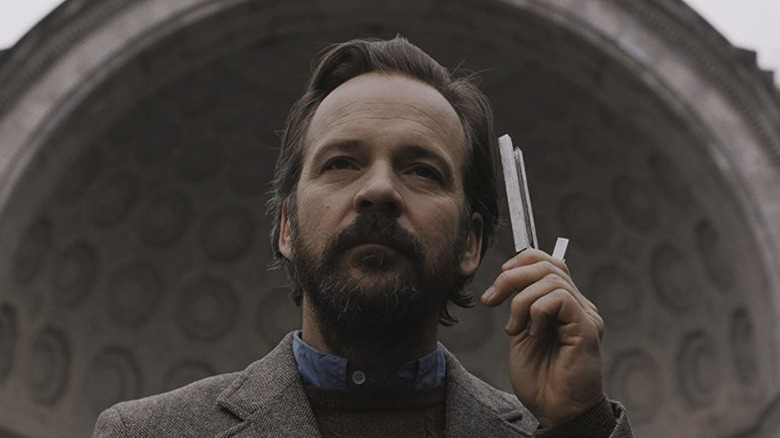 Auditory Pictures
Colson is a District Attorney Gil Colson, a character played by Peter Sarsgaard. Colson does not appear in any previous DC Comics and was created specifically for this movie. While there's still plenty we don't know about his character, Sarsgaard has previously indicated that Colson is "basically a politician that has trouble telling the truth ... I'm a pretty distasteful person in it."
No More Lies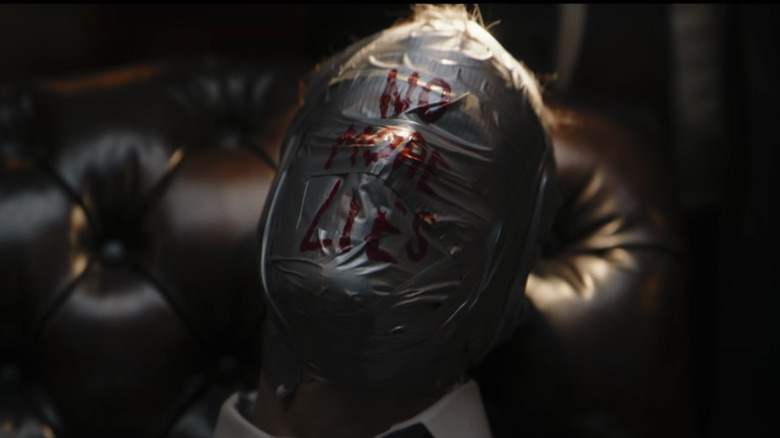 Warner Bros.
In the original teaser, the phrase "no more lies" is scrawled on duct tape that's wrapped across someone's face. It's also written in red paint across several of the newspaper articles in Mitchell's home. I previously assumed that the duct-taped person was Mitchell, but the layout of Batman's clues on the floor in this image has me wondering if Colson actually gets taped up and marked like this as well. Otherwise, why would that phrase be linked with Colson's name on Batman's floor and not Mitchell's?
Renewal is a Lie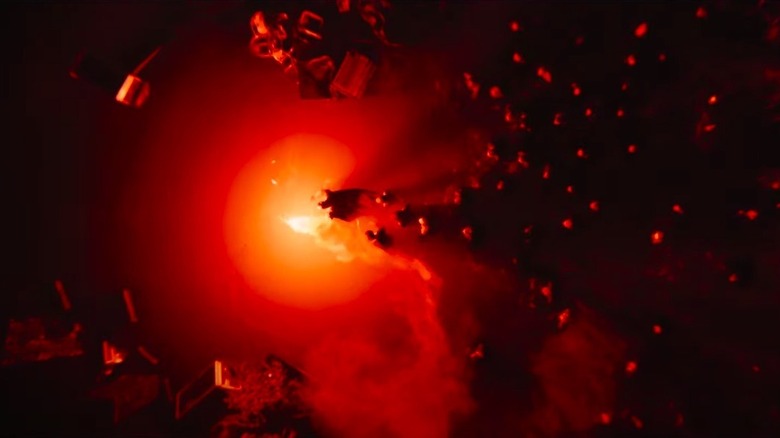 Warner Bros.
Here's where things start to get tricky. We don't have quite enough information yet to be able to make any great guesses about what this clue might mean. But we know from previous interviews (and the first teaser) that corruption is going to be a major part of this film, and if this clue is tied to that theme, it might be The Riddler's way of saying that whatever government officials have stepped in to supposedly clean up the city are just as dirty as the people they replaced.
Savage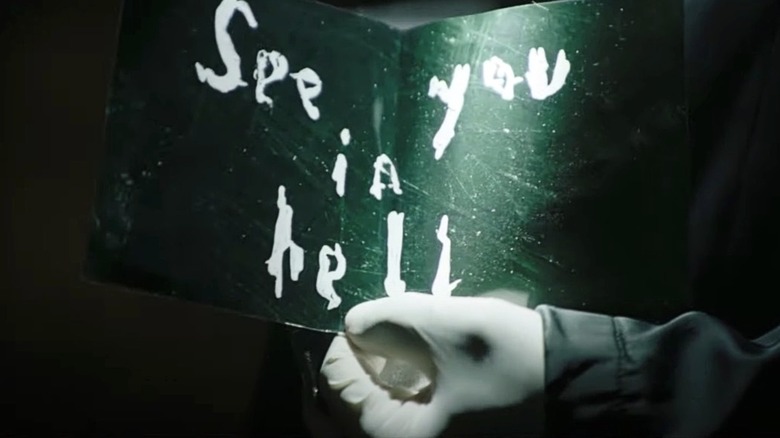 Warner Bros.
This one's easy. The Riddler knows that Batman likes to look good at night. Even though it's just Year Two of being the Dark Knight, it's clear Bruce has put a lot of effort into crafting that Batsuit and tricking out the Batmobile to strike fear into the hearts of criminals. So the clue "Savage" is obviously just The Riddler recommending that Batman check out Rihanna's Savage line of undergarments, so Batman can continue looking great when the suit comes off at the end of the night.
(I actually have no idea what this clue really means.)
The Sins of My Father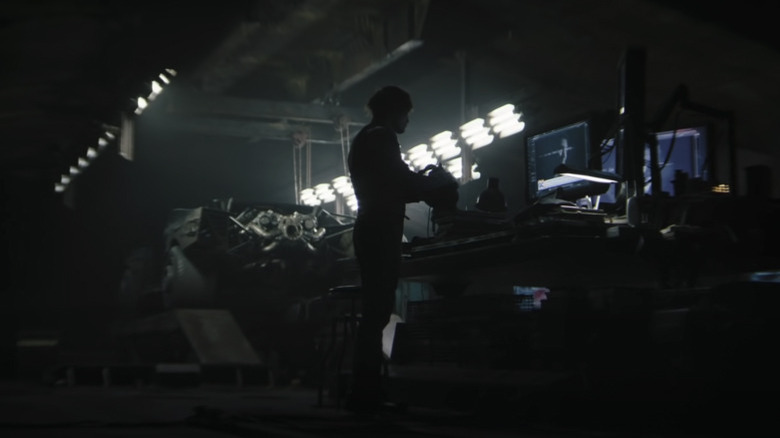 Warner Bros.
The double question marks that come after this line make it seem as if Bruce is unaware of Thomas Wayne's sins – or at least the ones The Riddler is hinting at. But it certainly seems like Thomas Wayne, who was almost definitely the richest man in Gotham City before he was murdered, had a hand in whatever illegal activities have caught The Riddler's eye.
At last year's FanDome, Reeves elaborated about how exploring the city's corruption ends up becoming a personal thing for Batman:
"The murders begin to describe a history of Gotham in a way that only reinforces what he knows about Gotham, but it opens up a whole new world of corruption that went much farther. As that story starts to come out, without being an origin tale for him, it ends up being something that touches on his origins. As it starts to describe this epic history of corruption in Gotham, [he] start[s] to understand, 'Well, where did my family sit in that?'"'
This clue also implies that The Riddler knows Batman's true identity – something that's backed up by the closing seconds of the teaser trailer, when Batman seems to be video chatting with the Riddler from the Batcave without his mask on. 
"You're part of this, too," The Riddler says.
"How am I part of this?" Bruce responds.
"You'll see," The Riddler teases mysteriously.
We'll find out what it all means when "The Batman" hits theaters on March 4, 2022.