The Batman Trailer: The Dark Knight Returns, And This Time He's Robert Pattinson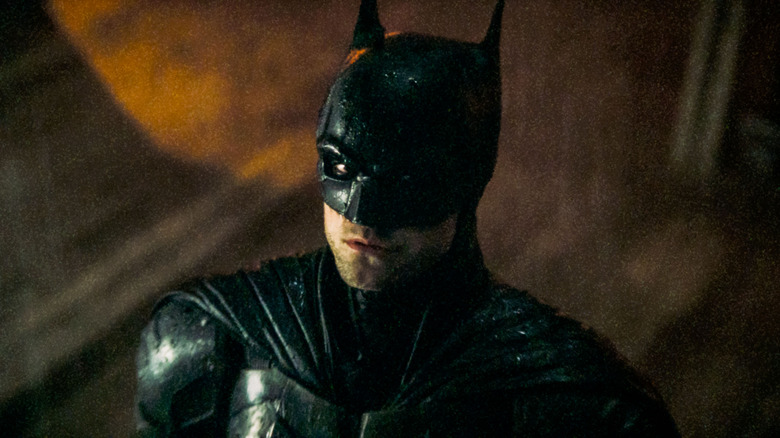 Warner Bros.
The Dark Knight returns, and this time he's Robert Pattinson. In "The Batman," Pattinson becomes the new Caped Crusader — but this is not another origin film. Instead, Batman has been operating in Gotham City for over a year now, and while not everyone is used to the masked vigilante yet, he's clearly already developed a rapport with cop James Gordon, played this time by Jeffrey Wright. Folks, I'm skeptical by nature, and when this project was first announced, I wasn't entirely on board. Not because of the casting — I think Pattinson has proved himself to be a great actor. And I like a lot of Matt Reeves' work. But I also felt like we didn't need yet another new "Batman" movie that started things over again.
And then I saw the teaser for the film presented at the last FanDome. And you know what? I was sold. Reeves' approach looks distinctly different from Christopher Nolan's Batman, and Zack Snyder's Batman. It doesn't look like the Tim Burton or Joel Schumacher Batmen, either. Instead, Reeves seems to be tapping into the energy of David Fincher's "Seven," creating a kind of murder mystery that just happens to feature Batman as one of the characters. 
And now we have a brand new trailer for the film, and you're going to want to watch it immediately. 
The Batman Trailer
In "The Batman," Robert Pattinson is "Gotham City's vigilante detective, Batman, and billionaire Bruce Wayne." Now in his second year of crime fighting, Batman is suddenly up against a murder mystery involving the Riddler — although he doesn't know who the Riddler is just yet. Other famous Bat-characters appearing here include Catwoman, The Penguin, and Commissioner Gordon. And if we're lucky, maybe Crazy Quilt or the Clock King will show up.
When director Matt Reeves appeared at last year's FanDome, he said that "The Batman" is many things, including a detective story; a point-of-view story; a mystery; an action movie. It's also a "personal movie about how Batman becomes Batman." And, perhaps most exciting of all for fans, this film will show Batman becoming the world's greatest detective, something that previous Batman movies haven't really focused on. Reeves added that Pattinson has "the soul of someone who can play Batman like you've never seen before."
I'm sure there's going to be more talk about how this Batman movie is different from what we've seen before, because that's the best way to sell this, at least in my opinion. "You've seen Batman movies, but not like this!" 
The Batman Cast and Crew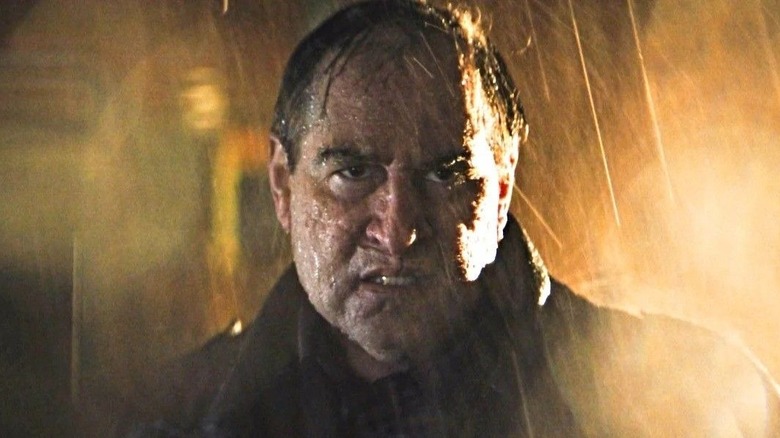 Warner Bros.
In addition to Robert Pattinson as Batman/Bruce Wayne, "The Batman" also features Zoë Kravitz as Selina Kyle; Paul Dano as Edward Nashton; Jeffrey Wright as the GCPD's James Gordon; John Turturro as Carmine Falcone; Peter Sarsgaard as Gotham D.A. Gil Colson; Jayme Lawson as mayoral candidate Bella Reál; with Andy Serkis as Alfred; and Colin Farrell as Oswald Cobblepot. Farrell has been rendered unrecognizable by make-up to play the character, and I'm excited to see what he does here.
Reeves and Dylan Clark are producing the film, with Simon Emanuel, Michael E. Uslan, Walter Hamada, and Chantal Nong Vo serving as executive producers. Reeves also worked on the script with Peter Craig. Michael Giacchino is handling the musical score. "The Batman" punches his way into theaters on March 4, 2022.