The Daily Stream: Kids In The Hall Taught Me It's OK To Be Uncomfortable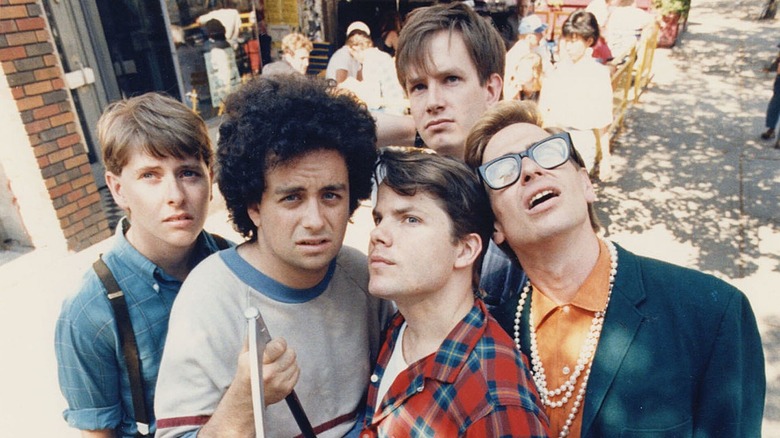 CBC
(Welcome to The Daily Stream, an ongoing series in which the /Film team shares what they've been watching, why it's worth checking out, and where you can stream it.)
The Series: "The Kids in the Hall"
Where You Can Stream It: Amazon Prime and YouTube
The Pitch: "The Kids in the Hall" is a Canadian sketch comedy TV series that's like if "Monty Python's Flying Circus" came from the Great White North and was very, very gay. The comedy troupe The Kids in the Hall consists of comedians Dave Foley, Scott Thompson, Kevin McDonald, Mark McKinney, and Bruce McCulloch. They portray the vast majority of the characters in the series and wrote most of the sketches.
When the series debuted as a pilot special on HBO and CBC television in 1988, the only big sketch comedy show airing in the U.S. was Lorne Michaels' "Saturday Night Live," which roasted pop culture and news stories almost exclusively. (The also excellent "In Living Color," a sketch comedy series that focused on the Black perspective, debuted two years later in 1990.) "The Kids in the Hall" took a completely different direction from "SNL," riffing on the ridiculousness of everyday life. The series could very quickly become extraordinarily surreal, with characters like "Cabbage Head," the "Chicken Lady," and a man whose only goal in life is to pretend to pinch people's heads from a distance. 
"The Kids in the Hall" pushed the boundaries of good taste at every turn, with sketches designed to ruffle feathers (and not just the Chicken Lady's!) There's a whole lot of crossdressing, some very sharp criticism of American culture, and loads of humor centered around the gay male experience. Some of the humor is very blue, and homophobic slurs are occasionally thrown about like vulgar confetti. While certain sketches haven't aged well and are offensive without context, it helps to remember that being this open and honest about homosexuality in 1988 was genuinely groundbreaking. Each episode contained a mix of previously-taped bits and sketches performed before a live audience, and their laughter and claps help dissuade some of the discomfort.
The series aired on HBO and CBC weekly for three seasons before moving to CBS in 1993, where it aired for two more seasons, but only late on Friday nights. "The Kids in the Hall" was picked up for syndication in the late 1990s on Comedy Central, where it introduced the next generation to their absurdist, gender-norm smashing humor. 
Why It's Essential Viewing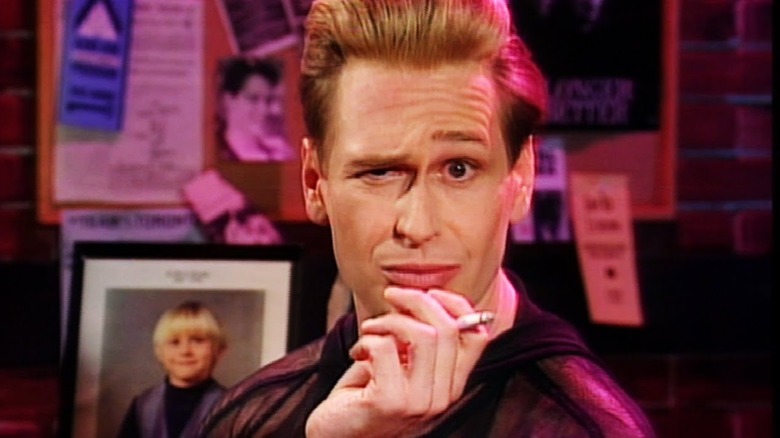 CBC
While the ridiculously absurdist humor of "The Kids in the Hall" is what many remember most, the way that absurdity is used to engage with uncomfortable subjects is what really matters. The series skewers many aspects of daily life that can be frustrating to talk about, from dating to incompetent law enforcement to understanding your own sexuality. 
The exploration of sexuality and identity through really bizarre humor made it feel more accessible to me, a preteen kid in the semi-rural southern United States who had inklings that they weren't straight. I had always seen gender as a kind of performance I had to put on, and seeing the guys of Kids in the Hall perform femininity in such varied ways was oddly comforting. They also addressed the confusion some people feel when they realize they're queer, as many of the characters are closeted gay characters who deny their sexuality and eventually embrace it when they realize the importance of living authentically. Being different is never the punchline; society usually is.
Seeing Scott Thompson break down a homophobic slur letter by letter and eventually coming up with a new (and still offensive) version that he then celebrates felt revelatory. Even at twelve years old, I had already faced my fair share of bullying for my "boyish" clothes and behavior. I found strength in Thompson taking the piss from one of the most hurtful, bigoted words you can use towards a queer person. It gave me a weapon to protect myself with: humor. 
A Sketch-filled Catch-Up Before the Revival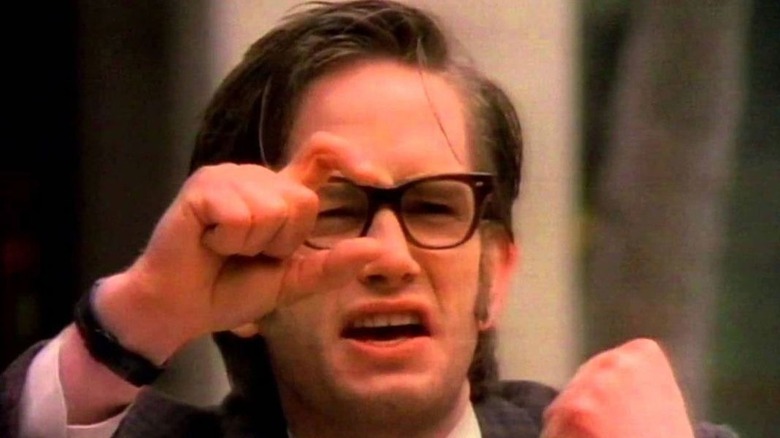 CBC
There was word of a "The Kids in the Hall" revival back in 2017 that was confirmed in 2020, when Amazon Prime announced an eight-episode reunion series to debut on the streaming service. Foley posted a reunion photo in May when production began, so now all fans have to do is wait. In the meantime, Amazon put the entire series streaming on Prime, so fans who want to relive their favorite moments before the reunion can do so, and folks who want to check out this bizarrely brilliant sketch comedy series finally can.
I could sit here and list all of my favorite sketches, but that would be a disservice to the deliciously gonzo way they tend to play out. Instead, just know that "Kids in the Hall" is a series about the discomfort of being human, both socially and physically. It made me feel less alone when I was a little weird queer kid who rushed home from school every day to watch it and laugh away my worries. 
"Kids in the Hall" isn't particularly diverse, with five white Canadian guys at its core, but they used their talents to create some of the most subversive (and progressive, at the time!) sketch comedy ever made.