10 Halloween Movies On Netflix Worth Streaming This October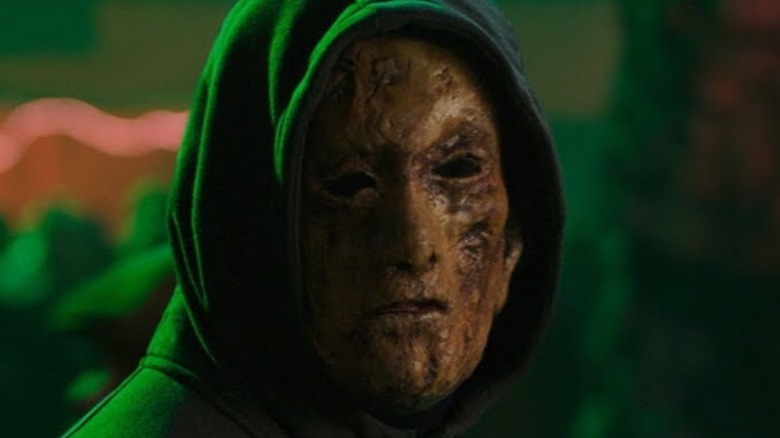 Lionsgate
Not everyone has the same approach when it comes to picking a Halloween movie. Some opt for classic horror movies. Some choose a killer franchise (and we mean "killer" in more ways than one). Others prefer PG-rated Halloween movies, the film equivalent of staying home and greeting cute trick-or-treaters instead of hitting up a costume party or a haunted house. But we can all agree that opening up a streaming service without knowing what to watch beforehand can be intimidating, even when you're trying to be festive. So, to help narrow it down, here are your best options for Halloween movies to watch on Netflix.
Netflix has made an impressive dent in the horror genre, offering both plenty of scary movies and spooky TV series, but there's not actually a lot of strictly Halloween-themed content on the streaming service. So, the following 10 films are a mix of movies that take place on or during Halloween, horror films that'll give you nightmares until Thanksgiving, and ghoulish pictures that capture the Halloween aesthetic. Given Netflix's selection, we can't promise that all of these are great pieces of cinema, but each one of them is a good way to get in the mood for the holiday regardless. This October, check them out.
Hubie Halloween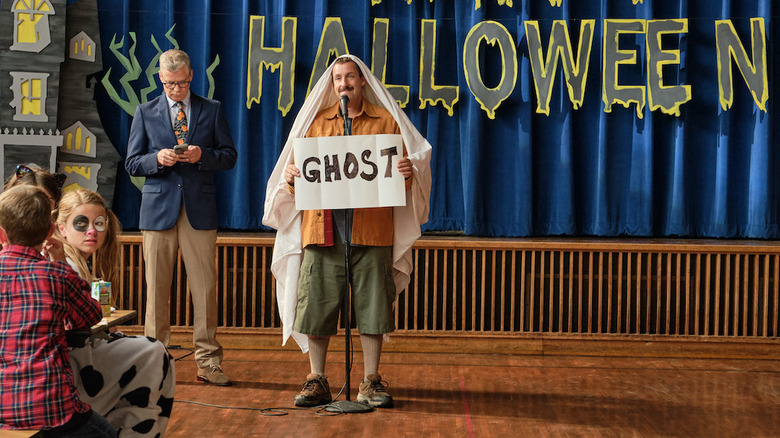 Netflix
Is "Hubie Halloween" good? Is it bad? Does it matter? This Adam Sandler movie is goofy as heck, but exhibits a genuine love for Halloween and the surrounding season. In it, Sandler plays Hubie Dubois, an autumnal enthusiast who gets involved in a seriously scary mystery that takes over his small town of Salem, Massachusetts, one of the spookiest towns in the United States.
Although he is often the butt of pranks and the victim of bullying from his neighbors, Hubie gets the last laugh when a Halloween threat turns out to be real, and only Hubie is able to save the day. In addition to Sandler, "Hubie Halloween" features some of your favorite comedians, including Julie Bowen, Maya Rudolph, Kevin James, Kenan Thompson, Tim Meadows, Rob Schneider, and Steve Buscemi. This film is the first of Netflix's original Halloween movies, a new trend we can look forward to continuing in upcoming years.
A Babysitter's Guide to Monster Hunting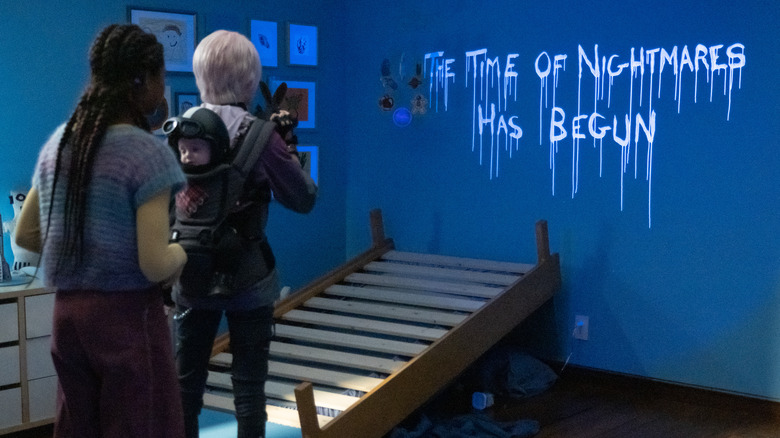 Netflix
Netflix's second Halloween movie stars Tom Felton, Indya Moore, Tamara Smart and Oona Lawrence. It's based on a trilogy of books by Joe Ballarini, who also penned the screenplay.
When a babysitter's young charge goes missing on Halloween, she discovers an underground society of teenage monster hunters who take her in and help her fight to rescue the adorable little boy she's supposed to be looking after (all of the adults, obviously, are at a fancy costume party). It's basically "Buffy the Vampire Slayer" meets "The Baby-Sitters Club," with a dash of "Spy Kids" thrown in.
The monsters in "A Babysitter's Guide to Monster Hunting" are more cute than scary, making this a good Halloween movie to watch with kids or anyone prone to nightmares. Oh, and Felton, who played Draco Malfoy in the Harry Potter films, gives the kind of campy performance you love to see from actors who grew up defined by a specific, highly recognizable role.
Nightbooks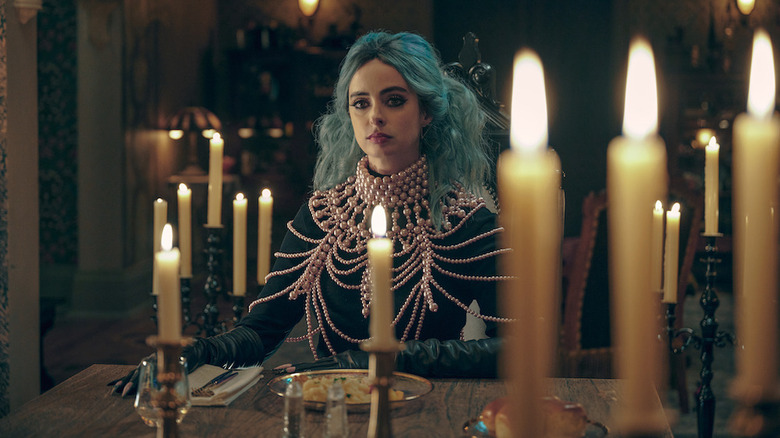 Netflix
The third and most recent Halloween movie from Netflix is a dark fantasy starring two young performers and Krysten Ritter. It will remind you of the dark fantasies you enjoyed as a kid, especially fare like the surprisingly charged "Labyrinth" and "The Pagemaster." It's sure to help usher future goth children right into the loving arms of Hot Topic.
"Nightbooks" is about a young boy who writes his own scary stories, only to end up trapped in an evil witch's apartment. The witch demands that the boy read her a new scary story every night. However, the boy soon befriends another child who has been trapped by the witch, and the two of them start working together to figure out how to escape.
The film is based on a book by J. A. White, who also wrote the "Thickety" series of young adult novels, as well the "Shadow School" series. So, if you find yourself enchanted by this world, there's plenty more where it came from!
Labyrinth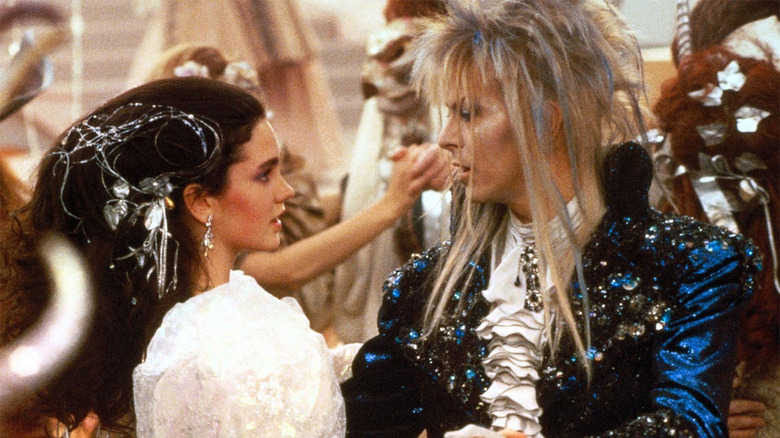 Tri-Star Pictures
Speaking of the '80s classic, you can also stream the original "Labyrinth" this Halloween on Netflix. No, it's not technically a Halloween movie, but it's creepy and full of memorable costumes, so it might as well become part of your Halloween tradition.
If for some reason you missed out on the Jim Henson movie in your younger years, it's about a teenage girl whose baby brother gets kidnapped by an oddly sexy goblin king played by David Bowie, and who has to navigate a fantasy world full of odd creatures (brought to life by Henson's signature puppetry) in order to get him back.
"Labyrinth" is scarier when you're watching as a kid than as an adult, but it's definitely on the mature side of Henson's projects. You should also add the songs from "Labyrinth" to your Halloween party playlist — Bowie's "Magic Dance" will be an instant nostalgic hit.
Hell Fest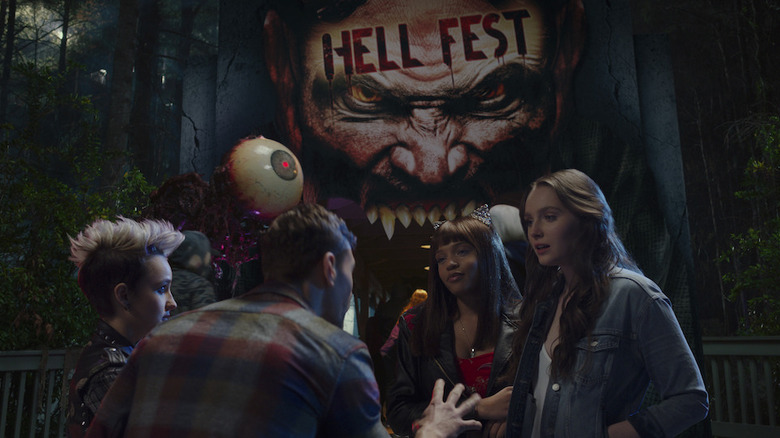 Lionsgate
Let's take a turn towards more adult fare and talk about some of the Halloween-themed horror movies on Netflix. "Hell Fest," for example, takes place at a traveling theme park that happens to specialize in scares.
Are you the type of person who tries to avoid Six Flags' Fright Fest or the Halloween Horror Nights at Universal Studios? If the idea of being chased by a carny in a Jason mask while you're trying to find the line for churros doesn't sound like a fun time, you'd definitely hate the carnival in "Hell Fest."
The film follows a pretty typical horror movie premise: A group of four hot young people with drama to work through arrive at the aforementioned horror-themed park and soon realize that the murders they keep witnessing aren't immersive performance art pieces, but the real deal. Will they band together to survive the night, or immediately split up and wander into harm's way? You can probably guess the answer.
House of the Witch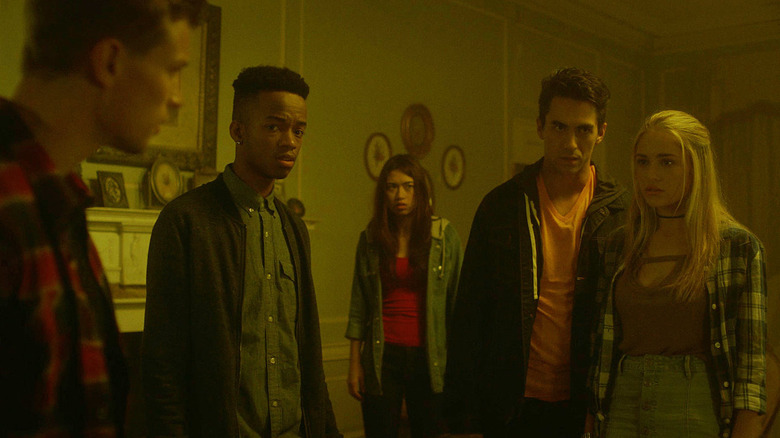 MaraVista Entertainment
This Halloween-set horror movie takes place in an abandoned old house that's haunted by a witch. Yes, you read that correctly: The antagonist in "The House of the Witch" is both a witch and a ghost. It's two for the price of one.
It seems like a house like that would be a bad place for a bunch of teenagers to pull some pranks and throw a party on the spookiest night of the year, right? Fortunately for the audience, teenagers are famously full of terrible ideas, and continue to make bad choices as they become trapped in the house and hunted by the titular witch (ghost, whatever).
Based on the mixed reviews for "House of the Witch," you may or may not be on the witch's side when you watch. But that's part of the fun! Sometimes, all you want out of a scary movie are some deaths that you can root for — the gorier the better.
Truth or Dare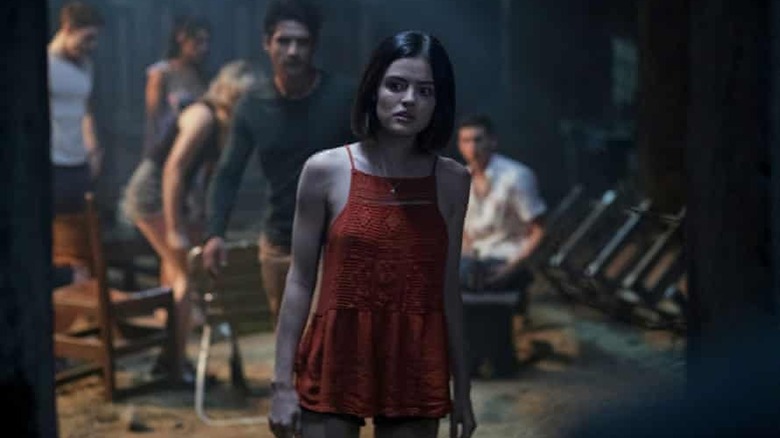 Blumhouse Productions
This supernatural horror film stars former television teens Lucy Hale ("Pretty Little Liars") and Tyler Posey ("Teen Wolf"). It's a Blumhouse production, so you know that it's not messing around with the jump scares.
Like "House of the Witch," "Truth or Dare" is about a group of young people who go to an abandoned building and, for some reason, don't suspect that many of them are about to get murdered. Per the title, the friends start playing Truth or Dare, and soon realize that if they are not 100% truthful or if they do not complete their dares, they will die. Skipping a turn also gets you killed.
This movie is basically a scarier version of "Jumanji," and serves as a perfect metaphor for adolescence. When you're young, playing Truth or Dare and getting peer pressured into revealing your crush or doing something that you don't like has real stakes. It feels like a matter of life or death anyway — might as well make the threat literal.
Holidate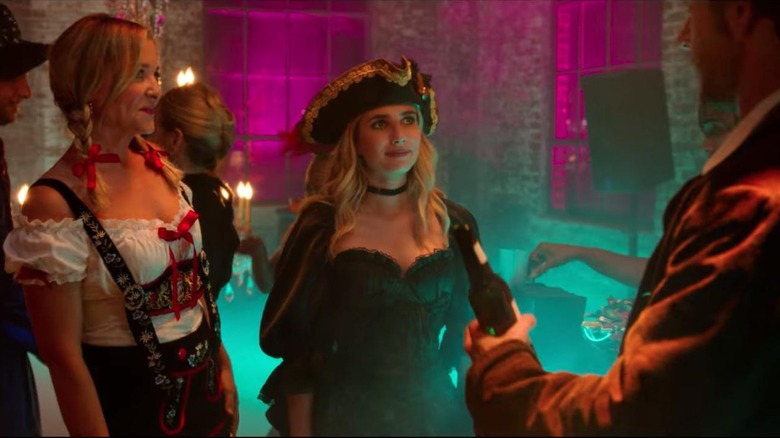 Netflix
Hear me out: Yes, this is a romantic comedy. Its vibes are not necessarily spooky or scary at all. However, the premise of "Holidate" is that two fake lovers are each other's' date to every holiday party for an entire year, including Halloween. So, if we can argue about whether "The Nightmare Before Christmas" is a Christmas movie or a Halloween movie (it's a Christmas movie) and end up watching it twice a year, then we can turn on "Holidate" whenever it pleases us as well.
Besides, Emma Roberts has plenty of horror on her resume, thanks to "Scream 4," "The Hunt," "Scream Queens," and five seasons of "American Horror Story" so you know that she's going to bring her all to a Halloween party scene. "Holidate" did not get great reviews from critics or audiences, but Netflix is really trying to bring back the romantic comedy, and we have to respect the service for that.
Crimson Peak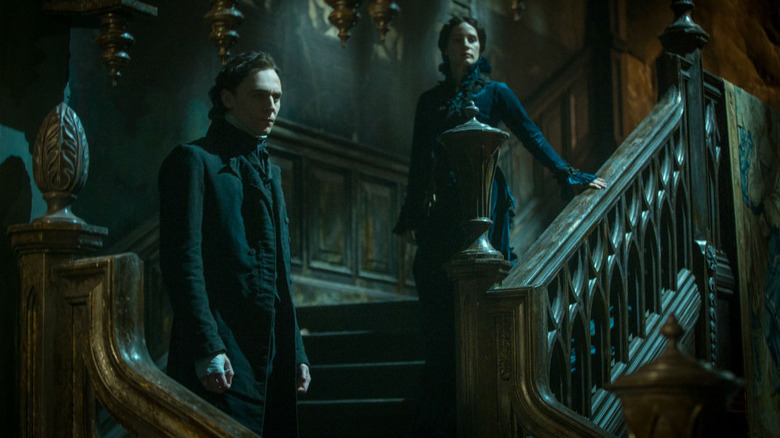 Legendary Pictures
Also on the romantic side, "Crimson Peak" was originally marketed as a horror film from director Guillermo del Toro, but it's actually a Gothic love story. If you like cozy ghost stories like "The Haunting of Bly Manor," this might be the perfect film for you to watch next.
In "Crimson Peak," Mia Wasikowska and Tom Hiddleston play star-crossed lovers Edith Cushing and Thomas Sharpe, who stay in a house that may or may not have some dark secrets. Jessica Chastain has way too much fun playing the suspiciously jealous Lucille Sharpe, Thomas' sister. Charlie Hunnam also makes a memorable appearance.
"Crimson Peak" is an aggressively autumnal movie, with high collars, howling wind, and lots of candlelight. Although it is not set during Halloween, it's a worthy watch for the spooky season. "Crimson Peak" is also a somewhat surprisingly feminist movie, particularly for this genre — it has complex and autonomous heroines and employs the female gaze in a pivotal sex scene.
Hush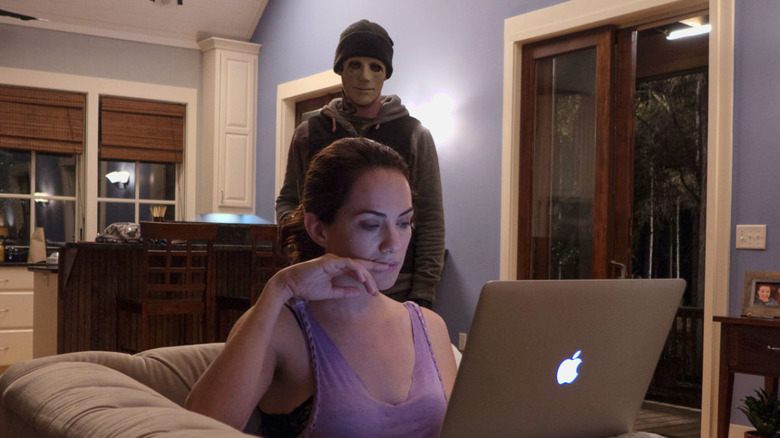 Netflix
While "Hush" is a more traditional horror movie, it's perfect to watch after you've finished binging "Midnight Mass." Not only is the 2016 film written and directed by Mike Flanagan, who has become the streaming service's premiere auteur in the Gothic and horror genres with "Midnight Mass," "The Haunting of Hill House," and "The Haunting of Bly Manor," but the lead character is an author who has recently written a book titled "Midnight Mass." They're connected!
The film also stars and was co-written by Flanagan's wife and frequent collaborator, Kate Siegel, and features her "Midnight Mass" and "The Haunting of Hill House" co-star Samantha Sloyan. In "Hush," after a successful book launch, an author goes on an isolated writer's retreat in the woods, where she's stalked by a masked killer. Hate it when that happens. In a twist, the protagonist is also deaf-mute, so "Hush" is an almost completely silent film. It's the perfect way to close out your Halloween night.