Halloween Horror Nights 2021: Ranking All The New Mazes From Worst To Best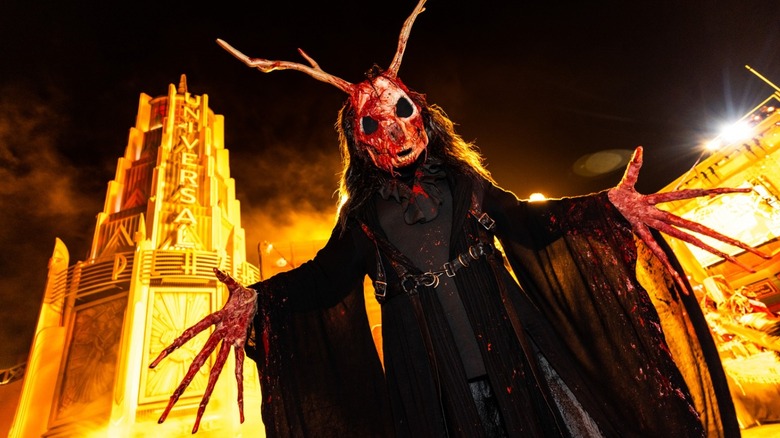 Universal Studios
As I strolled into Universal Hollywood for the first time since Halloween Horror Nights 2019, emotions were a bubbly cauldron of excitement, hesitation, and curiosity. The pandemic isn't over — especially in Los Angeles with delta, mu, and lambda variant concerns — and yet I'm vaccinated, diligently wear my mask, and am ready to embrace SpookySeason™ (safely) once again. As much as I'd prefer to exclusively focus on marquee mazes filled with threats from Hill House's purgatorial inhabitants to Mr. Michael Myers, it's impossible not to contextualize this year's Halloween Horror Nights as a reaction to evergreen viral precautions. This year's event is an adaptation wholly engineered with patron and scare actor safety in mind, and that means attractions function a bit differently. And that's not a complaint.
Everything that atmospherically trademarks Halloween Horror Nights still squeals with unbridled October joyousness. The whir of chainsaws echoes from Hogwarts to Springfield as selfie-takers are targeted by demon spawns, werewolves, and other full-moon misfits. Fireballs shoot into the air as speakers blare a soundtrack that'd probably blast from Slash's amplifiers when answering his door for trick 'r treaters. The magic of being at Halloween Horror Nights is resilient — unfortunately, there's no accompanying cure-all spell that blockades Universal Hollywood from reality. For Horror Nighters to reclaim their right to screech at costumed scare actors, changes must endure. Some less noticeable, others more blatant.
These are the appropriate anti-spreading measures and safeguards that allow superfans to waltz through Netflix's "The Haunting Of Hill House" recreation or cheer on The Bride as she resurrects her dearest Frankenstein using vampiric excretions. I'll happily oblige if that takes me fastening my mask indoors or in crowded outdoor quarters. I'd rather see Dr. Loomis wear his surgical mask than there be no "Halloween 4: The Return Of Michael Myers" walkthrough. Newer mazes plot more scenic scares with makeshift window access versus reenactments you're stomping through, which cleverly reduces risks when performers can't wear rubber coverings as monster characters — it's not the same, but likewise, neither is our nation's public comfortability and crisis management.
Rightfully, I digress.
Halloween Horror Nights 2021 is a pared-down, more manageable version of the usual communal dance macabre around Universal's grounds. Mazes last anywhere from long enough to a relative blink, while scare zones can feel less attended by prowlers — comparisons are impossible to a strong 2019 where holiday horrors and Killer Klowns stole deserving spotlights. Pit stops to White Claw vendors and a rather lengthy wait at Modelo's Dia de los Muertos Plaza Bar for potent margaritas served in kitschy light-up skull glasses (plastic) extended my party's stay, but diligent express ticket holders can blow through attractions with ease if desired. Between seven mazes, "The Forever Purge" Terror Tram, and three scare zones, there's inarguably a thinner spread of usual creeptacular delights. 
Let's get to the breakdown of what's best, what's worst, and why it's still worth Universal's Halloween Horror Nights comeback.
8. The Walking Dead Attraction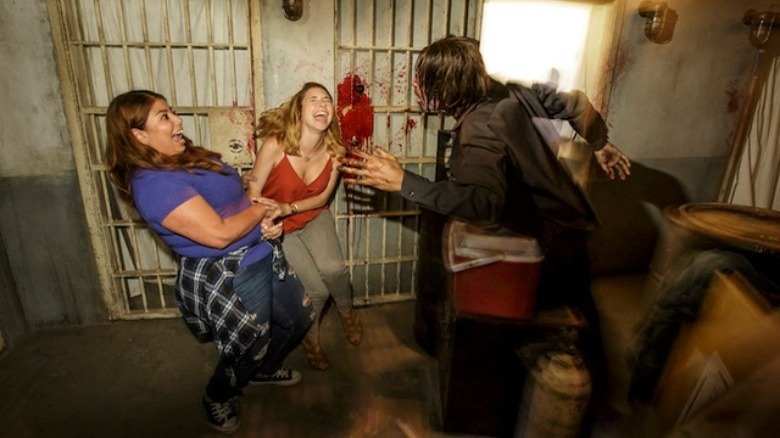 Universal Studios
Every visit I leave "The Walking Dead" for last, relegating Baker Street's all-year-round experience to "if we have time." Then a few brews unlock my completionist within, and I'm back in the apocalyptic Harrison Memorial Hospital, pondering if this will be the miracle attempt where I'm not shockingly underwhelmed. It's typically somewhere around midnight, as I meander down waiting area queues that take longer to navigate than the experience itself — although apparently Universal has shuttered the AMC haunt indefinitely (outside a Horror Nights last hurrah) according to Inside Universal.
Follow in Rick's footsteps as you flee Harrison Memorial towards salvation at the prison, where good samaritans who are, hilariously, actors wearing the same mandated Sid Haig lookin' mask (ill-fitting, to boot) fire assault ammunition at oncoming zombies. Not sure why the human characters can't just be themselves? In any case, there's one nifty set-piece where a cabin ablaze unleashes one of the closer-wandering zombies you'll encounter, and the exit sees you shuffle past chain link pens restraining hungry walkers who reach through damaged gaps. Other than that? I can't wait until next year when I wonder why I opt to close my night with "The Walking Dead" once again, unless this truly is "adieu."
7. The Haunting Of Hill House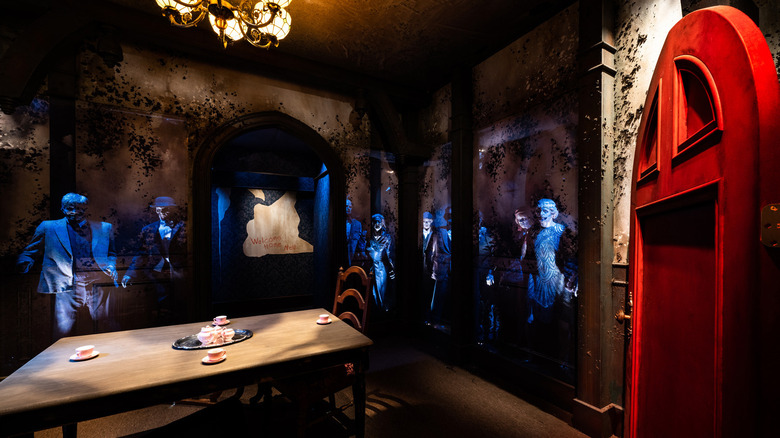 Universal Studios
Universal's collaboration with Netflix assures "The Haunting Of Hill House" as the most exciting new IP debut, without a doubt. Mike Flanagan's masterstroke of emotional, architectural horror resonates through nightmares and therapy sessions, but none of that translates in the short-stack maze. Instead, it's got the feel of a guided tour as you tiptoe through the elaborate manor's hallways, statue parlors with sauntering flappers, and basement crevasse that utilize more window play than anything. Proper lightning breaks the illusion of two-way wall barriers that reveal actors dressed as Hill House's undead residents, which is a neat effect — but if improperly timed, engages the hidden surprise too late or prematurely.
There's a sense that "The Haunted Of Hill House" maze is meant to be appreciated as fandom more than outright feared, from The Bent-Neck Lady's hover (stationary action figure pose) to the Screaming Meemies behind that two-way barrier. I will laud The Tall Man proper as the ordeal's spotlight freakout, as you enter the Crain children's bedroom only for a looming performer on stilts to emerge from the closet as Luke's towering bowler-hatted bastard adversary. The problem is the maze takes no longer than three minutes to complete and with the macabre grandiosity of Hill House's series at Universal's disposal, what's presented seems creatively slight.
6. Terror Tram: The Ultimate Purge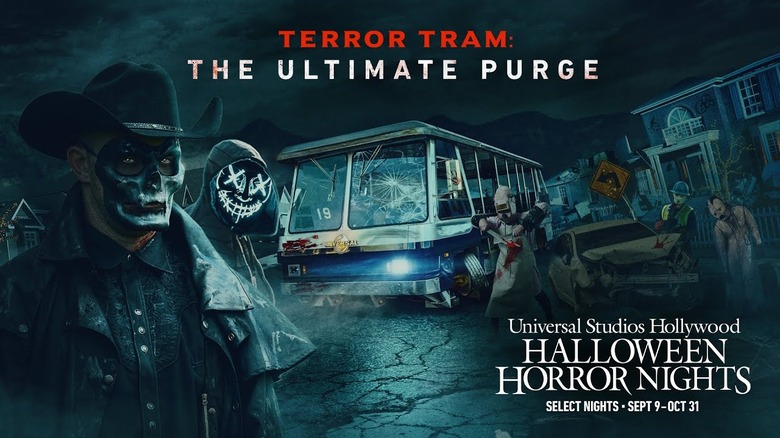 Universal Studios
Hop aboard Universal's modified backlot tour for another iteration of its Purge festivities. Bus moderators inform riders they're being shuttled to a protected haven away from the violence of Purge Night, but then a video message from Jillian St. Stevens confirms we've all been duped by those pesky Founding Fathers and our destination is the heart of the Purge. Everyone is corralled towards Bates Motel, and the infamous crashed 747 airliner that forever exists in Universal's backyard where Purgers in bunny masks and cowboy hats party by decapitating dummies, decreeing America's weaknesses, and chasing those more jumpy passersbys with chainsaws.
For the record, Terror Tram exists as a breather in my book because it's never outright horrifying (unless mazes are the drop-off point). Snap a picture with Norman Bates if you please, then behold a gallery of patriotic punishment from sadistic red, white, and blue drenched cheerleaders roasting corpses to a stilted Lady Liberty operating a guillotine. Fluorescent neon masks with "X" mark eyes are a colorful touch when darkness falls, and the aircraft wreckage looks especially dreadful when crimson lights emanate from within cockpit panes and jagged breakaway points. It's just not very scary based on motive? Which is fine! I just can't, in good faith, rank any higher.
5. The Texas Chainsaw Massacre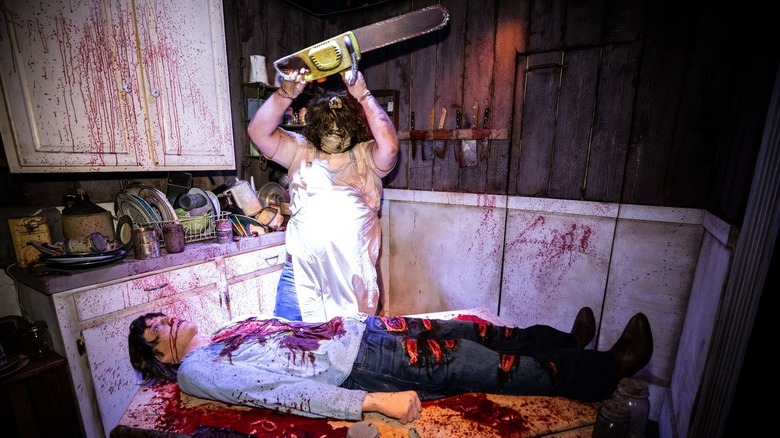 Universal Studiios
I remember Leatherface's involvement in the Titans Of Terror Tram a few years back, but I've personally never walked a "Texas Chainsaw" maze at Halloween Horror Nights. Everything played like new for me, from the moment Nubbins ushers us victims through the Sawyer's farmhouse front door. Production design erects not only the Texas cannibal shack but the family's famous "Last Chance Gas" eatery, where abductees become award-winning barbecue dishes. Bloody skin flaps obstruct vision during longer corridor stretches while Leatherface's clan prepares another feast — it's all rustically furnished and rundown in concordance with Tobe Hooper's deranged slasher classic.
Maybe this is my killer bias showing, but there's less opportunity for scares in a "Texas Chainsaw" maze because multiple chambers already have Leatherface in view as he waves around another fleshy face removal. That's not to say jolts aren't found. A hidden gag where another Leatherface actor carves into his Franklin prop is both a comical callback and quick adrenaline spike. It just becomes easier to spy Leatherface than, say, a Haddonfield slayer who's able to hide outside windows and whatnot. Although, rotating meat skewers and an entire Sawyer mealtime interruption are memorable experiences at this year's Halloween Horror Nights. If only Hill House had this level of immersion.
4. The Exorcist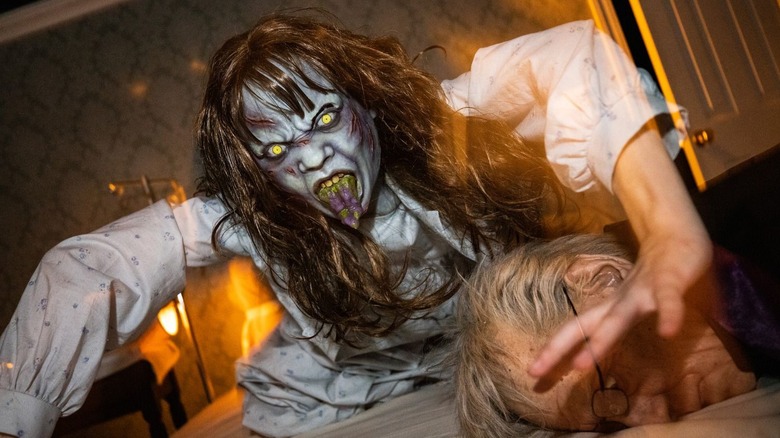 Universal Studios
"The Exorcist" is a replay from 2016, which isn't drastically uncommon for Halloween Horror Nights — especially with pandemic uncertainties hampering creative freedoms and probably scheduling hopes. That doesn't lessen the impact of Universal's Georgetown recreation that sees you stepping into Chris MacNeil's brick-exterior home and Regan's bedroom. Regan's possessed staircase spider-walk greets maze runners before progressing through failed exorcism heresy on loop as a 12-year-old's demonic takeover worsens. Pazuzu bursts from shaded attack points as the maze injects minimal variety into passageways between scenes with trap doors where the entity bursts with accompanied thunderclaps.
It's another nostalgia maze, but a substantial fantasy element layers into atmospheric designs between Pazuzu's facial projections in blacklight fadeaways and poltergeist special effects that whip objects around rooms. Bone-crackly noises aid Regan's three-sixty head screw, the power of Christ compels a levitation, and if you're lucky, Regan will spew some mist as a vomit replication attempt (it's water, don't worry). Nevertheless, Pazuzu's statue makes fierce appearances that nestle "The Exorcist" in the top half of my recap because, of course, one of the most critically regarded horror films of all time can generate an equally pulse-pounding Horror Nights showstopper.
3. Halloween 4: The Return Of Michael Myers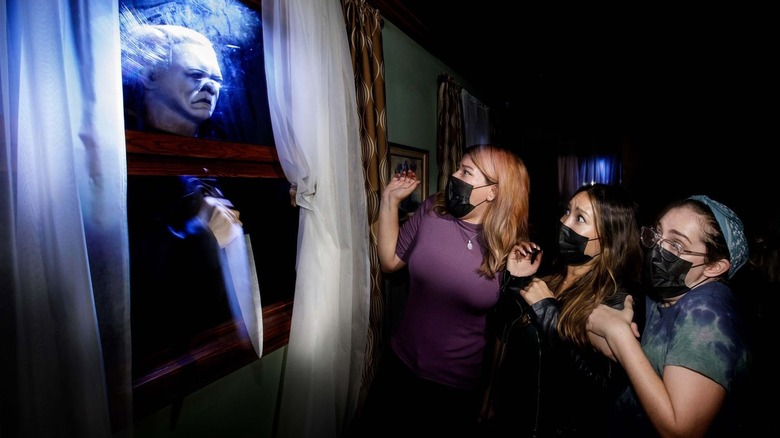 Universal Studios
Horror Nights resurrects another past maze with "Halloween 4: The Return of Michael Myers," which invaded Universal Hollywood's Waterworld queue only a few years prior in 2018. Digital garage window screens exhibit a serviceman slaughtered by Michael Myers before you're even within maze boundaries (no Penny's this time), then begins a recap of the sequel's narrative from Loomis' gas station diner misfortune to Jamie Lloyd's eventual corruption. It's no shock that Michael's maze is one of the gorier spectacles — animals or human — and also establishes slick babysitter terrors by using windows as Michael's entry point on repeat. Even better, the 2021 revival of "Halloween 4: The Return of Michael Myers" undergoes a massive makeover that's far fresher and altered than "The Exorcist" — consider this maze more of a sequel than remake.
"Halloween 4: The Return of Michael Myers" utilizes a higher number of enclosed haunts that separate Michael Myers actors from patrons, almost like we're gazing into zoo cages. That doesn't stop Universal from jamming these enclosures with beheadings, entrails, and all the other slasher staples that'd stain Michael's jumpsuit. Hearing John Carpenter's infamous "Halloween" keystrokes adds that authentically Haddonfield uneasiness atop Michael's stalker routine throughout the maze, which culminates with quite possibly my favorite trap at Horror Nights. Your only way out is littered with multiple standstill Micheal Myers clones now glowing under neon lights like NES Jason Voorhees and multiplied by mirrors on all sides. The optical illusion is traumatic enough; then the Micheals take turns swiping their kitchen knives so as not to expose a pattern — handily my favorite outro of any maze.
2. The Curse Of Pandora's Box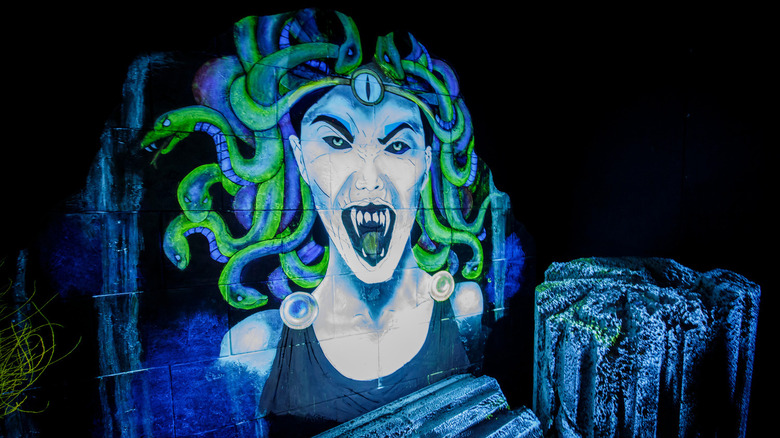 Universal Studios
If you're a sucker for folklore and more glow-in-the-dark blacklight effects, Pandora's curse concurs that life is like a box of chocolates — except they'll all drain your soul. You enter through an oddities storefront dubbed Pandora's Cabinet Of Curiosities only to be sucked into a world where Medusa, gigantic arachnids, and temple guardians are unkind to trespassers. Lighting plays such a crucial role in accentuating icy-blue hair strands on ghoulish green minions or how stone golems are hidden in a lava cave and only maneuver when pitch-blackness envelops the room. Trickery becomes imperative but also sets this maze apart on stylistic zappiness alone.
There's some repetition here as a massive Medusa head is repurposed from a prior haunt that escapes me (probably 2019's iteration of this exact maze), as well as the luminescent spider puppet that I recognize from a "fairy tales gone bonkers" themed haunt. Nevertheless, this attraction pops with colored vibrance despite the undead reigning narrative supreme. Statues of Grecian soldiers, skeletal captives, and other nastiness that wouldn't normally befit a stoner's blacklight poster collection all become these pop-art, radiant evildoers that belong not at a mystical bloodbath but a ravenous rave DJ'ed by a mythology professor.
1. Universal Monsters: The Bride Of Frankenstein Lives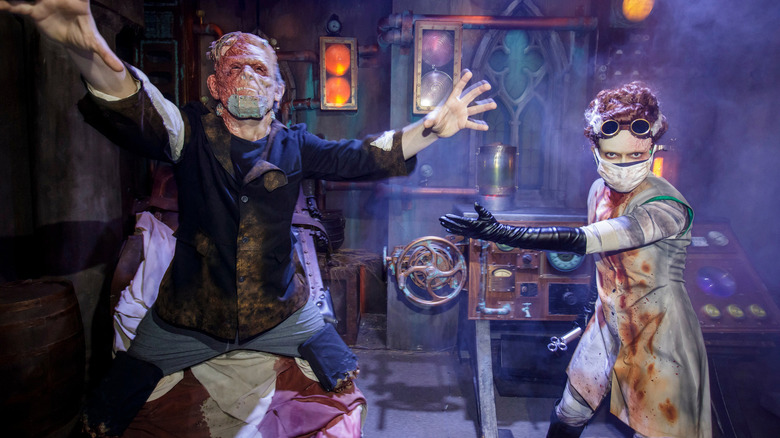 Universal Studios
Real talk: The Bride Of Frankenstein Lives might be one of my favorite Halloween Horror Nights mazes this year or any. Universal takes the Bride character and turns her into a badass vampire hunter who brashly saves Frankenstein's creation — the Bride's mate — from a grim demise. You'll find yourself walking through chapters of a novel with heavy metal attitudes and scoring as the Bride straps herself with crucifixes and vanquishes the fanged creatures who become your tormentors. Then you'll exit into the Silver Screen Queenz Scare Zone and meet further classic monster women while the guitar licks shred and moving images project titles like "Dracula's Daughter." It's any horror fan's delight.
The Bride Of Frankenstein Lives tells an easygoing story that still bursts with originality and production value. From Frankenstein's safehouse cabin to Transylvanian castle laboratories, the Bride's journey is all-enveloping as we're transported into a Universal Monsters alternate reality. The Bride's thrust into heroine status is something I'd enthusiastically support on the silver screen given the minutes-long iteration in maze format, which is as mighty a testament I can laud. Expect a balance of frantic scares, theatrical-worthy creature sketches, and a Bride who kicks so much ass you'll have a hard time leaving her Scare Zone. When Universal commits to original ideas, they frequently succeed outside familiar genre faces and locations that are beholden to expectations. The Bride Of Frankenstein Lives juices up to dangerous levels of excitement and enjoyment.