You Season 4 Announced By Netflix Before Season 3 Even Premieres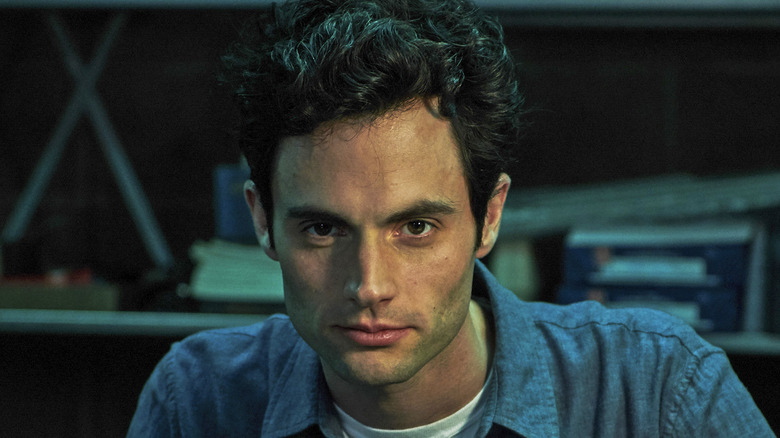 Netflix
Netflix's Joe Goldberg obsession continues: "You" has been renewed for a fourth season.
Lock your doors and keep away from your local bookshop, because Penn Badgley's Joe is always on the prowl for a new obsession. While he first appears to be a normal, lovestruck bookseller, Joe ends the first season of "You" as a full-fledged murderer. The series follows Joe as he stalks his way into the hearts of unassuming women, weaseling his way into their lives and committing more crimes than he can track, all in the name of true love. Don't let his bookish charm fool you — Joe's love stories never end well.
In an announcement video captioned "Season 4 is in the [body] bag," Netflix takes a trip down memory lane, looking back on some of Joe's most tragic fixations. Not many of them have lived to tell their tales, but ... maybe season 4 will be different?
You can check out the announcement video below.
Joe's Next Chapter
"You" premiered on Lifetime in 2018 to a very limited audience, but received a surge of attention when it came to Netflix. Much like its famed stalker, Netflix hasn't let go of the show since, ushering it through a second, third, and now, fourth season. Series creators Greg Berlanti and Sera Gamble shared their excitement about this next chapter in a statement, saying:
"Reading Caroline's novel, Greg and I were instantly obsessed with Joe Goldberg and his twisted world view. It's been thrilling to watch Penn bring Joe to a creepy yet compelling life. We're deeply grateful that Netflix has shown You such monumental support, and that people around the world have enjoyed watching Joe really get it all very wrong over the past 3 seasons. The whole You team is excited to explore new, dark facets of love in Season 4."
A fourth season of "You" promises an even deeper dive into Joe's darkness, but other than that, remains a mystery. Joe has a pretty predictable tendency to hack up bodies and literally hide under beds like the monster he is, but this news arrives before the third season has even premiered. Before we look to his future, Joe has to get through a very complicated present. The third season picks up where the second left off: fatherhood. That's right, serial killer Joe Goldberg and his similarly crazed wife Love Quinn (Victoria Pedretti) are raising a child. If that isn't enough to make you shudder, then nothing is.
Netflix has said nothing of season 4's arrival date, but season 3 of "You" premieres on Netflix on October 15, 2021. You can read the official synopsis below:
In Season 3, Joe and Love, now married and raising their baby, have moved to the balmy Northern California enclave of Madre Linda, where they're surrounded by privileged tech entrepreneurs, judgmental mommy bloggers and Insta-famous biohackers. Joe is committed to his new role as a husband and dad, but fears Love's lethal impulsiveness. And then there's his heart. Could the woman he's been searching for all this time live right next door? Breaking out of a cage in a basement is one thing. But the prison of a picture-perfect marriage to a woman who's wise to your tricks? Well, that'll prove a much more complicated escape.