What We Do In The Shadows Season 4 Will Introduce More 'Ambitious' Creatures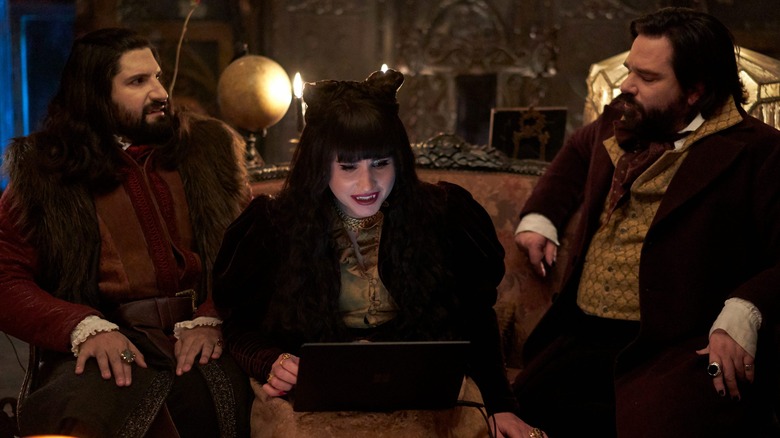 FX
We're still in the middle of the third season of FX's "What We Do in the Shadows" and fans are already pining for another season of off-kilter horror with our favorite Staten Island vampires... And honestly, who can blame them? "What We Do in the Shadows" perfectly encapsulates and expands on the kooky horror energy that made the New Zealand film so delightful. It's the kind of show that equally rewards horror admirers and adversaries. You don't need to love the genre to get its jokes, but it does enrich the experience. Besides its spookier aspects, it's a breath of fresh air for the horror comedy genre and it's got that chaotic Halloween energy we all crave, so it's no surprise that fans are already calling for more.
On October 10, 2021, executive producer Paul Simms stopped by New York Comic-Con to chat about the show and answer fan questions. While he didn't divulge much about season 4, according to ScreenRant, he did say that the next season would include the show's "most ambitious" creatures yet, taking our beloved vampires deeper into the supernatural menagerie in which they live.
I'm Begging for More Demon Dolls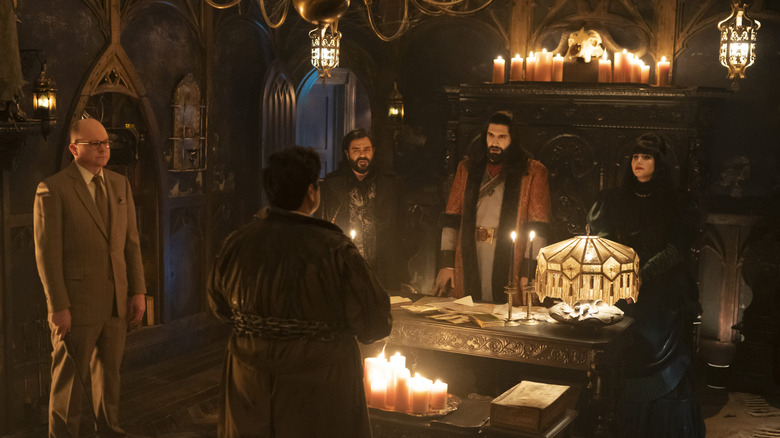 FX
Simms kept it pretty tight, so we don't have more intel on what that could mean, but that isn't going to stop us from guessing wildly and getting our hopes up. I mean, this is a show that had Tilda Swinton, Wesley Snipes, and Evan Rachel Wood in the same episode. It feels like Jemaine Clement and Taika Waititi (who are also executive producers on the show) can definitely make anything happen. Could we get a Christmas episode with some holiday gremlins? A throwback episode with the creature from the Black lagoon? Will Doctor Frankenstein and his monster make a casual appearance? Could we get a "The Conjuring" x "What We Do In The Shadows" crossover and have Annabelle show up with the Warrens? I know Annabelle isn't a creature, but I still think that collaboration would own. You know you want to see vampire Nadja (played by Natasia Demetriou) become best friends with another demon doll.
Hopefully we won't have to wait too long to find out. While the final episode of season 3 will air on October 28, 2021, shooting for season 4 is already taking place in Toronto. That should be a balm for fans that are already screaming for more. At least we shouldn't have to wait to long to see what wacky adventures our vampire friends take on next.