New Blu-Ray Releases Worth Checking Out: The Green Knight, The Night House, Free Guy, Universal Classic Monsters Icons Of Horror Collection, And Columbia Classics Volume 2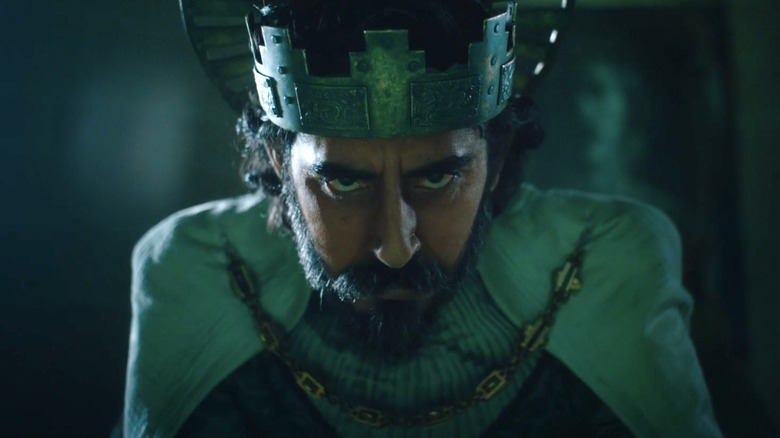 A24
It's time again for another round-up of the latest Blu-ray releases. And yes, sure, these movies are on VOD, too! But I will continue to bang the drum of physical media until that drum caves in, which will probably be sooner rather than later. Until that time, though, let's all gather around the warming glow of our screens and read about the wonderful world of new Blu-rays. This latest round-up is pretty big, featuring two different box sets along with several other titles. Some you can skip, some are must-haves. 
The Green Knight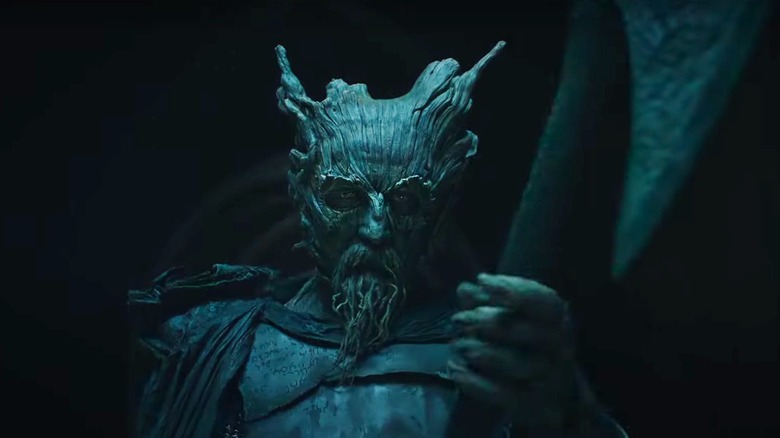 A24
One of the best films of the year, David Lowery's "The Green Knight" is a retelling of the 14th-century poem "Sir Gawain and the Green Knight," filtered through an existential lens of sex, honor, and death. Dev Patel is Gawain, the nephew of King Arthur. And while Gawain dreams of becoming a knight at his uncle's round table, he's also a directionless young man who drinks too much and doesn't put much thought into his future. 
That changes when a gigantic, seemingly supernatural green knight shows up at court one day and challenges someone to attack him. The Green Knight says that he, in turn, gets to return the same sort of attack in exactly one year. No one wants to take him up on this offer, but Gawain finally goes for it – and chops the Green Knight's head off. Gawain thinks that's the end of it, but he's very wrong. The Green Knight picks up his own severed head, reminds Gawain he'll see him in a year, and then rides away.
Now, Gawain could, of course, never go seek the Green Knight out to get his head chopped off. But this is the era of honor, and Gawain eventually feels like he's bound by duty to see this through. And so, a year later, he sets off on a quest to find the Green Knight. Along the way he encounters ghosts, bandits, and all sorts of strange and unusual things, giving Lowery an opportunity to stretch his imagination and create a film that feels mystical and eerie. 
Special Features
Boldest of Blood and Wildest of Heart: Making The Green Knight
Practitioners of Magic: Visual Effects
Illuminating Technique: Title Design
Theatrical Trailer
The Night House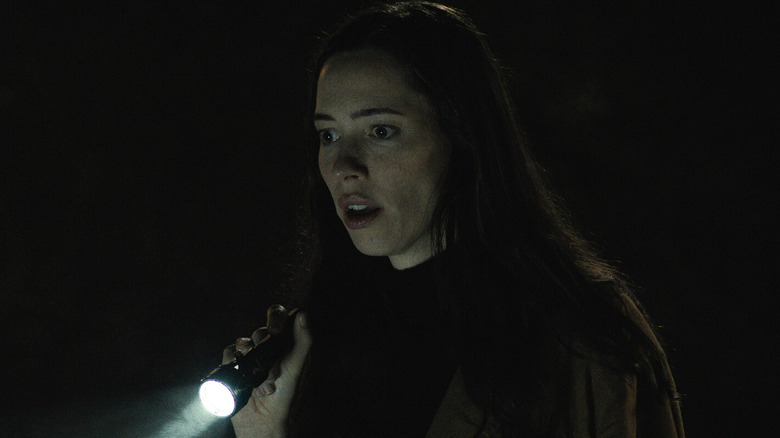 Searchlight Pictures
Rebecca Hall has become one of those actors who is good in everything. She's consistently great no matter what the film, and she's willing to go to some brutal, raw places. Her streak continues with "The Night House," a slightly uneven horror film that gets by almost entirely by the strength of Hall's performance. Hall plays a recently widowed woman who lost her husband to suicide. She's grief-stricken and spends her nights blasting the same song over and over again while drinking too much. She's spiraling. And then she starts to think her house is haunted.
Is it her husband's ghost? Is it a ghost at all? Is she just cracking up? Director David Bruckner stages several highly effective scares here, and Hall sells it all so well. But the film's script gets too messy, and "The Night House" fails to stick the landing – which is a huge bummer, because it starts off so strong. Still, there's plenty of strong material here, particularly Hall's performance. Hall isn't afraid to play her character as kind of unlikeable – she's a bit of jerk! – and I found that refreshing. 
Special Features
What Happens at the Lake House – Take a deep dive with director David Bruckner and the cast to unearth the secrets of The Night House. From the design of the mind-bending set, to Rebecca Hall's haunted performance, witness how this chilling mystery was brought to life.
Free Guy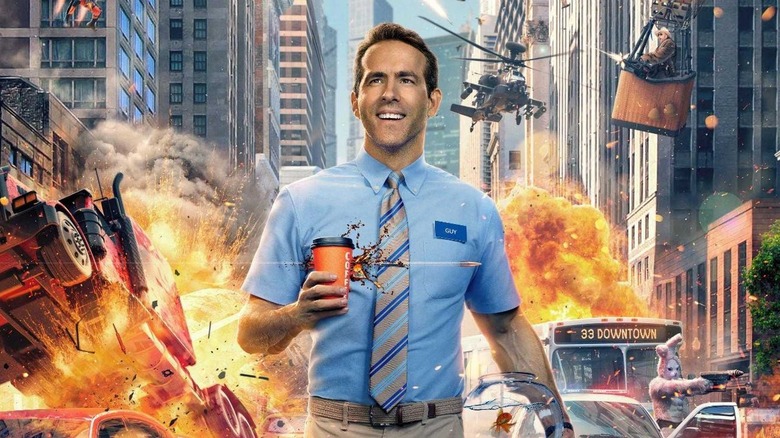 Disney
"Free Guy" was a big hit, even during the pandemic. And folks seem to genuinely enjoy this comedy about a guy named Guy who lives inside a video game. Well, allow me to be the wettest of blankets, because having finally seen "Free Guy," I can say it's dreck. Look: Ryan Reynolds seems like a really nice guy. I mean, heck, he's Canadian. But I grow weary of his eternal schtick; his propensity to always play characters who are constantly winking at the camera. His Guy is a little more earnest than Deadpool, but it's still basically the same deal. 
While the concept is fine, "Free Guy" does nothing interesting with it. It raises some questions about the rights of Artificial Intelligence, but that's not what it's really interested in. Instead, it wants to throw lazy humor in our faces. These are the type of jokes that we used to see in the dreadful parody films from Jason Friedberg and Aaron Seltzer, where the "joke" amounts to little more than someone pointing something out and hoping the audience laughs because they recognize the reference. 
If there's one bright spot here, it's Jodie Comer, playing Guy's ass-kicking love interest. Comer injects some life into this thing, but she deserves better. We all do. 
Special Features
Deleted and Extended Scenes

Guy and Buddy Hit the Beach
Hot Nuts Gets Blown
NPC Rally (Extended)

Gag Reel
Dude vs Guy – Join Ryan Reynolds, director Shawn Levy and the creative and stunt teams as they reveal the innovative process of creating Free Guy's ultimate showdown between Guy and the wildly amped-up, spray-tanned, frosted-tipped version of himself known as Dude.
Creating Molotovgirl – Jodie Comer transforms from a brilliant programmer to her fierce avatar in Free Guy. Watch as the award-winning action star and filmmakers deconstruct the conceptualization, evolution and execution of bringing Molotovgirl to life.
It's Taika's World – Free Guy's outrageous action may exist in a virtual world, but Taika Waititi makes the real world just as crazy with the over-the-top Antwan. See him at work in this entertaining showcase of a genuinely talented and hilarious performer.
Welcome to Free City – Delve into the reality-skewing universe that is Free City, as revealed by director Shawn Levy, the cast, and its inventive creative teams. Find out how they transformed a real metropolis into a virtual playground where anything is possible.
Universal Classic Monsters Icons of Horror Collection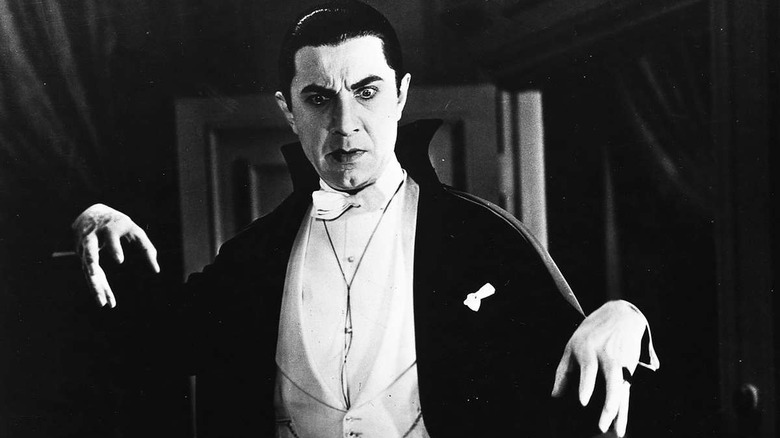 Universal
Just in time for Halloween, Universal has released some of their classic monster movies on 4K. The box set includes "Dracula," "Frankenstein," "The Invisible Man," and "The Wolfman." I wish "The Bride of Frankenstein" were on here, too. But beggars can't be choosers, I guess. In any case, having these classics (two of which are turning 90 years old this year) on 4K is slightly surreal, but they look pretty darn great.
Universal was one of the first major studios to get in on the "cinematic universe" action, long before Marvel. They combed over classic horror stories and summoned their monstrous characters to the big screen. They were awash in gothic melodrama, and they terrified audiences who – at the time – had no idea what they were in for. I remember my grandmother telling me a story about how she had gone to see "Frankenstein" in her youth when it first opened, and the entire audience freaked out the first time Boris Karloff's monster appears on the screen. These days, that look – the flat head, the bolts, the boots – is common to the point of cliche. But remember, an audience in 1931 had never seen anything like that. It thrilled them, and that thrill lives on all these decades later.

Special Features
CLASSIC MONSTER FILMS INCLUDED:
Dracula (90th Anniversary)
Frankenstein (90th Anniversary)
The Invisible Man
The Wolf Man (80th Anniversary)
HOURS OF BONUS CONTENT, INCLUDING:
The Road to Dracula
The Frankenstein Files: How Hollywood Made a Monster
Karloff: The Gentle Monster
Monster by Moonlight
The Wolf Man: From Ancient Curse to Modern Myth
Now Your See Him: The Invisible Man Revealed
Columbia Classics Volume 2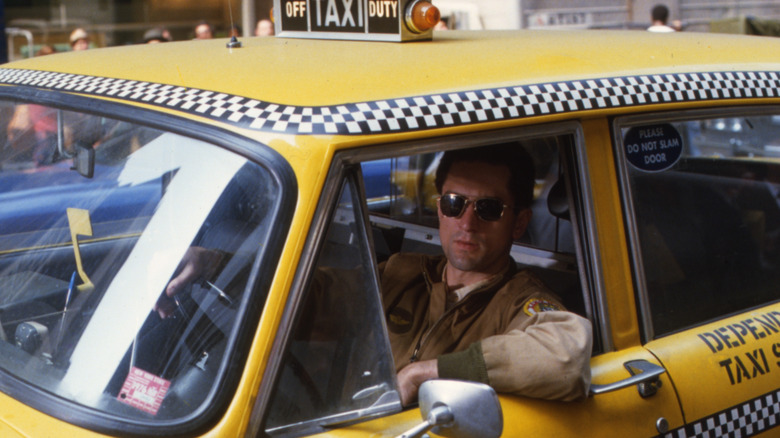 Columbia
Columbia has released another must-have box set featuring an eclectic line-up of films now in 4K. Their first box set featured "Mr. Smith Goes to Washington," "Lawrence of Arabia," "Dr. Strangelove," "Gandhi," "A League of Their Own," and "Jerry Maguire." Volume 2, in my humble opinion, is even better. This time we get "Anatomy of a Murder," "Oliver!", "Taxi Driver," "Stripes," "Sense and Sensibility," and "The Social Network." The prospect of having "Taxi Driver" on 4K alone is exciting, but I also appreciate how ... odd this collection is. I mean, "Oliver!" and "The Social Network" don't seem like two films that would go together. And yet here they are, in this killer package. 
And Columbia didn't just take the easy way out and port over previously released special features. Well, okay, yes, they did do that – but they created new features, too. There are new commentaries here for some of the films, along with new featurettes. And as an added bonus, there's an extra disc with 20 short films. Sadly, there's not much new for "Taxi Driver" save for a trailer, and "The Social Network" disc has nothing new, features-wise. But this entire set feels like a given for film lovers, and I hope Columbia keeps it up.

Anatomy of a Murder
Feature presented in 4K resolution with HDR10, restored from the original camera negative
Dolby Atmos English audio
5.1 DTS-HD Master Audio
Mono DTS-HD Master Audio

Blu-ray Includes:

Feature presented in high definition, sourced from the 4K master
5.1 DTS-HD Master Audio
Mono DTS-HD Master Audio
Special Features:
NEW: Commentary with Film Historian Foster Hirsch
Gary Giddins Interview
Pat Kirkham Interview
Foster Hirsch Interview
Excerpt from Firing Line Featuring Otto Preminger
Theatrical Trailer
Oliver!
Feature presented in 4K resolution with HDR10, restored from the original camera negative
Dolby Atmos English audio
5.1 DTS-HD Master Audio
2-Channel Surround DTS-HD Master Audio
Feature Blu-ray Includes:
Feature presented in high definition, sourced from the 4K master
5.1 DTS-HD Master Audio
2-Channel Surround DTS-HD Master Audio
Special Features:

NEW: Commentary with Film Historian Steven C. Smith
NEW: Jack Wild Screen Test
Behind-the-Scenes Featurette
Meeting Oliver!
Meeting Fagin!
The Locations of Oliver!
Sing-Alongs
Dance-Alongs
Theatrical Trailers
Taxi Driver
Feature presented in 4K resolution with Dolby Vision, restored from the original camera negative
5.1 DTS-HD Master Audio
Mono DTS-HD Master Audio
Special Features:
NEW: 20th Anniversary Re-Release Trailer
Making Taxi Driver Documentary
Storyboard to Film Comparisons with Martin Scorsese Introduction
Animated Photo Galleries

Blu-ray Includes:
Feature presented in high definition, sourced from the 4K master
5.1 DTS-HD Master Audio
Special Features:
40-Minute Taxi Driver Q&A featuring Martin Scorsese, Robert De Niro, Jodie Foster and Many More Recorded Live at the Beacon Theatre in New York City at the 2016 Tribeca Film Festival
Commentary with Director Martin Scorsese and Writer Paul Schrader Recorded by the Criterion Collection
Commentaries by Writer Paul Schrader and by Professor Robert Kolker
Martin Scorsese on Taxi Driver
Influence and Appreciation: A Martin Scorsese Tribute
Producing Taxi Driver
God's Lonely Man
Taxi Driver Stories
Travis' New York
Travis' New York Locations
Theatrical Trailer
Stripes
Both Theatrical & Extended versions presented in 4K resolution with HDR10, restored from the original camera negative
Dolby Atmos English audio (for both versions)
5.1 DTS-HD Master Audio (for both versions)
Mono DTS-HD Master Audio (Theatrical version only)
Special Features:
NEW: 40 Years of Stripes With Bill & Ivan – a two-part on-camera reunion between star Bill Murray and director Ivan Reitman, discussing their careers, memories from set, a tribute to the cast, as well as a special guest appearance from cinematographer Bill Butler
NEW: Theatrical Trailer
Feature Blu-ray Includes:
Both Theatrical & Extended versions presented in high definition, sourced from the 4K masters
5.1 DTS-HD Master Audio (for both versions)
Mono DTS-HD Master Audio (Theatrical version only)
Commentary with Ivan Reitman and Dan Goldberg (Extended version only)
NEW: 11 Additional Deleted & Extended Scenes
NEW: 1983 TV Version of the film (in standard definition)
Deleted & Extended Scenes from the Extended version of the film
Stars and Stripes Documentary
Sense and Sensibility
Feature presented in 4K resolution with HDR10, restored from the original camera negative
Dolby Atmos English audio
5.0 DTS-HD Master Audio
Feature Blu-ray Includes:
Feature presented in high definition, sourced from the 4K master
5.0 DTS-HD Master Audio
Special Features:
NEW: 25th Anniversary Reunion: Back to Barton Cottage – an expansive on-camera reunion featuring Emma Thompson, Kate Winslet, Greg Wise, Imelda Staunton, Imogen Stubbs, Myriam Francois, producer Lindsay Doran, and director Ang Lee
Emma Thompson & Producer Lindsay Doran's Audio Commentary
Director Ang Lee & Co-Producer James Schamus's Audio Commentary
Adapting Austen Featurette
A Sense of Character Featurette
A Very Quiet Man Featurette
Locating the World of Sense and Sensibility Featurette
Elegance & Simplicity: The Wardrobe of Sense and Sensibility Featurette
Deleted Scenes
Theatrical & International Trailers
The Social Network
Feature presented in 4K resolution with Dolby Vision
Unrated Dolby Atmos English audio
Unrated 5.1 DTS-HD Master Audio
Theatrical 5.1 DTS-HD Master Audio
Special Feature:
Feature Blu-ray Includes:
Feature presented in high definition
Theatrical 5.1 DTS-HD Master Audio
Special Features:
Audio Commentary with David Fincher
Audio Commentary with Aaron Sorkin & Cast

Special Feature Blu-ray Includes:
How Did They Ever Make a Movie of Facebook?
David Fincher and Jeff Cronenweth on the Visuals
Angus Wall, Kirk Baxter and Ren Klyce on Post
Trent Reznor, Atticus Ross and David Fincher on the Score
Ruby Skye VIP Room: Multi-Angle Scene Breakdown
In the Hall of the Mountain King: Reznor's First Draft
Swarmatron
Bonus Disc
20 short films from the Columbia Pictures library, presented in high definition:

Umpa
The Three Stooges: Disorder In The Court
Charley Chase: Man Bites Lovebug
Color Rhapsodies: The Little Match Girl (Academy Award® nominee, 1937, Best Short Subject, Cartoons)
Charley Chase: The Sap Takes A Wrap
Color Rhapsodies: Dog, Cat and Canary (Academy Award® nominee, 1944, Best Short Subject, Cartoons)
The Ragtime Bear
The Wonder Gloves
Georgie and the Dragon
Madeline (Academy Award® nominee, 1952, Best Short Subject, Cartoons)
Pete Hothead
The Tell-Tale Heart (Academy Award® nominee, 1953, Best Short Subject, Cartoons)
When Magoo Flew (Academy Award® winner, 1954, Best Short Subject, Cartoons)
The Man on the Flying Trapeze
Christopher Crumpet's Playmate
Stage Door Magoo
April in Portugal
The Chubbchubbs! (Academy Award® winner, 2002, Best Short Film, Animated)
The Early Hatchling Gets The Worm
Puppy!: A Hotel Transylvania Short