No Time To Die Passes $300 Million At Global Box Office As Shang-Chi Hits $400 Million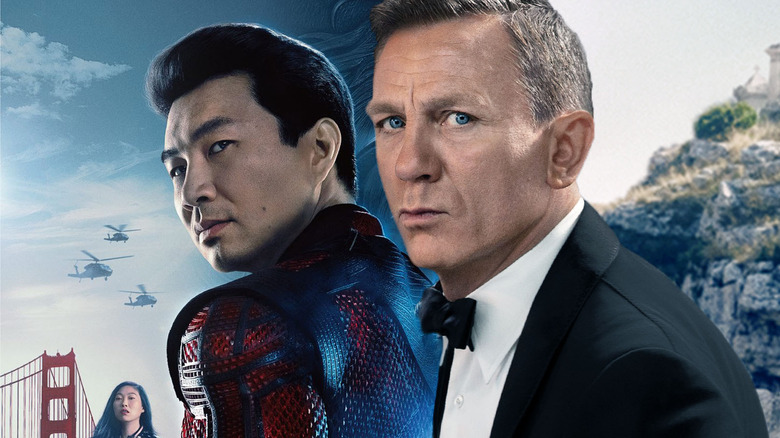 Disney / United Artists
After 18 months of lockdowns and delays, movie theaters are in need of a hero — and now they've got quite a few to choose from. Though "No Time To Die" came in slightly under expectations in its domestic opening weekend, a $56 million debut at the North American box office has tipped it past the $300 million worldwide mark. Meanwhile, "Shang-Chi and the Legend of the Ten Rings" crossed a milestone of its own: $400 million worldwide.
The journey back to normality at the box office has been a slow one. It began with a false start in fall 2020, when the push to release "Tenet" and the contractual obligation to release "The New Mutants" led to those movies, among others, bombing at the box office. Studios hastily pushed the release dates for their upcoming tentpoles back, and "No Time To Die" was one of the titles caught up in the wave — delayed from its November 2020 release to April 2021, and then pushed back again to October. With a reported $300 million production budget and a further $100 million spent on marketing, "No Time To Die" has a high bar to clear in order to break even, and now it finally has its shot at an (almost) back-to-normal box office arena.
"No Time To Die" got off to a strong start overseas last weekend, grossing $119 million across 54 markets. Its arrival at the North American box office, while solid, probably isn't what MGM and Eon Productions were hoping for after so many delays. Saturday forecasts pointed to a $60 million domestic debut, but at the end of the weekend "No Time To Die" is wrapping up with $56 million, the second-lowest opening for the Daniel Craig era. 
Fortunately, 007 is still enjoying a strong showing overseas (particularly in his home territory of the U.K.) and in its second weekend "No Time To Die" brought its total international gross to $257 million (per Forbes). That's particularly impressive given that the movie hasn't yet opened in China, the largest box office territory outside of North America.
Make Mine Marvel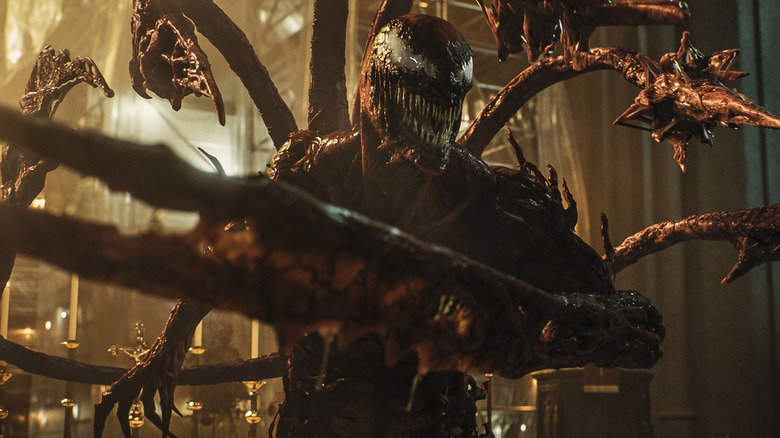 Sony
Two things were guaranteed to survive the COVID-19 pandemic no matter what: the cockroaches, and the Marvel Cinematic Universe. 
Sure enough, "Shang-Chi and the Legend of the Ten Rings" was one of the first exclusive theatrical releases of 2021 that gave studios reason to breathe a small sigh of relief. After coming out of the gate strong with a $94 million debut over the four-day Labor Day weekend, "Shang-Chi" has now passed $400 million in its sixth weekend at the global box office. That takes it a considerable way past the total for "Black Widow," which grossed $379 million worldwide – though with the caveat that "Black Widow" was released simultaneously on Disney+ Premium VOD.
The real surprise Marvel hit of fall 2021 isn't a mainline MCU movie, but "Venom: Let There Be Carnage." After storming its way into theaters last weekend, where it scored the biggest domestic opening of the pandemic era so far, "Let There Be Carnage" is now at $143 million after 10 days at the domestic box office. The movie grossed $32.5 million in its second weekend — an impressive hold, considering it was up against a new James Bond movie. Mr. Venom will be taking his celebratory chocolate and tater tots shaken, stirred, or any way you want to serve them (he's really not fussy).