You'll Never Use A Rest Stop Again After Watching The Horror Short, Seek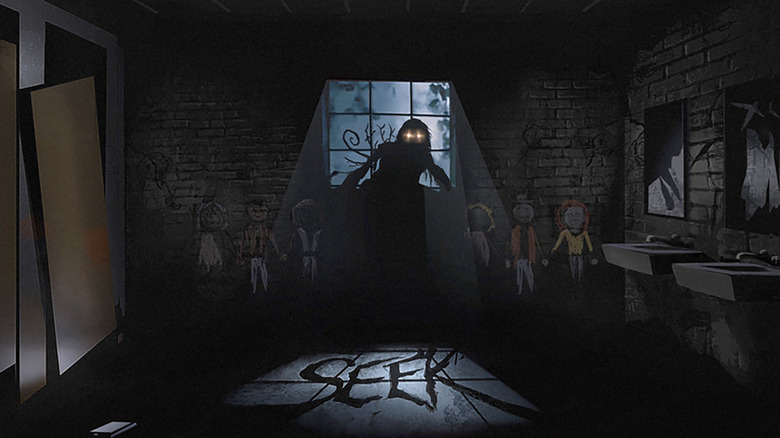 JC Richard
I promise you, you will not be making any pit stops on your future road trips after watching this eerie 5-minute horror short, Seek. The creepfest — which was directed by Aaron Morgan from a script written with /Film's very own Eric Vespe! — is heavy on tension and tone, as well as effects and even animatronics. With such a short run time, the result is impressive and perfect for the lead-up to Halloween.
According to Fangoria, the synopsis for the film reads:
Estranged sisters Heidi and Jordan have been driving all night when they come across a dilapidated roadside park and rest stop. Horrific events follow when a mischievous resident inhabiting the bathroom demands to play a terrifying version of a child's game.
The tiny terror was an official selection at SXSW in 2020 and Fantastic Fest last month, but it is possible that we'll see a larger incarnation of the story on the festival circuit over the next few years. Morgan previously revealed that "'Seek' is a small part of a larger mythology" and that his "goal is to expand this world into a feature to tell the full, and terrifying, story of the Lonely Child."
It goes without saying that we over here at /Film are a bit biased about this awesome release — but the film is actually seriously cool, so I wouldn't be surprised if you ended up liking it as much as we do. It's clear a lot of hard work and heart went into making it, which is incredibly admirable, but it also just genuinely packs a punch. Since it is available on YouTube, I'd go as far as to call this one essential viewing.
Seek
It goes without saying that the writing and the acting shine bright in this short film. It's well paced and well acted, with enough personality given to our characters to make what little backstory we get into a solid framework for the horror within.
But where the piece truly comes alive is with its animatronics and visual effects. The creature design was beautifully created by Oscar-winning "Pan's Labyrinth" practical effects maker Arjen Tuiten, who has also worked on "Maleficent," "Wonder," and the upcoming film "Ghostbusters: Afterlife." He based the design on a piece by the Weta Workshop, which is known for its film and TV design work.
The short also features impeccable VFX by Rogelio Salinas and Todd Perry, who are known for their work in the MCU on "Black Panther," "Avengers," and "Doctor Strange." The animatronic design of the film's central antagonist creature combined with the visual effects that aid to the movie's tone are cornerstones of why this short works so well — so it's no surprise there were major players lending their greatness to those aspects behind the scenes. All in all, this short is an achievement from top to bottom so you're going to want to give it a Halloween watch.