Shrek 4D Attraction Will Close At Universal Studios Florida In January 2022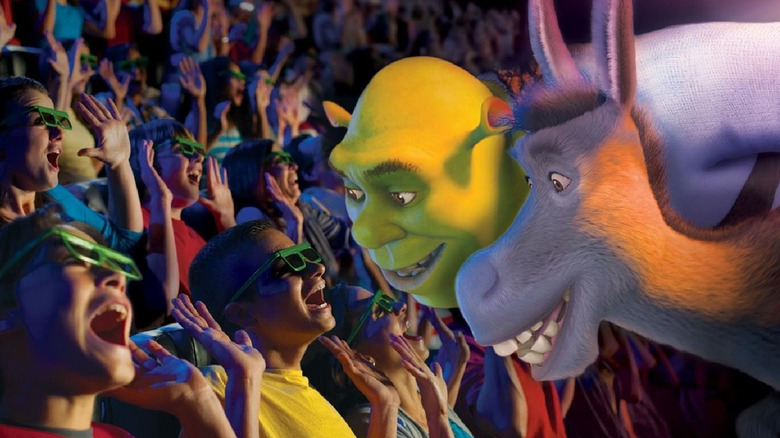 Universal Orlando Resort
Say goodbye to Shrek 4D. The Universal Studios Orlando theme park attraction, which opened its doors to guests in 2003, is set to close early next year.
The 4D film experience is set right after the events of the first "Shrek" film and follows Shrek (Mike Myers) and Donkey (Eddie Murphy) in their adventures after they rescue Princess Fiona from the clutches of Lord Farquaad (John Lithgow). Wearing their "OgreVision" 3-D Goggles, guests watch a pre-show attraction on large mounted TV screens before entering the main room and seating themselves, where motion-based thrills await them. The attraction had become something of a staple in the Orlando Resort, but the park has decided to part ways with the ogre.
Pictured below is a letter under the Universal Orlando Resort letterhead, dated October 6, 2021. Via Universally Driven (@universaldriven) on Twitter, the caption reads, "Thanks to @JoeTheTM for the picture. Looks like it's time to say goodbye to our favorite green ogre. Shrek 4D to close in January 2022. 🧇"
Orlando Resort Asks Shrek What He's Doing In Their Swamp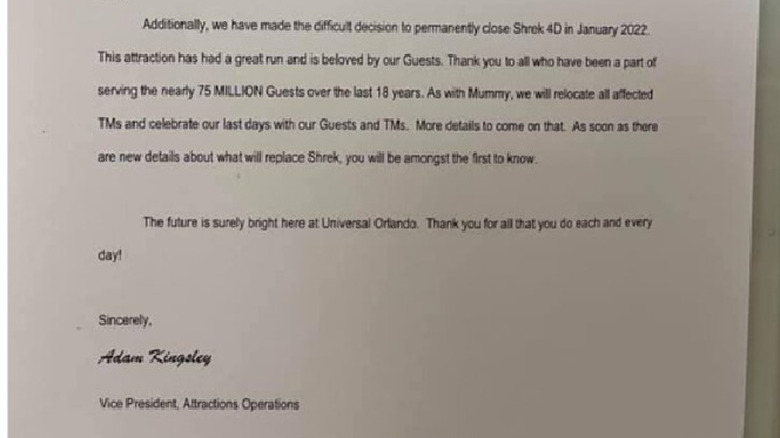 Joe the TM (@JoeTheTM on Twitter)
The blog account closes out with a waffle emoji, both a nod to Donkey's endearing quip in the original movie and a call to fans of the ride to keep a stiff upper lip despite the finality of the news, which reads:
Attractions Team Members,As you may have already heard, Revenge of the Mummy will be experiencing a maintenance closure beginning in January and will remain closed through late summer 2022. Mummy is such a popular attraction, so this will be tough on our Guests, but we will re-open with the necessary technical improvements. Of course, we will temporarily re-locate the valued Mummy Team Members while the ride is down.Additionally, we have made the difficult decision to permanently close Shrek 4d in January 2022. This attraction has had a great run and is beloved by our Guests. Thank you to all who have been a part of serving the nearly 75 MILLION Guests over the last 18 years. As with Mummy, we will relocate all affected TMs and celebrate our last days with our Guests and TMs. More details to come on that. As soon as there are new details about what will replace Shrek, you will be amongst the first to know.

The future is surely bright here at Universal Orlando. Thank you for all that you do each and every day!

Sincerely, Adam KingsleyVice President, Attraction Operations
Orlando-based Universally Driven, bloggers self-described on Twitter as "Just two people that really love Universal," raised the question just yesterday. "I've seen a few tweets about Shrek leaving the park next year, can anyone elaborate? Is it just rumors, or does someone have more information?" That's when the above-named Joe (@JoeTheTM) came in clutch with an internal pic. The kind of writers dedicated enough to craft a motion sickness guide to Orlando Resort are the kind of fans who truly enjoy these rides again and again. So great is their dedication to chasing that perfect chemical cocktail of thrills and amusement that when they mourn any particular attraction, you know without having to take a ride that Shrek 4D was worth the wait times.
But hey, the Mummy will get his Revenge again soon with a lengthy refurbishment.