Squid Game Season 2: Potential Focus Would Be On The Police, Director Says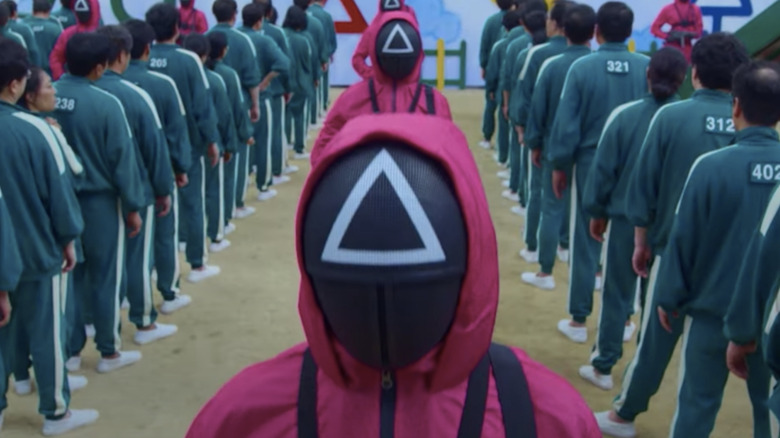 Netflix
The nine-episode thriller "Squid Game" has swept the globe, quickly becoming the rhetorical talk of the international town and one of Netflix's most-watched shows of all time. Hwang Dong-hyuk's series dropped in mid-September, but its surprising success has provoked surprise, admiration, and even Halloween costume suggestions the world over. A bright hooded jumpsuit and a painted fencing mask and you're golden! (Not to mention a menacing addition to the neighborhood ... don't drive a van while trick-or-treating...)
The series creator didn't initially expect its rampant global success. Neither did Netflix's own co-CEO Ted Sarandos, who admitted "we did not see that coming, in terms of its global popularity." Accordingly, creator Hwang Dong-hyuk had little in mind for a sequel to the anti-capitalist thriller's story beyond the open-ended potential of its ending. In a new interview, however, Hwang Dong-hyuk reveals he now knows exactly what a second season would entail, and it would blow the world of its story wide open.
Spoilers for season 1 of "Squid Game" follow.
Can I Interest You In A Game of Tic-Tac-Dough?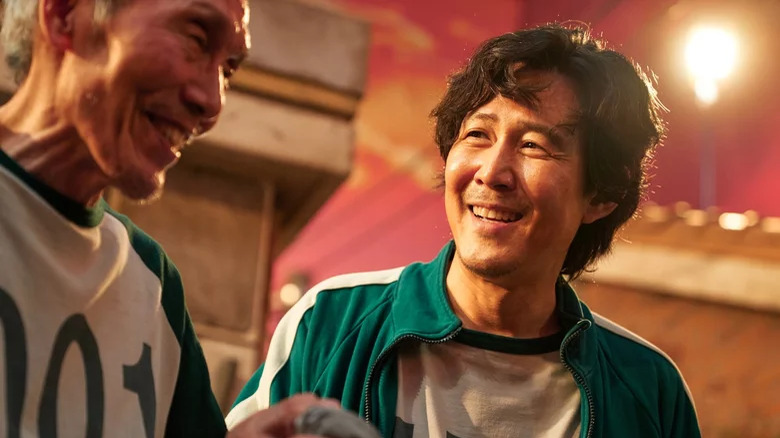 Netflix
The series' first season sees hundreds of down-on-their-luck and indebted contestants approached by a mysterious organization which offers them the promise of a lifetime: compete in a series of six games, and the final winner(s) take home an overwhelming amount of money. The catch? The six games are violent versions of children's games (Red Light, Green Light, tug-of-war, and others), and you die if you lose. 
We follow "Player 456," Seong Gi-hun (played with magnificent complexity by Lee Jung-jae), an affable but deadbeat father with a terrible gambling addiction who is about to lose his daughter. He joins the game out of desperation, hoping to win enough to assuage his debts and keep his daughter from moving to the United States with his ex and her well-off husband. 
The opposition, of course, is not merely the other players but the ruthless and mysterious organization with geometric masks that holds the games, enforces the rules, and ensures the death of its fallen players. The series ends with Gi-hun victorious (despite wanting to walk away without the cash) and dumped back on the street a traumatized but much wealthier man. We see him a year later with the money untouched, his mother dead during his time at the games, and the protagonist in roughly the same place as he was at the beginning with the addition of a host of bad memories. At the series end, he opts not to visit his daughter but instead to rejoin the games, ostensibly to unmask those who run it.
Season 1 Red Light, Season 2 Green Light?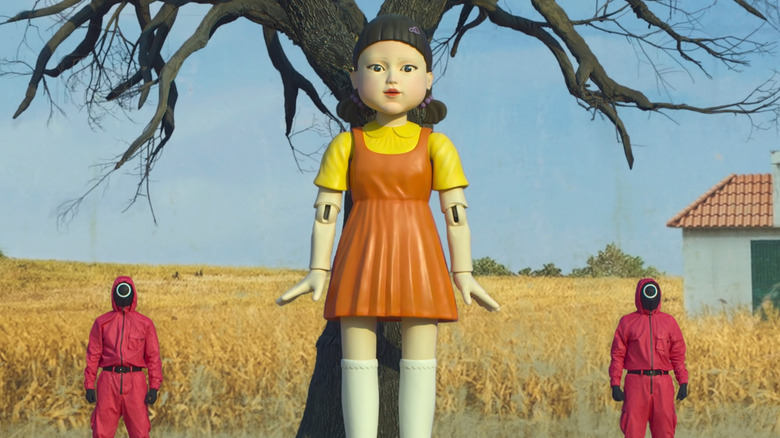 Netflix
In the new interview with The Times, Hwang Dong-hyuk reveals that — should Netflix greenlight another installment — a second season would shift more of the focus to the police and overseers, in addition to the return of Gi-hun. He explains:
"If I do get to do one — one would be the story of the Frontman [a former cop who now oversees the game]. I think the issue with police officers is not just an issue in Korea. I see it on the global news. This was an issue that I wanted to raise. Maybe in season two I can talk about this more."
The first season was firmly grounded in the class politics around South Korea's debt crisis, but its intentional allegory for modern capitalism in general has made it stunningly relatable the world over. With a possible second season digging deeper into issues around police, corrupt institutions, and untouchable cadres of elites, it seems like the deadly world of "Squid Game" will continue to be more relevant than ever. Here's to hoping that a second series indeed gets a Green Light and that Gi-hun survives yet another deadly round of murderous children's games.