Original Ghostbusters Director Ivan Reitman Solved A Slime Dispute On The Ghostbusters: Afterlife Set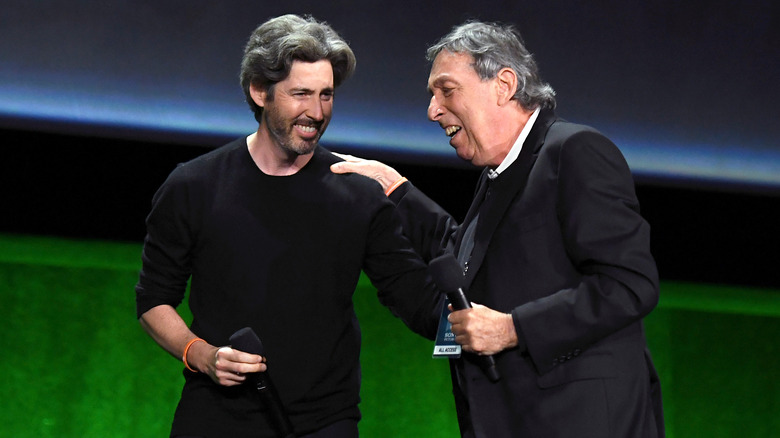 David Becker/Getty Images
"Ghostbusters: Afterlife" is passing the directorial torch from original "Ghostbusters" franchise director Ivan Reitman to his accomplished filmmaker son Jason Reitman. This is the first time the younger Reitman is heading into blockbuster territory, and the pressure is on, not just because this is a huge, beloved franchise, but because he'll peeking out from the shadow of his father. Even though Jason Reitman is at the helm of the film, he still had to work closely with his father. Not only was Ivan Reitman producing the movie, but he was an important part of making sure that the familiar elements of "Ghostbusters" were intact, especially with how meticulously certain pieces of Ghostbusters iconography were being recreated and reused. That includes the slime. 
Ivan Reitman Knows Slime When He Sees It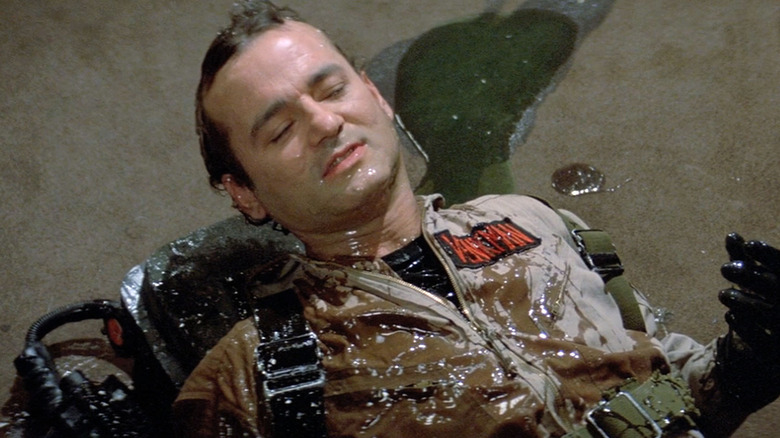 Sony Pictures
The latest cover story for Empire (via SyFy) focuses on "Ghostbusters: Afterlife," and Jason Reitman recalled a particular instance when Ivan Reitman's history with the "Ghostbusters" franchise was especially helpful. It all had to do with the slime they were making for the movie. The filmmaker recalled:
"The slime color has changed from film to film, and I wanted the original-color slime. We kept zeroing in on, 'That's too green. That's not viscous enough.' One day, they had two different vats and there was a huge argument over which one was right. I said, 'Dad, can you come over here?' And my dad just went over and pointed to a bucket and said, 'That's slime.'"
In some ways, this feels a cheat, and it has that heir of "I'm gonna tell my Dad on you." But at the same time, Ivan Reitman really is the ultimate source when it comes to remembering how the slime should look. The only person who might know it better is Bill Murray, since he was soaked in it by Slimer in the original movie. However, Ivan Reitman wasn't always making things easier for his son on the set of "Ghostbusters: Afterlife."
Does Father Always Know Best?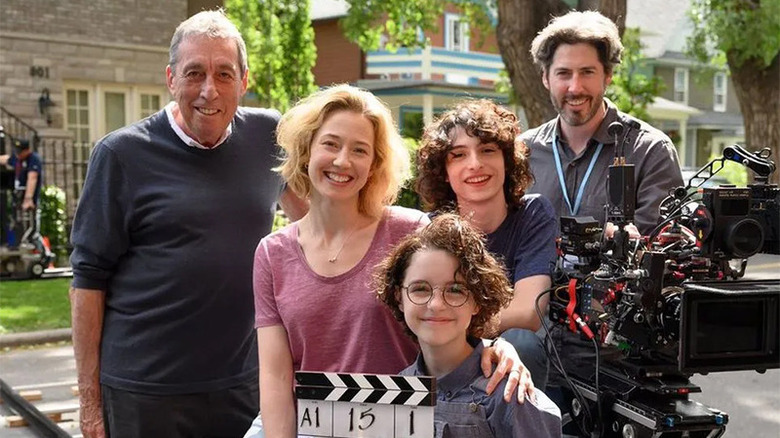 Jason Reitman
Since Jason Reitman is his father's son, they share many similarities. That means they're both very opinionated when it comes to getting what they want from a film production. The younger Reitman also told Empire about the experience of working with his father so closely:
"It's hard because we're having this kind of meaningful father-son experience together on set but, simultaneously, both of us are stubborn, creative forces, sometimes agreeing, sometimes not, both deeply passionate about getting this right."
Reitman added that the experience of "navigating the shadow" of our parents is something that anybody could relate to, even if they're not making a movie with their father. He said, "No matter what your parents do, or who they are – that is the journey of being a child." Even so, at the end of the day, "Ghostbusters: Afterlife" gave Jason Reitman a touching moment with his father that he will treasure for the rest of his life.
Since "Ghostbusters: Afterlife" finds Egon Spengler's seemingly estranged daughter (Carrie Coon) and her two kids (Mckenna Grace and Finn Wolfhard) confronting the legacy of what their father/grandfather left behind, I think it's likely that Reitman has a lot to say in the movie about being in the shadow of our parents and how that has an impact on our lives. And there are some ghosts involved too. We'll find out when "Ghostbusters: Afterlife" arrives on November 19, 2021.