The Best Fantasy Movies You Can Watch On Netflix Right Now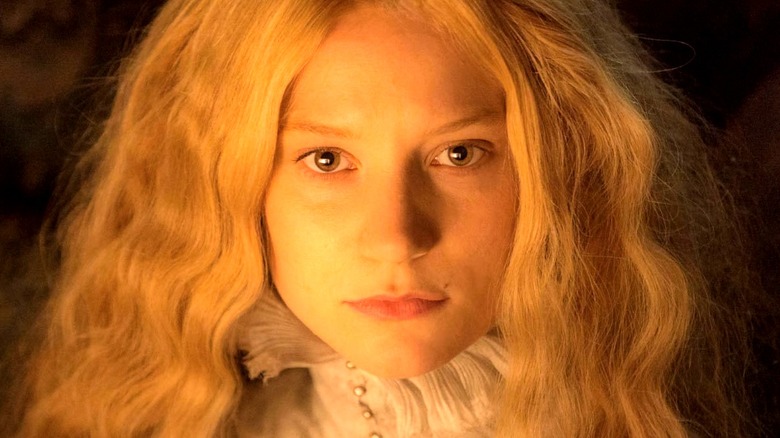 Universal
Fantasy is a wide-encompassing genre. It often contains tropes pulled from mythology or folklore. It sometimes overlaps with other genres, such as horror and science fiction — whereas science-fiction is speculative fiction based on possible (or maybe possible) science, fantasy has no basis in reality. It's a popular genre for movies aimed at children and young adults, especially when it comes to films based on book franchises. Whether you're interested vampires, fairies, and werewolves, parallel or hidden worlds, or fantastical dystopias, the genre has something for everyone.
It should be no surprise that almost half of the titles in this list are produced by Netflix itself; the streaming platform has definitely upped the ante when it comes to producing its own content, and it seems to be very good at producing genre pieces in particular. That includes, as you'll see, a whole bunch of fantasy. If you're looking to escape to another world — or simply want to see a more magical take on ours — check these movies out.
Monster House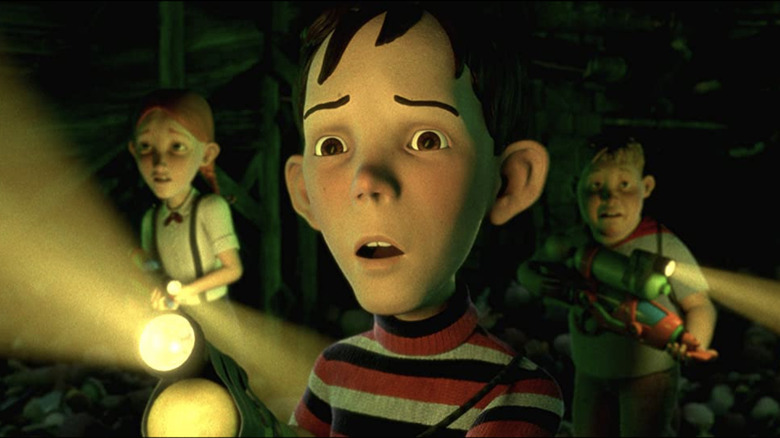 Columbia Pictures
A children's movie that mixes supernatural elements with classic horror tropes, "Monster House" is, as the title gives away, about a monstrous house. Set in sweet and innocent suburbia, the movie follows the story of weird kid D.J. (Mitchell Musso) and his friends Chowder (Sam Lerner) and Jenny (Spencer Locke) as they investigate the most cursed house in the neighborhood. After the building's owner, Nebbercracker (Steve Buscemi), suddenly passes away, the house starts acting out, snatching children's toys and eating people who happen to walk on its lawn; D.J. and Chowder save Jenny from such a fate, which is how they team up to uncover the house's secret.
"Monster House" is the debut of director Gil Kenan, who went on to direct other supernatural movies, including 2015's "Poltergeist." It was executive produced by Robert Zemeckis and Steven Spielberg, and their personal touches are easily identifiable in the final product. "Monster House" is a funny, engaging movie with a great twist, and features some amazing animated effects for the era. It was filmed using motion capture, with the same technology Zemeckis used for "The Polar Express," and the resulting animation is lively. The characters are endearing, and the actors' performances can clearly be felt through the CGI. Finally, the tween coming-of-age story makes "Monster House" a great family movie for the spooky season.
Pan's Labyrinth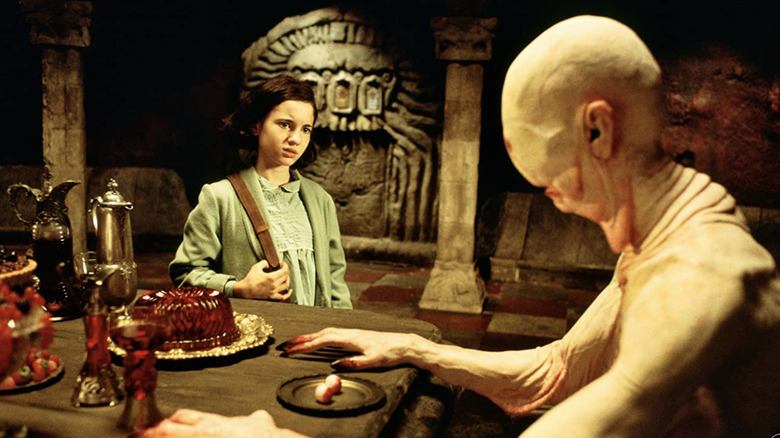 Picturehouse
In "Pan's Labyrinth," the Oscar-winning fantasy film by acclaimed Mexican director Guillermo del Toro, a child uses her imagination to escape the horrors of World War II. Set in 1944 in fascist Spain, "Pan's Labyrinth" follows the story of Ofelia (Ivana Baquero), an 11-year-old girl whose mother Carmen (Ariadna Gil) marries to a sadistic captain, Vidal (Sergi López), who hunts down the rebels who oppose Franco's regime. Ofelia is led by a fairy to the fantastical lair of the Faun, who tells her that she's the reincarnation of a fabled princess. Ofelia is destined to claim her kingdom, but her destiny comes at a heavy price: First, she must accomplish three important tasks, each more demanding than the last.
Del Toro is known for his vivid imagination, and the creatures that inhabit his movies are unlike any others. "Pan's Labyrinth" is no exception, featuring strange and gruesome creatures like the Pale Man, a giant being whose eyes are in the palms of his creepy, long-fingered hands. Del Toro juxtaposes the gritty violence of WWII with the visually stunning fairy tale world of the labyrinth and its inhabitants; "Pan's Labyrinth" features real-world consequences and horror just as much as the escapism of fantasy. The movie won three Academy Awards, including best cinematography and best makeup, and was nominated for numerous other awards around the world.
Bright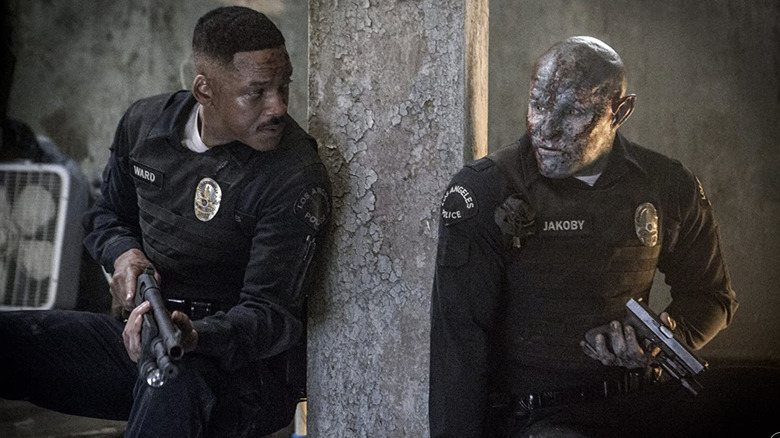 Netflix
Mashing up genres to create fantasy buddy-cop action film, "Bright" is a unique offering from Netflix and director David Ayer, who previously worked on "Suicide Squad" and brought much of that movie's team along with him. Set in L.A. in a world where orcs and elves coexist with humans, a cop named Ward (Will Smith) is teamed up with the country's very first orc police officer, Jakoby (Joel Edgerton). 
Racial tensions simmer between Jakoby and the rest of the squad, and the pair face intense scrutiny as they investigate a sect of renegade elves lead by Leilah (Noomi Rapace), who were in possession of a magic wand. Magic is illegal, and a wand is like a weapon of mass destruction, so it's a big deal. They're helped by Tikka (Lucy Fry), Leilah's little sister, who betrayed the sect and stole the wand.
While it's no Oscar contender, "Bright" is an entertaining movie that wants to tackle bigger questions like racism, power's corrupting influence, and policing (although how well it succeeds depends on who's watching), and with Smith, Edgerton, and Rapace on board, it has plenty of star-power. What makes "Bright" particularly rough around the edges is the dialogue, which could do with some refinement. The universe is different and worth exploring; with Ayer taking over screenwriting duties for the sequel, there is hope that it could get much better.
The Spiderwick Chronicles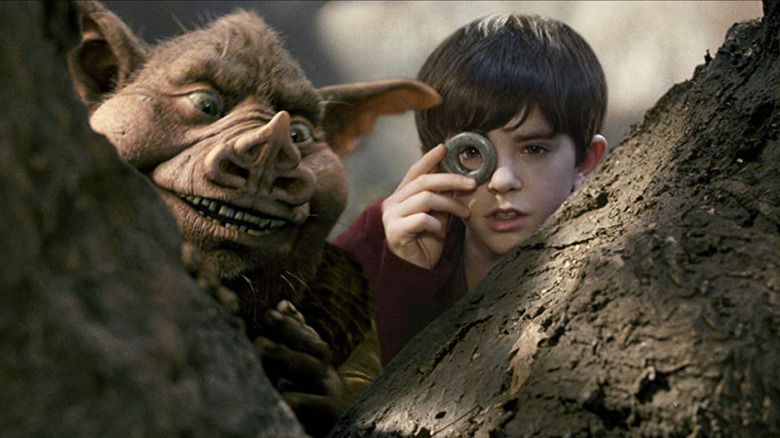 Paramount Pictures
Based on the novels by Holly Black and Tony DiTerlizzi, "The Spiderwick Chronicles" is a children's movie that's packed with spooks and weird creatures. Freddie Highmore plays the dual roles of twins Jared and Simon Grace, whose family moves into the Spiderwick estate, which their mom (Mary-Louise Parker) inherited from her great-grandfather Arthur Spiderwick (David Strathairn). Jared is very reluctant to move, and rebels against his family, while his nature-loving twin brother enjoys the Victorian estate. 
As he sulks around the house, Jared stumbles into Arthur's study; there, he finds a field guide that details a slew of fantastical creatures who inhabit an unseen world. The next day, a brownie named Thimbletack (Martin Short) gives Jared a Seeing Stone so that he can see the faeries for himself. After Simon is abducted by an ogre called Mulgarath (Nick Nolte), Jared needs to convince his family to help him.
The cast also includes Seth Rogen in the role of hobgoblin Hogsqueal and Ron Perlman as the goblin Redcap. Highmore's performances are great; he's able to bring two very different and well-rounded characters to life. Director Mark Waters doesn't hold out on the horror material, and younger children might get nightmares after viewing. With that said, "The Spiderwick Chronicles" is sure to delight older kids.
Okja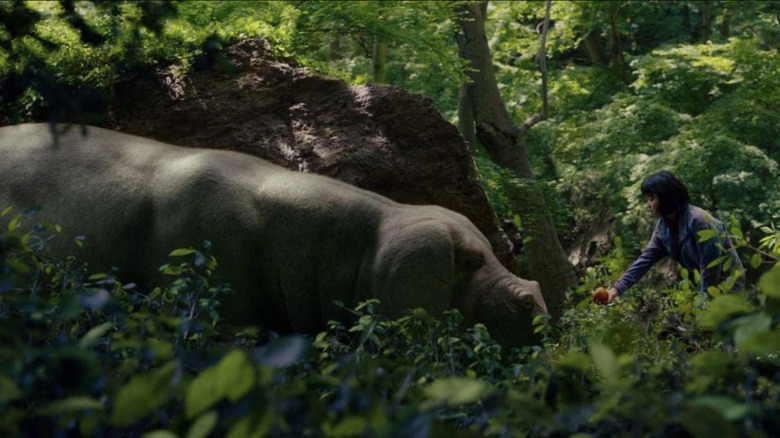 Netflix
"Parasite" director Bong Joon-ho offers a unique, sometimes wonky, parable with "Okja," a fantasy movie that flirts with science fiction. Okja is the name of a creature who looks like a mix of a pig and a hippopotamus, but is somehow even larger than the latter — she is actually a "super pig" who was genetically engineered by the Mirando Corporation as a new meat product. 
Okja has been living a peaceful life in the South Korean countryside with Mija (Ahn Seo-hyun) for the last 10 years, and the two have become best friends, but their happiness is shattered when Mirando comes to take Okja away — she is to be slaughtered in New York City, where the corporation's offices are based. Mija teams up with the Animal Liberation Front (ALF), led by Jay (Paul Dano), to save Okja.
The cast also includes Tilda Swinton as the Mirando twins, who run the corporation, as well as Jake Gyllenhaal, Giancarlo Esposito, Lily Collins, and Steven Yeun. Joon-ho takes inspiration from classic children's movies such as "E.T.," "My Neighbor Totoro," and "Babe: Pig in the City"; you'd be forgiven for thinking that "Okja" is a kid-friendly family film. However, with repeated profanity and its disturbing images of meat processing, it might be better suited for more mature viewers.
A Monster Calls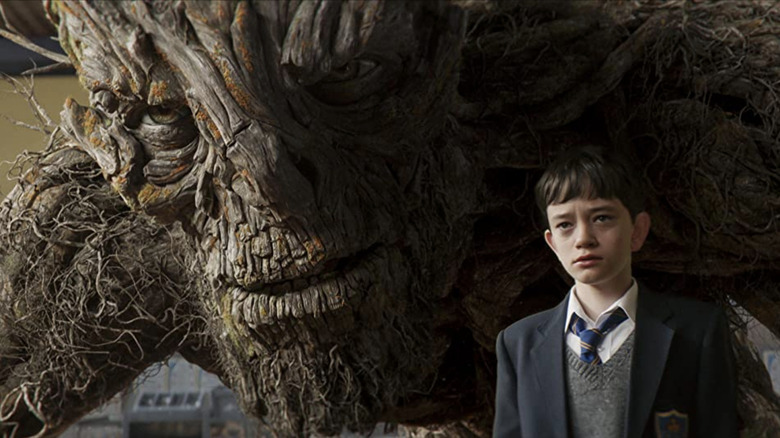 Focus Features
With his background directing horror films like "The Orphanage" and the natural disaster drama "The Impossible," J. A. Bayona is well-equipped to bring "A Monster Calls" to life. Based on a novel and screenplay by Patrick Ness, which were both based on an original idea by Siobhan Dowd, "A Monster Calls" is a moving parable about grief. Conor (Lewis MacDougall) is a shy 12-year-old whose single mother Lizzie (Felicity Jones) is terminally ill; on top of that, he's being bullied at school and has frequent nightmares. One night, the yew tree behind his house comes to life and, as voiced by Liam Neeson, tells him three stories, in exchange for Conor's own.
The stories told by the monster are animated in a wonderful watercolor style reminiscent of the Three Brothers segment in "Harry Potter and The Deathly Hallows." MacDougall gives a stunning performance considering his young age, and brings depth to a character who could've easily ended up a martyr. Neeson is as formidable as always, and his booming voice is a perfect match for the tree monster. The cast also includes Sigourney Weaver as Conor's grandma and Toby Kebbell as Conor's dad. Overall, "A Monster Calls" is a deeply emotional film about grief and storytelling that's sure to wrench some tears out of you.
The Old Guard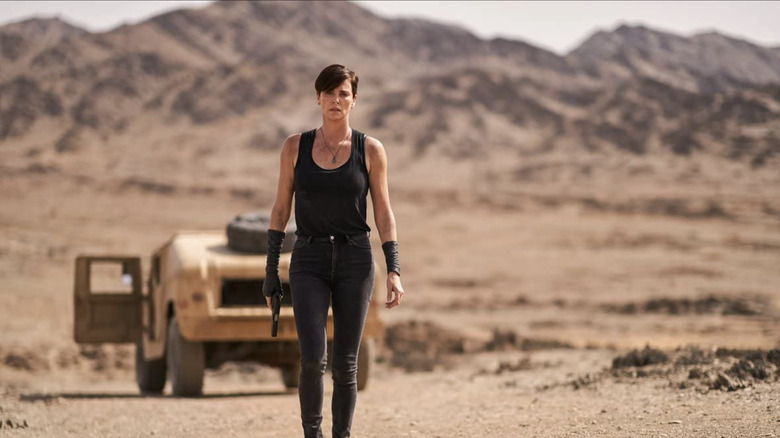 Netflix
Based on the comic book of the same name by Greg Rucka, who also wrote the screenplay, and artist Leandro Fernandez, "The Old Guard" is one of Netflix's most recent blends of fantasy and action. Directed by Gina Prince-Bythewood, "The Old Guard" stars Charlize Theron as Andromache of Scythia (Andy for short), an immortal woman who leads a band of also-immortal mercenaries. As she contemplates retirement, Andy recruits Nile (KiKi Layne), a Marine who has just discovered her own immortality, to join her group. They are then ambushed by a pharmaceutical tycoon, Steven Merrick (Harry Melling), who wants to study the immortals' healing abilities, and is willing to go to extreme lengths to do so.
By now, Theron is an experienced action hero who kicks butt in movies like "Mad Max: Fury Road" and "Atomic Blonde." She demonstrates the same physicality in "The Old Guard," and director Prince-Bythewood stages some thrilling action scenes. The movie also features a diverse cast, as well as a touching romance between a homosexual couple, making for an inclusive action film.
ParaNorman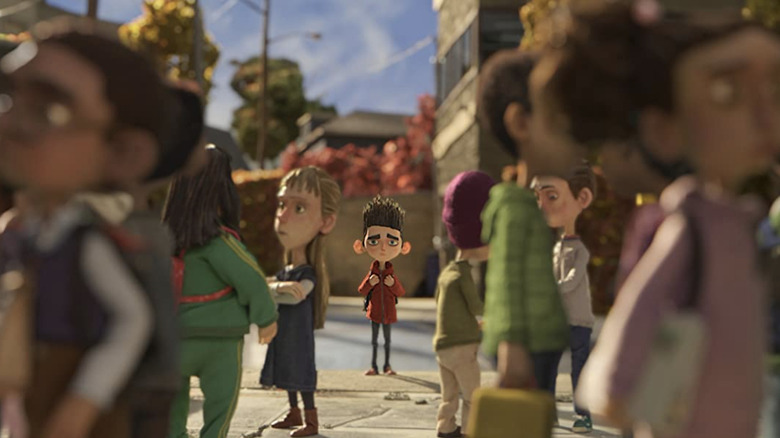 Focus Features
Animation is the perfect medium for fantasy stories, especially stop-motion animation, and the quirky and hilarious "ParaNorman" is great proof. From the same team that made the creepy "Coraline," "ParaNorman" is also an excellent example of what happens when fantasy meets horror. Set in a small Massachusetts town called Blithe Hollow, Norman (Kodi Smit-McPhee) is a shy kid who has trouble connecting with his family and gets bullied at school. However, he has a special power that saves him from total loneliness: He's able to see and talk with ghosts. He has one friend, Neil (Tucker Albrizzi), who's also an outcast, and with whom he shares his secret.
Norman's power comes in handy when an old relative, Mr. Prenderghast (John Goodman), gives him the task of keeping the ghost of a witch at bay, lest she awaken the dead. When she inevitably does, Norman is the only one who can perform the ritual to stop the town being invaded by zombies.
The cast also includes Christopher Mintz-Plasse, Casey Affleck, Anna Kendrick, and Leslie Mann. Creators Chris Butler and Sam Fell created an ode to classic horror movies in "ParaNorman," a family-friendly film that will spook kids and delight older watchers with its references.
About Time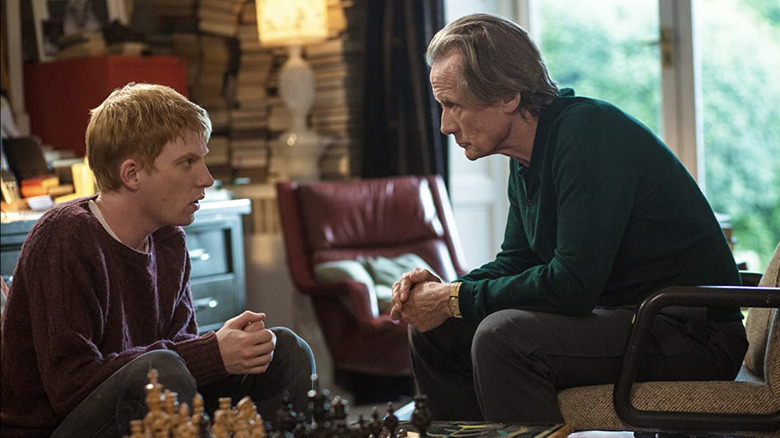 Universal Pictures
Many people would love to have the power to re-do some of the events in their lives. Such is the luck of Tim (Domhnall Gleeson), who, at 21, learns from his father James (Bill Nighy) that he has the ability to go back in time. It's a power that's been passed down through the generations to the men of in his family, and can be used only to travel on one's own timeline. That's the premise of "About Time," a fantastical romantic comedy written and directed by the master of rom-coms, Richard Curtis.
Tim decides to use his powers to improve his love life, of course, which means re-doing every important moment with Mary (Rachel McAdams) until he gets it right. Time travel has consequences, though, as Tim discovers soon enough. Things get even more complicated after he and Mary have a kid, whose existence could be threatened by his gallivanting through time. Curtis delivers a deeply emotional film about grief, loss, and the need to accept that there are some things you can't control.
The Mitchells vs. the Machines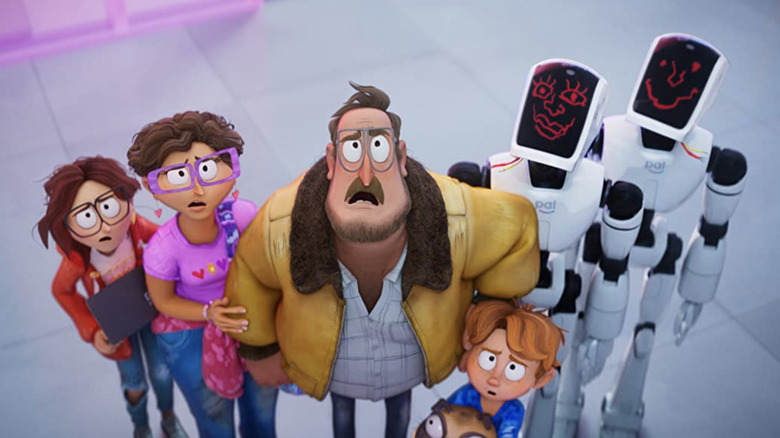 Netflix
If a movie were made about memes and YouTube culture, it would probably look a lot like "The Mitchells vs. the Machines." Directed by Mike Rianda and Jeff Rowe, the film treads the line between sci-fi and fantasy as it follows Katie Mitchell (Abbi Johnson), an aspiring filmmaker who's misunderstood by her family. She's excited to go to college, where she expects to find "her people," but her father Rick (Danny McBride) throws a wrench in her plans: In an effort to bring the family closer together, he insists they all take a road trip to move Katie into her college dorm. Along for the ride are her mom Linda (Maya Rudolph), little brother Aaron (Mike Rianda), and bug-eyed pooch Monchi.
Meanwhile, the world is threatened by an artificial intelligence gone rogue — the personal robots from technology corporation PAL Labs start rounding up humans in an effort to send them to die in space. Miraculously, the Mitchells are the only ones left free, and they'll have to set aside their differences to save humanity. The film is ridiculously funny while tackling very serious themes, and the animation is quirky and delightful.
Crimson Peak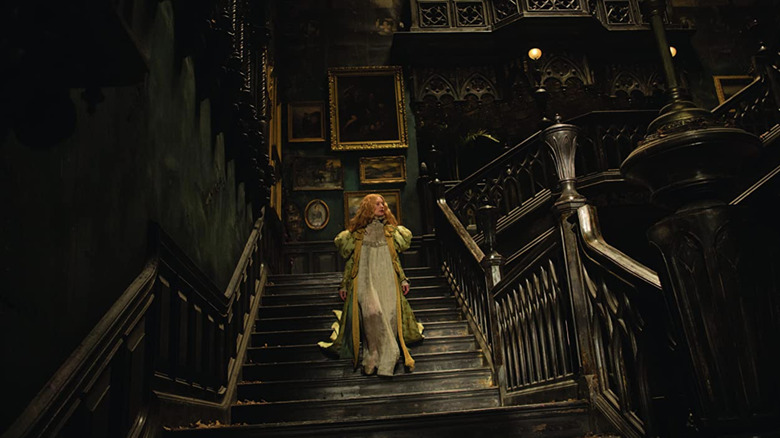 Universal
It should be no surprise that a second movie directed by Guillermo del Toro makes it on this list; he is a master of horror and fantasy, after all. "Crimson Peak" is a Gothic romance set in Victorian-era England, unfolding in a mansion that bears the film's title. After her father's mysterious death, American Edith Cushing (Mia Wasikowski) marries English baronet Thomas Sharpe (Tom Hiddleston) and moves with him and his sister Lucille (Jessica Chastain) to their mansion, where the siblings act cold towards her. She starts feeling sick, coughing blood and having nightmares. The mansion seems to be holding secrets as well.
"Crimson Peak" could be disappointing for horror fans. While the setting seems to lend itself to the genre, the movie is much more of a slow-burn fantasy mystery than an all-out horror movie. However, it does contain many references to classic horror films like "The Shining" and "The Innocents," and it's a stylistically beautiful film — it was even praised by the king of horror himself, Stephen King, and his son Joe Hill, who wrote the comics that inspired Netflix's fantasy series "Locke & Key."
Army of the Dead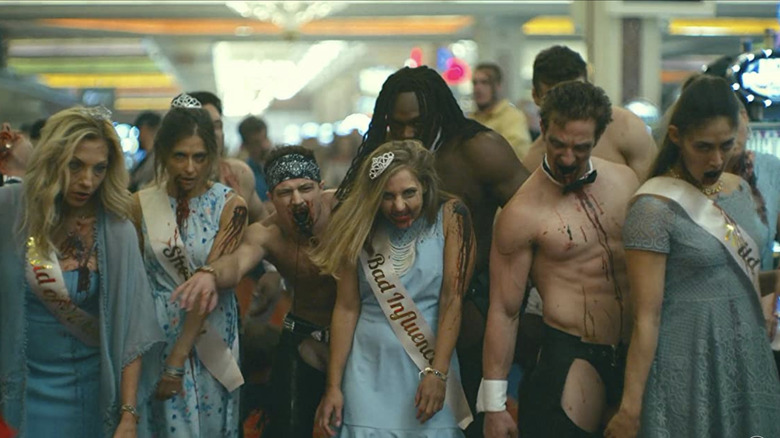 Netflix
While a zombie movie might sound more like horror and sci-fi territory, Zack Snyder's "Army of the Dead" doesn't contain either scares or a proper scientific explanation for the zombie apocalypse. As a goofy zombie heist movie, it most easily falls into fantasy: Nothing about the film is grounded in reality, and Snyder has more fun making the undead explode in a thousand pieces than delivering frights or making you think. 
A spiritual successor to Snyder's 2004 "Dawn of the Dead," "Army of the Dead" is set in Las Vegas after a zombie escapes from a military convoy that was travelling from Area 51. It infects the soldiers who were accompanying it, and then a new horde of zombies sets its sights on the city of sin. The government walls off the city after it's taken over by the undead, and decides to nuke it to get rid of the threat. Before it does, shady casino owner Bly Tanaka (Hiroyuki Sanada) hires a team of mercenaries to loot a casino vault containing $200 million. 
The team is led by Ward (Dave Bautista) and his teammates Cruz (Ana de la Reguera) and Vanderohe (Omari Hardwick); together, they hire a bunch of other expendable teammates. Gory action scenes abound, and the film lives up to Snyder's reputation for over-the-top visuals.